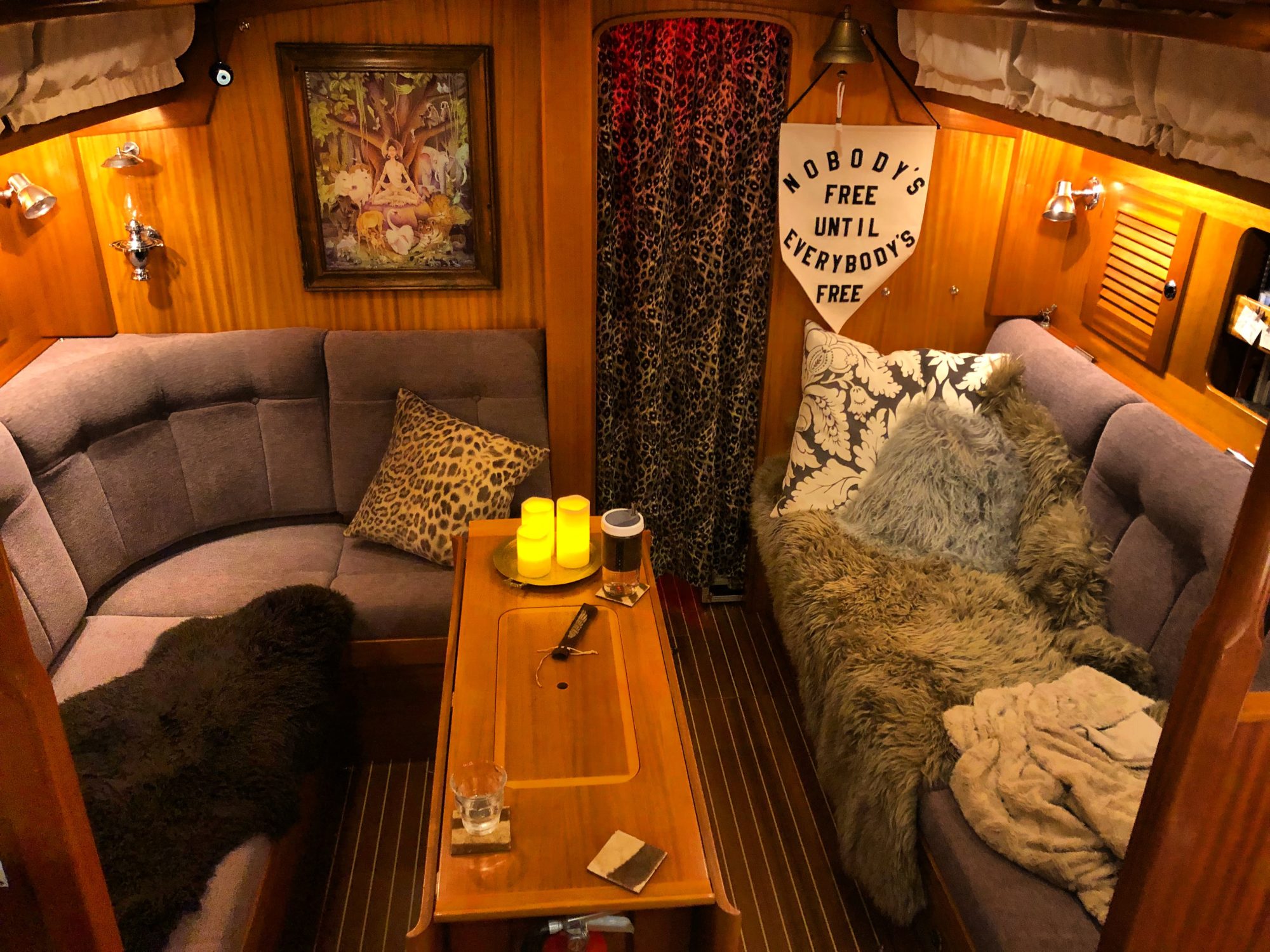 When we bought Rejoice, her saloon looked like this: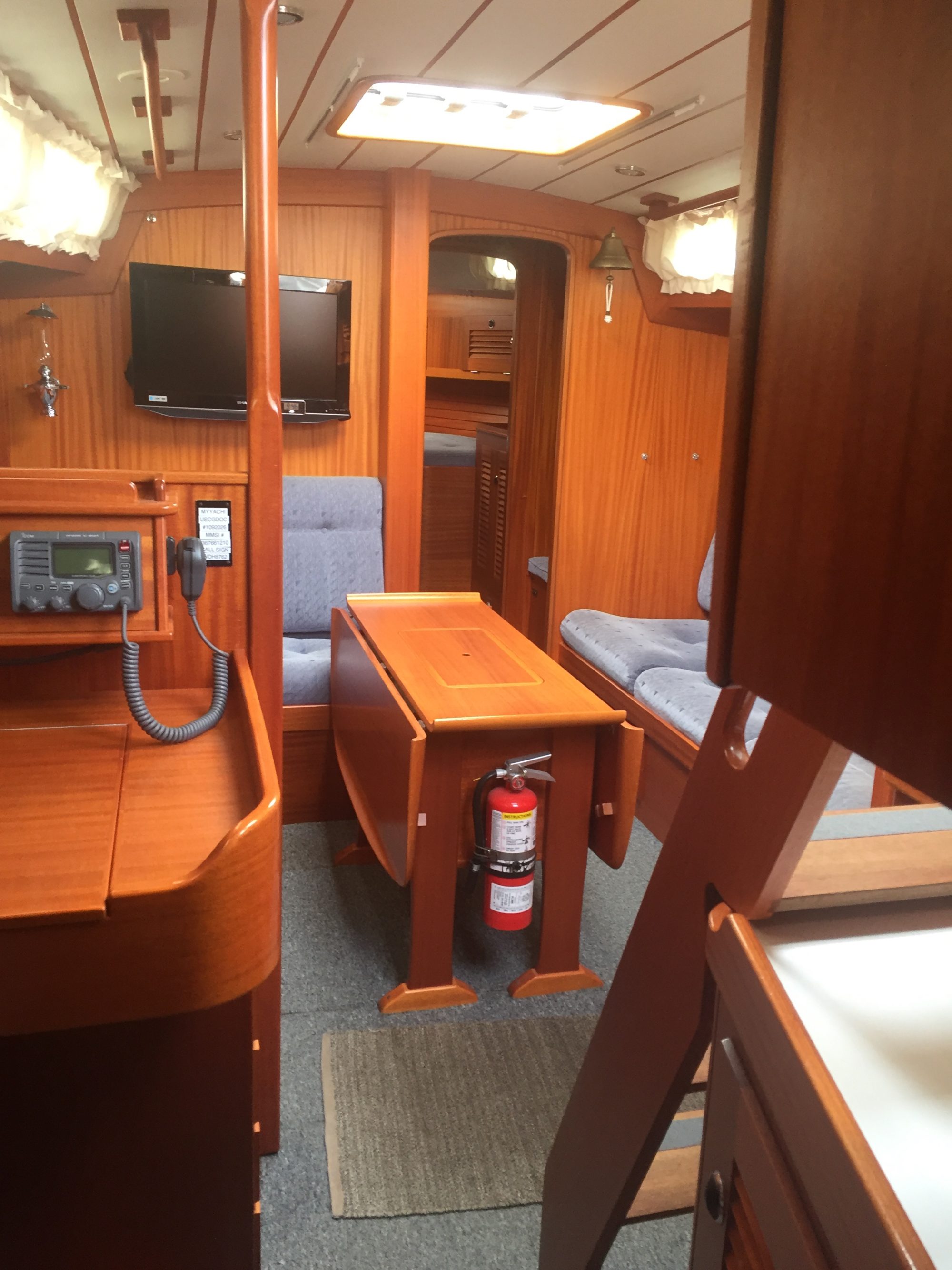 Removing the TV/DVD player and taking out the carpet came first. After that, we debated for months whether to reupholster our settees, and if so, whether to try it ourselves or hire someone else. It's hard to imagine being happier with the results we got from working with Gianola Canvas! Meghan, our awesome and chill upholsterer, came to our marina to make a pattern and pick up the settees. We handled the disassembly, which took about 90 minutes and was helped tremendously by a tip from Meghan about where she had once seen buried screws; ours was the same way.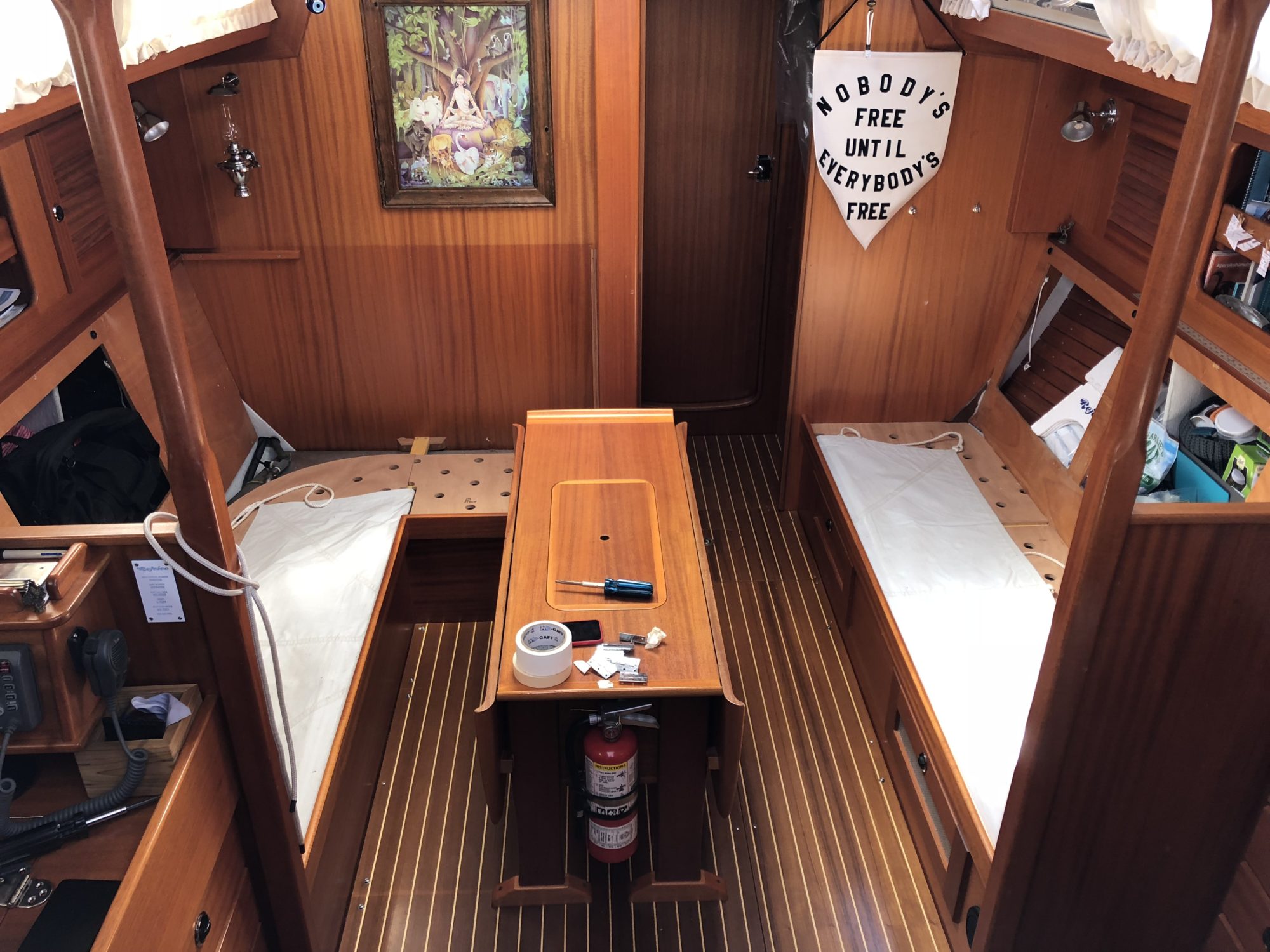 And then: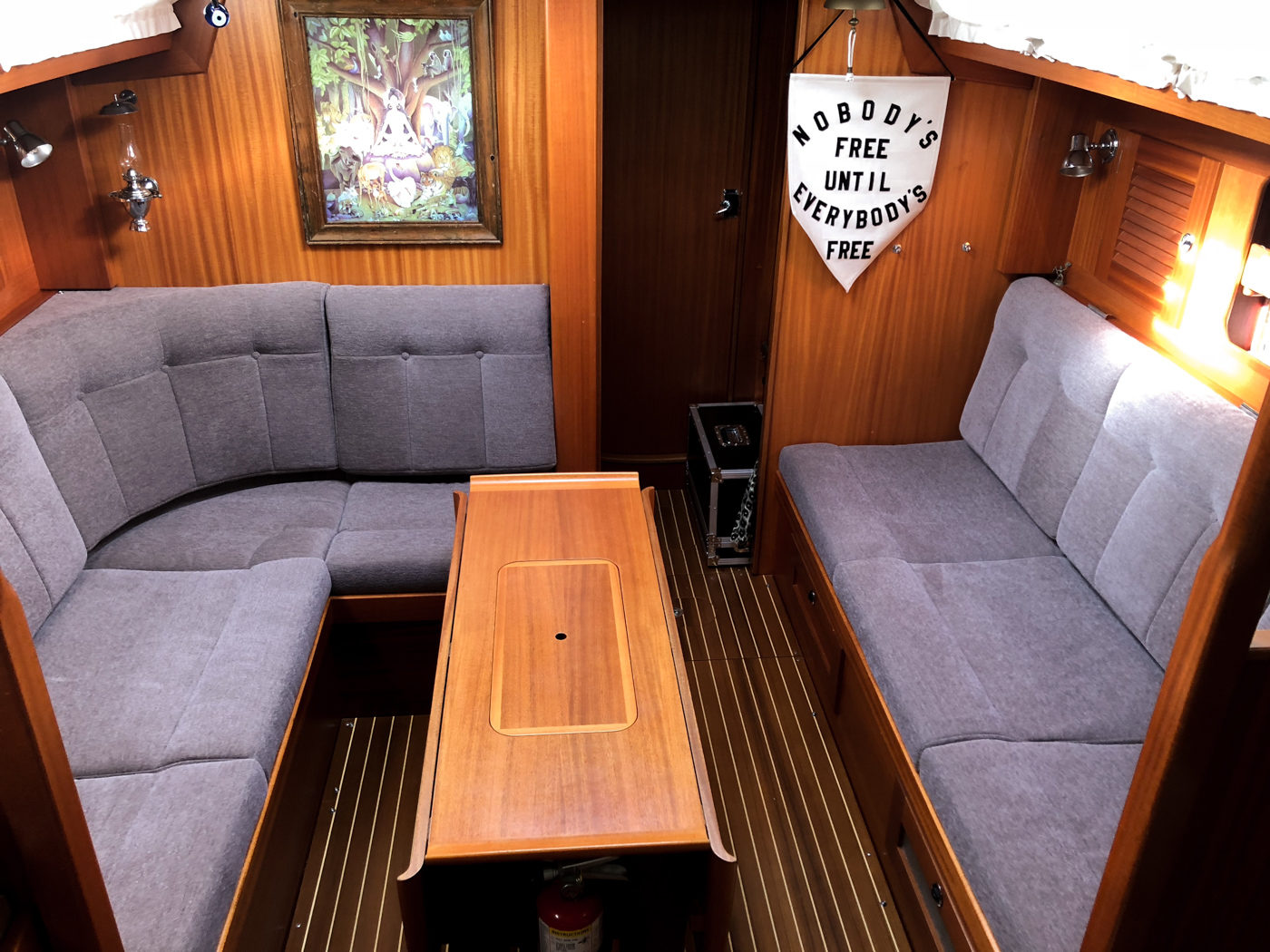 The big photo at the top of the post is Rejoice's saloon with all her cozy magic on. I made the curtain that divides the saloon from the vestibule between the head and V-berth. We found this sheer printed organza fabric at Mendel's on Haight Street, which is so old-school that I can't find a decent site for them. (Suggestions welcome in the comments!) Mendel's is dear to us; it was a regular haunt for us in the late 90's for costumery, wedding supplies, Burning Man preparation, and general artistic delight.
Below is our saloon project mode; this is a relatively tidy project, the final interior hatch curtain. We adore this print in which the birds fly forward with our bow.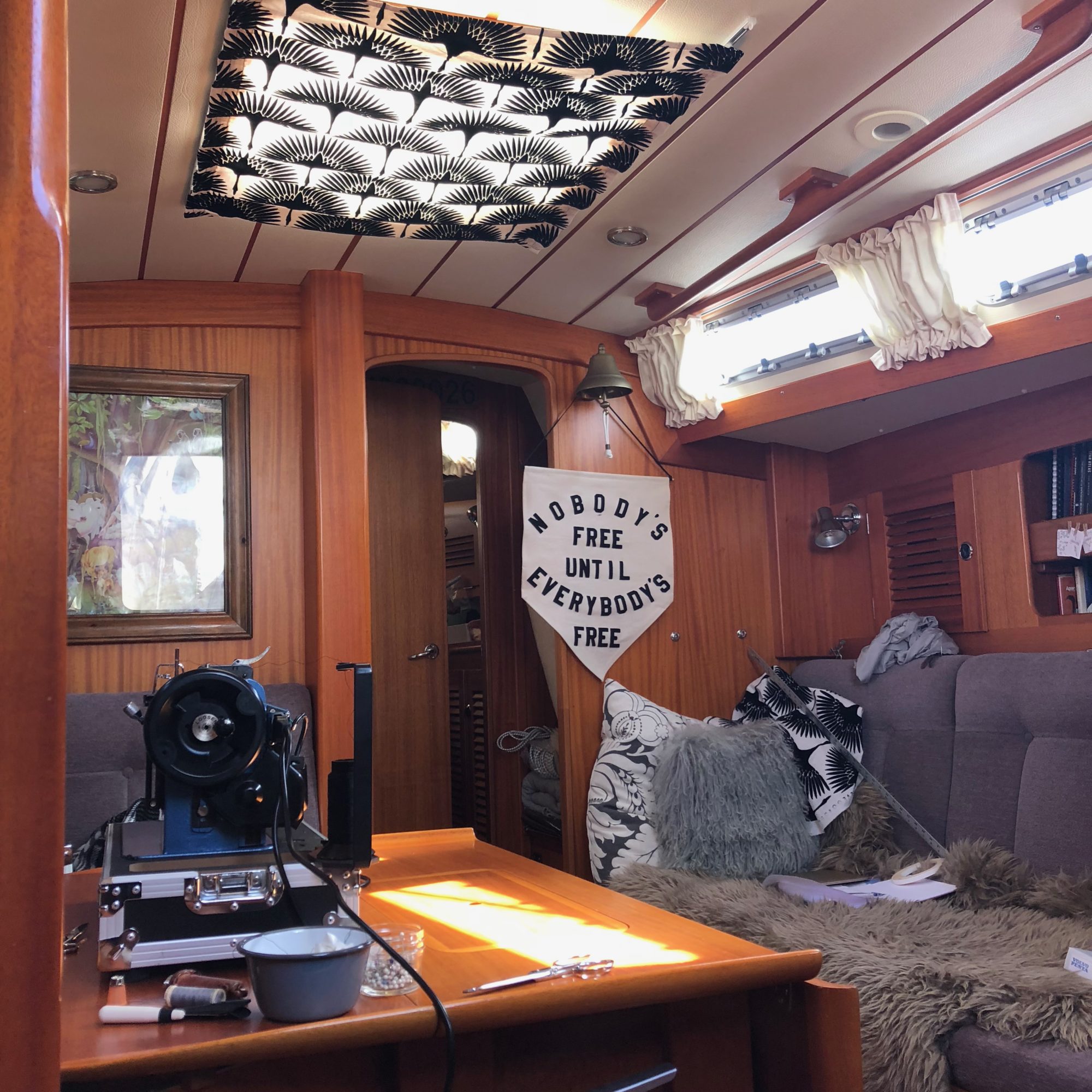 For folks who like details:
The hatch curtains are cotton and the birds are heavy flocked velvet. I sewed these on our Sailrite. I sprayed the fabric with Concrobium to discourage mold and then 303 Fabric Protector for waterproofing. Still, this is not marine-grade material and the sun will bleach and eat it in time. We decided to accept and enjoy that process.
The upholstery on Rejoice when we bought her was original. The color and print were not pleasing to our eyes, but the plush texture was fantastic both on a 109 degree weekend and in the depths of winter, so we sought a similar texture. The color we chose is one we've loved a long while; it bathed the ceiling of our guest and living room in San Francisco for many years and later, also, the streetside face of the building.
We liked the way the buttons gave structure to the backs of the original settees, but found them uncomfortable on the seats. I asked Leah Gianola, Meghan's aunt (Gianola's Canvas was begun in 1969 by Leah's parents, making Meghan a third generation upholstery whiz!) if we could lose the buttons but keep the berm (raised edge) on the seats, as a berm makes settees more comfortable when you sleep on them underway. She had a great solution for this, a zippered interior compartment that holds the berm in place atop the main foam cushion and is removable for washing.
The fabric is Sunbrella, famous for durable fabrics for outdoor and marine applications. This is Sunbrella Shift Loft in Wisteria. It was tricky to find something that vibed well with the mahogany interior
which is lustrous and deep, like good tiger's eye.
Thanks to Sailrite's amazing $1-2 samples, we tried dozens of fabrics. A making our choice we first ordered a single yard. We spread that first yard out over a cushion to explore it for comfort and in different lights, and then we took the plunge for 10 yards. While we were enjoying the single yard, we had lunch guests and some olive oil ended up spilling into the cushion wearing the sample. It came out completely in the washing machine, which really cemented our fabric choice.
Our warmest thanks to Meghan at Gianola Canvas for her beautiful work!