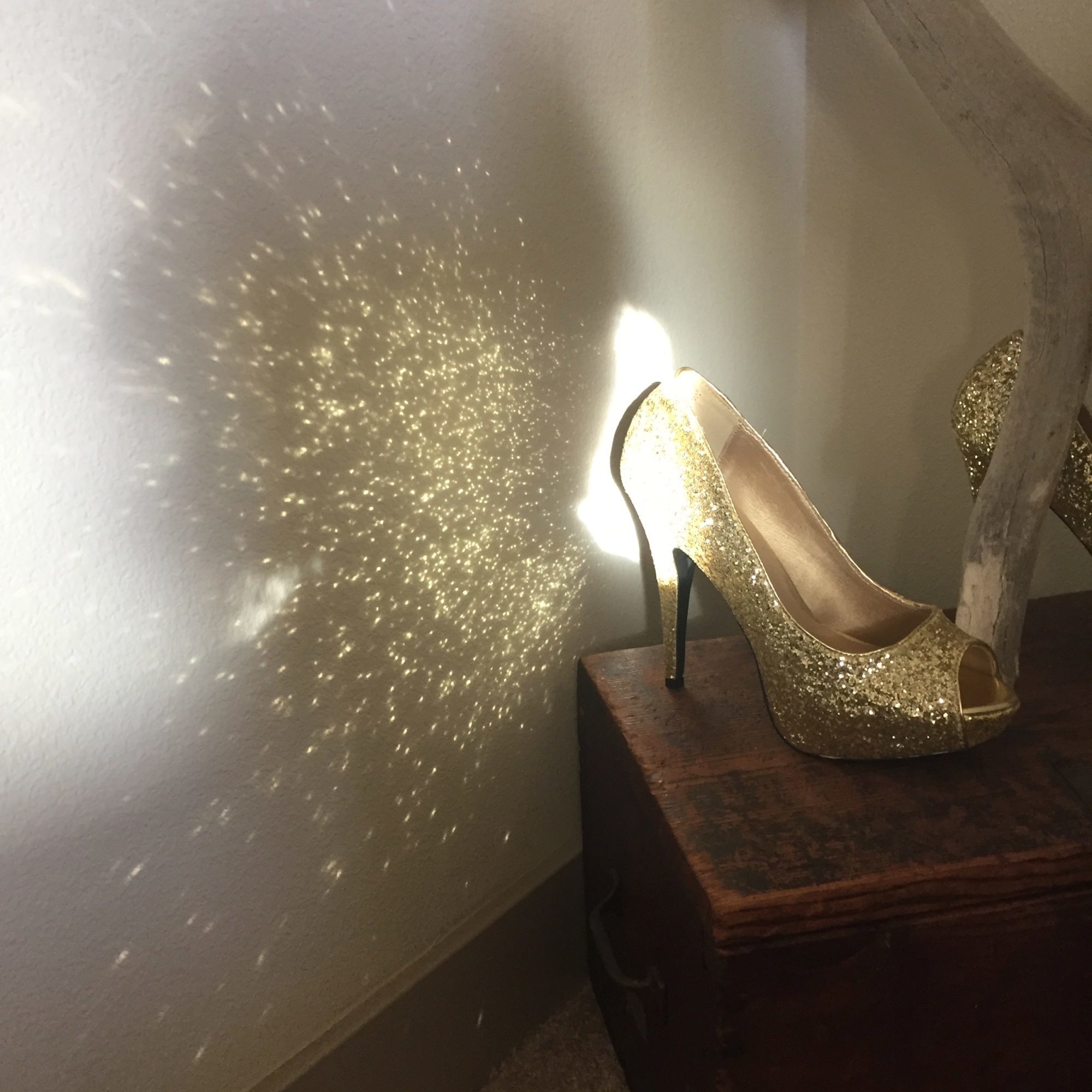 This bit of backstory was written in May 2016.
I like to think of myself as a practical, earthy woman. Upon preparing to downsize from the Edwardian flat in which I lived for 13 years, which had a closet in every room, toward the sailboat which would become our eventual home, I was shocked to discover that I owned 45 pairs of shoes.
My everyday favorite black Dansko clogs. Slip-ons, because I can't be bothered to untie and retie my shoes all the time and my work teaching movement, meditation, and bodywork is intermittent and barefooted.

Black Dansko Maisies with a cute buckle, a lovely cut-out pattern along the edge, and a faux-woodgrain sole, for comfortable somewhat-dressy wear. Purchased after double-taking upon them on other women twice in the same evening.

Ugg sheepskin boots with an outer edge that folds down to attach to a large, adorable wooden button. Intended to replace #24.

My favorite sheepskin slippers: grey Uggs, puffy and huge; comfortable and silly and toasty.

Ballet flat slip-on black Converse. Kind of femme, kind of gothy tomboy.

Grey Kork Ease shoe/ankle-boot things with a heel, kind of everyday-dressy, intended to replace #40. (Note of forming trend.)

My former absolute favorite boots: knee-high, flat-soled, brown, from Paolo. The lining has torn away from the leather inside and the body of the boot has begun to tear away from the sole. I always snag my toes between the lining and the body when I put them on, but they are crazy comfortable and a perfect temperature.

The Donald J Pliner Devi boot, the last pair at the shop and heavily discounted. They were meant to replace #7. (Solid confirmation of trend.) Green distressed, dappled leather with built-in spats and zippers at the top and bottom to adjust the fit and silhouette.

Blue and white striped rubber boots from Helly Hansen from the Strictly Sail show a few weeks ago. Intended for sailing but so darn cute I leave them at the top of the stairs because they make me smile every time I see them.

Black satin pumps with marabou toe pouffs.

Charming, inexpensive grey velvet slippers with a giant bow. Not very warm, sole kinda slippery, but looks better with lingerie than #4 and less noisy than #10.

The brown slip-on Danskos that used to be my everyday clog which are now my messy-work shoes, paint-spattered and muddy.

Keen hiking boots bought for the SF Embassy trip to Iceland.

Teal suede J. Crew pumps from the J. Crew Outlet after Christmas this year because: blue suede shoes!

My wedding shoes: Muro mary jane creepers, black with embossed, hand-painted flames. It was 1999, my dress was red satin, and James wore matching boots. I've only worn them twice since, because they weigh 2 lbs each (I got on the scale just now and checked) and I never managed to break them in.

Cream Danskos with a buckle and faux-woodgrain sole. Bought for the East Coast Summer Road Trip Extravaganza 4 years ago which included my 20th college reunion.

A pair of brown strappy high-heeled sandals I sometimes wear for dressy summer weddings. I know I wore theses shoes to Helen and Justin's wedding; they just had their 10th anniversary. Probably worn a half dozen times. Charlie's Angels would totally wear these.

The Birkenstock Boston in oiled leather. I love them, but got a ganglion cyst under the buckle on my right foot breaking them in a couple summers ago and haven't resumed breaking them in. Breaking the cyst with a book (the method suggested by the podiatrist, I kid you not) was possibly the most laughter-filled night of our entire two decade year relationship.

Um. So, the heel of these pumps is metallic silver plastic. The pointy toe is encrusted with silver glitter. The back is a black and white woolen tweed. They were at the J. Crew Outlet, really cheap, and finally I was going to have the perfect shoe for New Year's Eve. I did! And now... there they are.

Cute, flat summer shoes. What is this style? I have a bunch: closed toe, ankle buckle (see also #2, #16, #25). These are warm beige suede, purchased on the way out of town for a week at the lake upon discovering that I did not own a single pair of shoes which wasn't going to chafe the tender ganglion cyst in the time before I saw that podiatrist.

Pale blue Keen water shoes for sailing. Great traction, water-resistant, lets the water drain easily.

Beige cowboy boot mules with long, pointy toes. Quite possibly longer and pointier than those worn by the witch who gets the house dropped on her in the Wizard of Oz. Kind of nuts, absolutely awesome; the leather hugs the foot like a glove and they are incredibly comfortable to walk in.

Platform cork sandals. Favorite summer shoe of 4-6 years ago, therefore not discarded despite realizing that I did not wish to be 6' tall on most casual summer days and therefore moving out of heavy rotation.

My old Ugg sheepskin-lined moccasin slippers. I hate them. They are a little too tight and the beige suede is filthy and I replaced them with something better. But my friend Jennifer has beige suede slippers that are at a later stage of beat-up and they look gorgeous. I'm totally tossing these now. Oh except maybe I need them for boatlife? This is the train of thought I have every time I look at these shoes.

White heels with pink piping and a pink leather flower at the ankle snap. My favorite silly-fancy dress shoes from 10 years ago during the Pink Phase which followed upon my Decade of None More Black.

Wool Birks shaped like #18. Bought them in a tiny store in Rome on my first trip to Europe 1999ish upon discovering that the hard-soled sandals I had packed were going to destroy my ankles on the cobblestone streets, the Roman women and their gracious glide in stilettos notwithstanding. The cork bed has been replaced and the wool is held together in many places with frankensteiny stitching in black upholstery thread. You can pry these from my cold, dead hands. I call them my Goat Shoes. How on earth can a woman whose favorite shoes are wool Birkenstocks own 45 pairs of shoes?!

Betsy Johnson. I don't even know where to begin with the adjectives. Leopard-printed. Satin. Open-toe. Platform. Stiletto. I was once wearing them at an underground restaurant dinner party when a woman I had been chatting with for some time glanced down at my feet and squealed loudly, " OH MY GOD YOU ARE WEARING HOOKER SHOES!" (I was later seated next to her at dinner. Oops.) These came from Las Vegas. You can have them before the Birks, but still, cold dead hands.

Running sneakers. I just went with the pair the woman at the women's running shoe store said were best for my gait. They work! That's all I need.

2015's Annual Silly Red Thing to wear at holiday season: red suede Betsy Johnson, thin soles, 5' heels. Tiny strap over toes. Thick strap at ankle. Giant bow at each ankle. Remember: all of this is red suede. Oh yeah! Worn once. Excruciating. Exquisite.

Actual stripper shoes: black patent leather platform stilettos with a zillion tiny straps and white rhinestones up the back of the shiny black plastic heel. I once wore these all night long to a party in Marin as part of a costume in which I was a taxi.

Brown mary jane Crocs. Adorable, waterproof, comfy. Pretty sure these will be my everyday boat shoes.

Black brushed leather open-toed ankle booties with a brown overstrap and thickish wooden heels. My favorite dress-up shoes for when I want to be conventionally sexy but don't want sad feet.

Nice black leather flip-flops, for poolside when we went to the Ace Hotel in Palm Springs last summer.

Shiny gold leather flats with very pointy toes. That frikking J. Crew Outlet trip! Everything was so cheap and pretty and I was having a phase of enjoying conventionally sexy recreational dressing. It's a phase I go through every few years.

Black leather shoes. Wee peep toe. Low, wide, rounded heel, tiny ankle strap. For a wedding with a 1920s theme. Not as comfy as they look. Tore up the leather that wraps the heel on a barstool at the speakeasy we went to for the wedding afterparty. Keep meaning to take them to the cobbler.

Black suede delicately-platformed stilettos with silver piping around the foot opening with a gorgeous, enormous sequined silver flower on each toe. These are my soul's shoes.

Cork platform strappy sandals. Bright silver. Because I was determined to both look the part and not be the drunk girl carrying my shoes in Las Vegas. Well, I knew I would be drunk; I just didn't want to be staggering barefoot in a casino.

Classic brown leather sandals with small brass detailing. Bought when my college girlfriends and I were doing a mini-reunion weekend together in Chicago in summertime, because in other places than San Francisco, summer is hot.

Knee-high black leather engineer boots, my first birthday gift from James in 1997. I wore them when David and I draped a tarp over ourselves and kicked out the windshield of the Volvo we were making into the Moonyacht, and to Burning Man many times. Will be the last pair of boots standing, I'm pretty sure.

Ugg clog ankle boots. Beige suede with a sheepskin foldover anklepuff. At the stage of wear which is the slightly-ratty that just looks a little shoddy before the awesomely-ratty than can be magnificent. These were the hottest thing going 6ish years ago; strangers would constantly stop me on the street to talk about them. Comfy, gorgeous, out of fashion. I should probably let these go, but there is nothing wrong with them, and they were so good.

Leopard-printed rain boots. $25 at the hardware store. When the sole split from the body and they got leaky, I caulked them. It worked. How can a woman who caulks her boots own 45 pairs of shoes?!

Red velvet high platform shoes with a thin ankle strap and a 7" stiletto heel. Not intended for wear outside the house, or even for standing in. Ahem.

Gold sequined peep-toe version of the former. These are the shoes slutty angels wear in heaven.

My old Ugg boots, ratty and beloved, with turquoise beads sewn at the outer ankle so I could tell which Uggs were mine when I went to the thai massage training in Ojai.

Knee-high brown butter-soft leather Fluevogs, with laces and hooves. Yes, hooves. My birthday boots from James in 1998. Wore them once to James' company holiday party in 1998.