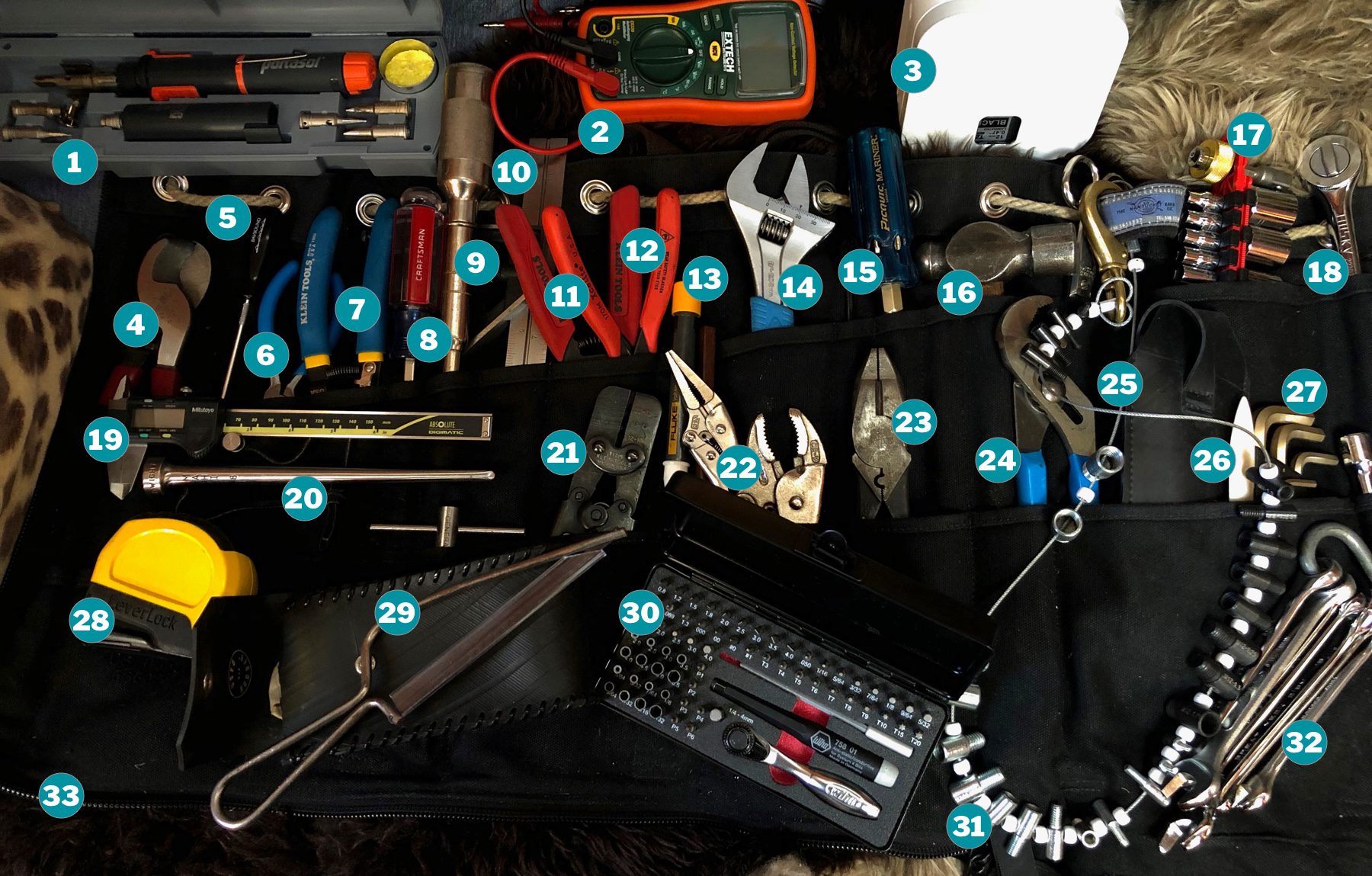 I've always had strong feelings about tools, but on a broken boat in the middle of an ocean, they take on a new importance. I originally put this list together for Brittany from Windtraveler when she was trying to piece Scott's toolbox back together again after they lost their S/V Asante in Irma. At the time of this writing, this list hasn't been tested by dire circumstances or long passages, but it feels like a pretty good start.
Portasol SuperPro 125 Heat Tool: This small butane-powered tool replaced my heat gun, soldering iron, and hot knife, and does every job I've thrown at it better than the tools I was using before. I've used it for setting heat shrink, freeing stuck metal parts, and soldering wires. The ease of use and cleanup means I'm much more likely to finish a wiring project the right way instead of leaving the heat shrink for later. Highly recommended.
Extech EX330 Multimeter: Widely respected budget pick digital multimeter useful for all kinds of electrical circuit diagnosis. Recommended to me by the awesome folks over at adafruit, who use it for much more advanced work than I've found on the boat. I added some extra long test leads to make testing hard to reach circuits easier. Highly recommended.
Brother P-touch CUBE Label Maker: I was a decalcomaniac before I bought a boat. I'm still not tired of labelling things on Rejoice. I was tired of our fiddly labelmaker though. I loved the heavy duty weather-resistant P-touch labels that it used, but I hated the clunky hardware, awful user interface, and its tendency to eat batteries even when it's off. Enter the P-touch CUBE. Instead of a badly designed hardware interface, it connects to any iOS or Android phone over Bluetooth. While it takes a minute to connect, once it does there's a simple app for setting up your labels that makes it much faster to use. It's also amazing for typography geeks: it can print any font that can be used on the phone. It's much easier on batteries and the build quality is excellent. Highly recommended.
Klein 63050 High Leverage Cable Cutter: These cut through thick stranded 2/0 copper wire like butter. I haven't tried them on standing rigging yet — less confident they would be successful there, but if they are, they'll be keepers for sure. You probably don't need these if you aren't making thick electrical cables pretty regularly.
90 Degree Pick: This came out of a little toolkit that came with some car speakers, and I brought it to the boat as an afterthought. I use it all the time. Most recently I grabbed it to scrape some crud out of a conduit and then wound up using it to catch the hose I was feeding through it. I probably cuss 5% less during projects thanks to this tool alone. Highly recommended.
Channellock 326 Needle Nose Pliers: You definitely need needle nose pliers, and these have been the best pair I've owned. I went through a couple cheaper ones, but these seem brand new after three years. Recommended.
Klein 11055 Wire Stripper and Cutter: The second of many Kleins on this list. They're expensive but they last forever. Their electrical tools especially tend to be significantly better than the competition. This is hands down the best of the dozen or so wire strippers I've used, giving me clean insulation cuts without cutting into wire just about every time. Highly recommended.
Craftsman Flathead Screwdriver: Any large, long flathead screwdriver will serve the purpose this one does. Gets used for all kinds of rough jobs.
Yankee push drill: Hand drills have fallen out of favor with the ubiquity of battery electric drills, but they're amazing for boats. Great for pilot holes. I bought mine at an antique tool shop in Maine, and they've been hard to find since Stanley stopped making the last one, but Garrett Wade brought it back from the dead. Their model isn't quite as good, so still keep your eye out for these at yard sales. Recommended.
Starrett 11H-12-4R Combination Square: Squares are necessary for woodwork, even though there aren't many squares on a boat. I love this square, but if I had it to do over, I wouldn't be able to help noticing this Irwin gets you almost everything you get here for a fraction of the price.
Xcelite 170M General Purpose Shearcutter: I originally bought this for snipping the ends off resistors when working on electronics. I didn't expect them to see much use on the boat, but they're a surprise MVP. There is no better tool for working with zip ties. Super high precision, very sharp, and cheap. Highly recommended.
Klein 11046 Wire Stripper: Same purpose as number 7, for tiny wire. If you aren't doing anything with electronics, you probably don't need these.
Fluke Non-contact Voltage Tester: Bought back when we lived on land. Critical for AC electrical work, but isn't really necessary for DC. This was a gift; I wouldn't have sprung for Fluke for something simple like this.
Channellock 8SWCB Adjustable Wrench with Slim WideAzz Jaw: That name is a lot to live up to, but this adjustable wrench does it. Goes a bit wider than an 1 ½ inches, which is unheard of in an adjustable wrench this small. The teeth are very slim, which makes it possible to get into hard to reach places (and everywhere on a boat is hard to reach). Highly recommended.
Picquic 88102 Mariner 7 Bit Multi Bit Screwdriver: I've had some form of this screwdriver for almost 20 years. I wrote up the last model I had for the Cool Tools website, and everything I wrote there applies to the Mariner as well. The Mariner adds a seventh bit (I have a square driver in mine as Rejoice's builder is fond of square headed screws) and uses corrosion resistant metal for everything. One of my very favorite tools. Highly recommended.
Ball peen hammer: We don't use this much, but it's just the thing when we need it.
Plastic socket holder: Most socket sets come in big rectangular cases that have a lot of empty space in them. These Tekton socket holders are much easier to stow and use. While they're designed to have sockets on just one side, I combined two holders into one with SAE on one side and metric on the other. Works great. Occasionally they fall off, but I haven't lost any yet. Recommended.
Socket set: Mine is actually an old Home Depot house brand model, but if I were buying today this is probably the set I'd get.
Digital caliper: Super useful for measuring anything with precision. I love this Mitsutoyo model, but If I had it to do over, I'd probably buy one of the many knockoffs available for half the price and not notice the difference.
Dwight Mahi Marlinspike: A classic marlinspike, heavily influenced by Brion Toss' five page description of the perfect one. Makes working with rope a profound pleasure. Highly recommended.
Klein T1715 Full-Cycle Ratcheting Crimper: One of the priciest single purpose tools I own, and I don't regret it for a second. Most electrical problems happen when a connector fails. This crimper used with the right kind of heat shrink connectors is cheap insurance against future electrical problems. Highly recommended.
Standard and Needle nose Vise Grips: Vise Grips need no introduction. Most of mine aren't name brand, but they weren't much cheaper, so I'd go with this set if I was buying them today.
Klein Lineman's Pliers: More useful on land, I still use these a lot whenever I need a firm, fairly precise jaw.
Channellock 440 Pliers: Mine actually aren't 440s, which are the most common jaw shape, but I wish they were.
Pencil case: When I need a pencil, this is usually full of everything but pencils.
Bone folder: This is a tool for bookmaking that winds up being surprisingly useful for poking and prying things without damaging them.
Bondhus 38099 Metric Allen Wrenches: You need allen wrenches, and these are great. The gold coating keeps corrosion at bay and the Balldriver on the end makes it possible to work on an angle.
Stanley 33-281 Leverlock Fractional Tape Rule with Magnetic Tip: Both the fractional measurement and the magnetic tip are sometimes great and sometimes annoying. I like this one better than other tapes I've tried, but it's not perfect.
Mini Hacksaw: Valuable in a pinch, but often not quite ideal for the problem at hand. I'm still looking for the right small saw.
Wiha 75965 Precision Screwdriver Set: This set is expensive, but it has really delivered for me. The tiny high quality ratcheting handle gets used all the time in tight places, and I often wind up using it with much larger hardware than it was intended for, which it has handled just fine. Keep the bits from getting wet or they will rust. Highly recommended.
Thread Checker: This pays for itself in a few trips to the hardware store, where instead of guessing, you'll know if you need a #10-24 or #10-32 nut to go with that bolt. This design so beats other efforts to solve this problem. Highly recommended.
Assorted Combination Wrenches: My set isn't these Craftsman. Mine has gradually assembled itself as needs have arisen. It would have been cheaper to buy a good set. I didn't research this one very well, but it's where I'd start if I was buying one today.
Nantucket #711 Diddy Bag: A toolbox is really personal decision and this is a weird one. What I love about it is that it can be unzipped to lay flat when I'm doing a big job, or I can reach in quick for a small job. It's got a shoulder strap for short trips and turns into a backpack for longer ones. It's really well thought out. I have definitely overstuffed mine. Highly recommended.
Did one of the tools I chose fail you in some spectacular way? What essential tools did I miss? Share your knowledge in the discussion.