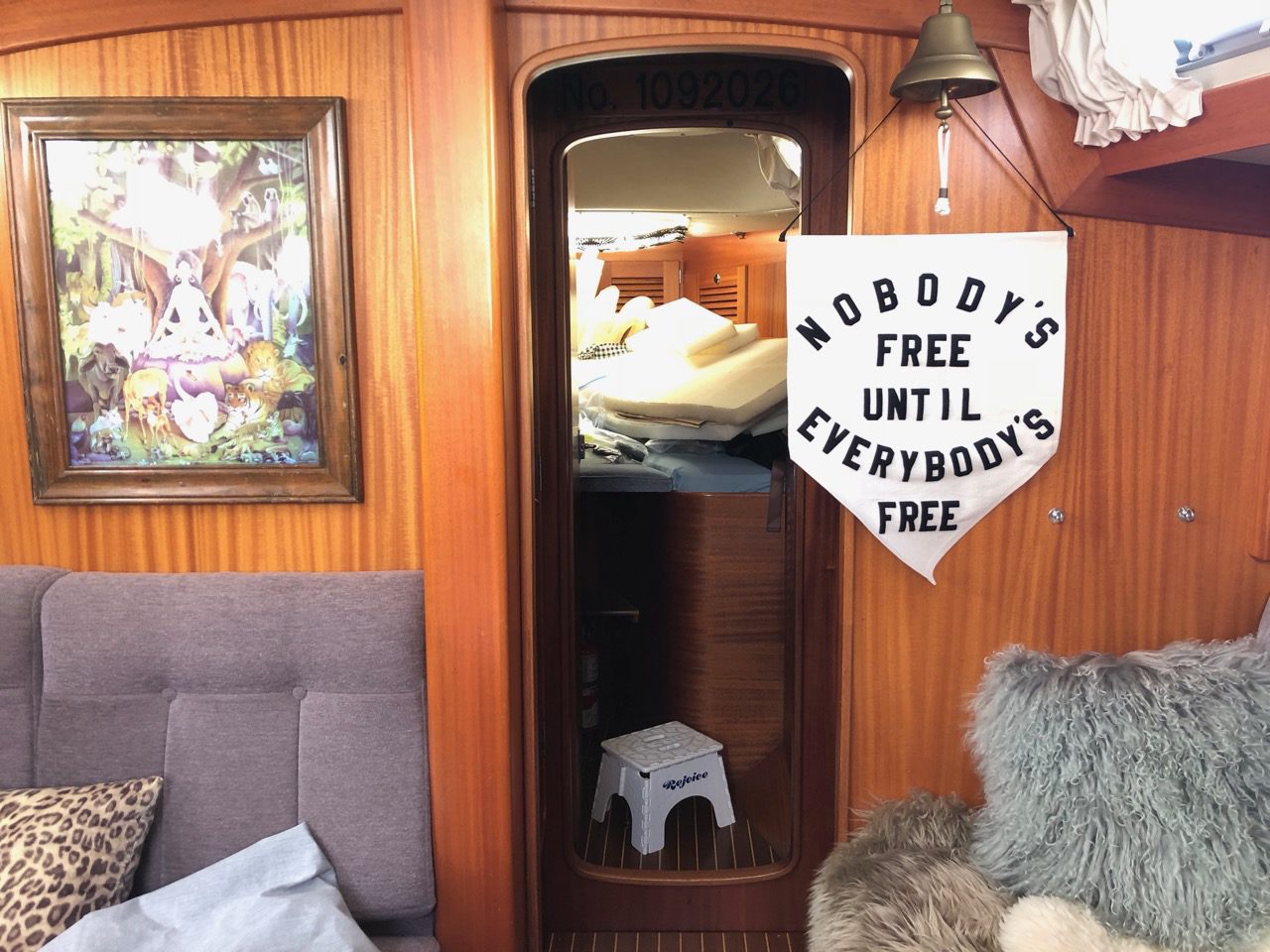 For months, people have said, "You are so tan from sailing!" and "So you sail every day, right?" Really, the tans were from driving around in Lola, our beloved and dearly departed convertible, running errands. Soon we will be sailing every day. Right now, we are getting our boat and lives ready for the time when we have no car, no dock, no familiar surroundings.
Yesterday, for instance: we woke up and we had sex. Yes, I'm telling you that, because sex is fantastic for stress relief and for keeping at the forefront of our minds that we are in this together; it a great tool for us in this wild time! I did my morning practice: a little prayersong, a little time on the mat. We then reviewed the list of the day's errands and got out the things we needed for them, which included James' bicycle, due to a recall on the bottom bracket. The bicycle was in the storage inside that beautiful curving piece of mahogany in t he image above. I emptied all my in-progress sewing from the starboard side of the v-berth, got the bike out, put it all back -- and then we discovered that it was MY bike that had the recall, but James had gotten the email because he'd made the purchase. So while I made breakfast, James emptied all my stuff again, put his bike away, slid all the stuff from the port side to the starboard, got my bike out, and then put everything away again.
After cooking breakfast I emptied the refrigerator, having spent the last couple days carefully using up all the food that had to be refrigerated for safety, and set out all the stuff that just prefers to be refrigerated for longer lasting or pleasure (condiments, ferments, water pitcher) on the counters so the fridge could defrost itself while we were out for the day.
Then we left, in the car that Oliver and Naya have kindly loaned us, and we ran errands in Berkeley, Oakland, and Alameda for nine solid hours.
We went to the bank to close several accounts, simplifying the structure which had been set up for our prior, more complex life.
We went to FedEx to make backup paper copies of our vital personal documents to leave behind with our land contact person and for our ditch bag (the emergency bag you grab if your boat is sinking.)
We went to Sal's Inflatables to pick up the life raft which came with our boat, which was due for its every third year servicing. When we dropped it off, Sal's son had inflated our liferaft for us so we could see how it is made, how it works, what it holds, and he showed us how you get into it from the water. This thing weighs a billion pounds; it takes two people to lift.
We dropped off Dahlia's bike to get the recall repair, offering our profuse thanks to the folks at Blue Heron who were nudging us up their queue so the work will be done before we leave and while we still have the loaner car. We paused to look at rack systems, wondering if we need to increase ours to carry groceries by bicycle, and tagged that thought for later
We went to Acme Fire Extinguisher and had ours serviced. This is an annual task; there is a high quality extinguisher for each cabin, so we have three of them on our 40' boat. The guy at Acme also gave us tips on using a powder extinguisher on a boat where wind can be an issue.
We finished kitting out our scuba gear at Steele's, picking up the suit he'd ordered for James and choosing snorkels. Still crossing fingers on the timely completion of my custom shortie down in Montery.
We went to Kaiser and had our third and final round of vaccinations. This activates the immune system, and leads us to be a little floppy for the rest of that day and the next.
We went to the chandlery (boat store). As usual, we found about half of what we needed and took a lot of notes on what to order and learn more about.
We went to the grocery store.
We went to the liquor store.
When we got home, we hauled everything down over the docks down to our boat, reminding ourselves that this is the easy days, as soon we will often be at anchor rather than at dock and will have to go by dinghy rather than car, and that soon we will not have the lovely little staircase now sits beside Rejoice on our dock. (Yes, some folks bring them along, but that isn't something we will prioritize in terms of space.) We loaded everything into the boat except the life raft and James got to work replacing the hardware we'd removed in taking the raft off its rack, some of which was corroded and needed replacing. I went inside, cleaned the melted ice water out of the fridge, washed the inside of the fridge, loaded all our groceries into plastic bins, and stacked them in our top-loading refrigerator.
Next, I went outside and got out the special drinking water hose (separate from the washing hose so it stays as clean as possible), draped it along the dock, and began to fill our water tanks, which were empty. As this happened, James and I stood on the dock and discussed how to safely carry the incredibly heavy life raft up the tiny staircase, onto the boat, and across the deck. The plan was not perfect, but having had one made it easier to improvise as we discovered we needed in the moment, and we got it done without injury to any humans, the raft, or 'joice.
James resumed strapping down the liferaft and I left for the half-mile walk to the recycling bin the next dock over, ours having been removed because folks from the apartments nearby were using it as a dumpster. When I returned, it was 9pm. I made dinner and did the dishes by hand. During dinner, we both had our laptops out doing research: What is the best insulated grocery bag? What is the best way to strap down the liferaft, given what we did not like about how we saw it done previously? What does this new book about cruising the Pacific coast of Mexico contain?
James made a round of Widow's Kisses, which were delicious. I managed to stay up long enough for the nightcap before falling asleep on the settee. James sat up for another couple hours ordering our secondary anchor and all the parts associated with it, continued researching a bunch of other stuff, and woke me around midnight to invite me to crawl into our berth with him.
We are, as folks grow to understand that we are leaving in a couple of weeks, being inundated with requests to hang out one last time. We love you. Oh, how we love you. The time for play here has passed. We aim to have a going away gathering, but planning that has yet to get to the top of the list.