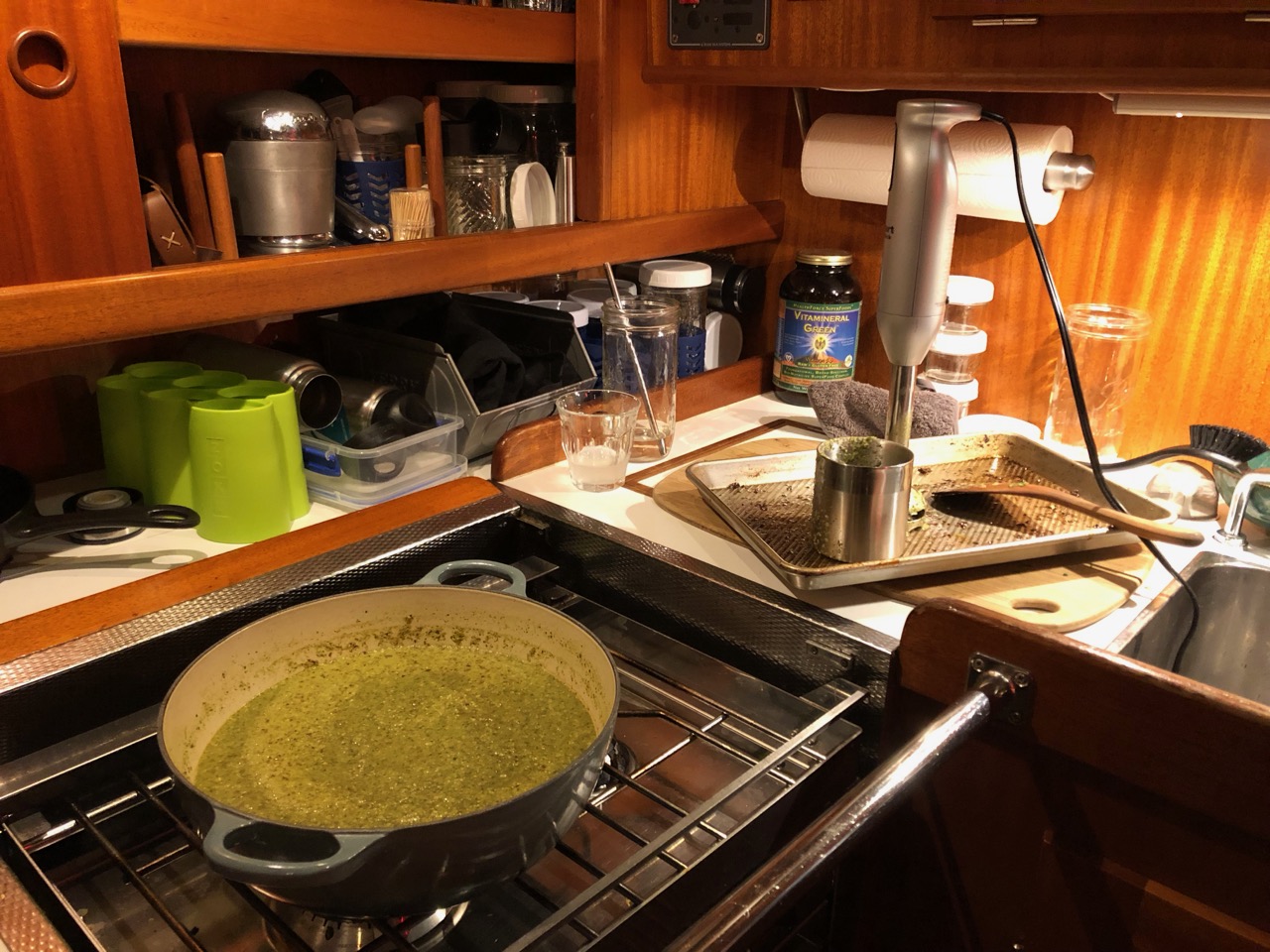 By the time we got to La Paz, our cupboards, fridge and freezer were nearly empty. As usual, I'd researched the local farmer's market, so we biked up to the Tuesday and Saturday "La Paz Organic Farmer's Market" the first time it came around. I noticed in some places it was just called the La Paz Organic Market... which, it turns out, is because there is just one farmer Happily, he's a lovely fellow and his goods are very nice!
Today I bought avocado, celery, arugula, green beans, grapefruit, and limes. As we worked through our now-familiar (it was my third or fourth visit) ritual where he counts the food and adds the price aloud, he touched the pile of lemons I'd bagged and I said brightly "Once!" (ohn-say; eleven). He walked over and grabbed one more, telling me in English that if I bought one more, it would be thirty pesos (about a dollar fifty.) I know this fellow speaks beautiful English, but I try to stick to Spanish, from respect and to learn. I admitted that I'd chosen eleven limes because I knew "once" but not twelve. He laughed, very kindly, and said brightly "Doce!" (dough-say). Then he asked if I'd like a chicken; they were free range, he said, and frozen. I said yes, and he pulled out a cooler with four frozen chickens in it. He charged me 140 pesos, not quite seven dollars, for an organic, pasture-raised chicken that in San Francisco would have cost $25-30.
The organic market also has folks selling hot homemade foods, a chocolatier, someone who imports mezcal, a beekeeper, a nice man who makes hummus, a fellow who sells CDs of his banjo music while he plays live... it's a sweet, health-oriented market which mostly wraps a single intersection. I usually go when it's happening, but it does not meet all my food needs. Lots of American cruisers shop at Walmart, and I'm sure I'll there for something at some point, but I prefer to give my money to small, local businesses when I can. Our friends Bill and Julianne of SV Epiphany (They call her Piff! We adore them.) raved about the Mercado Nicolas Bravo, which seemed like just the thing I was looking for. I checked online and in addition to directions, found this lovely little 5 minute documentary about one of the vendors.
Mercado Bravo from No Cinema on Vimeo.
Today after the farmer's market I biked over to the Mercado Bravo. Well, actually, first I came back to the marina to empty my bag of the heavy frozen chicken, emptied the fridge to defrost while I was out, and nipped out with James for tacos and a margarita at Claro Fish Jr., where we have a regular table and our waitress knows that we want to try to order in Spanish, though her English is better than our Spanish. She's tickled that we try; most folks here seem happy to be patient when we honor their language by trying. I cannot imagine Americans being so kind about folks trying to order in clumsy English. We are grateful to be treated so well in Mexico.
After lunch, James headed back to the marina, because it's super windy and wavy today and he didn't want to leave 'joice long, and I headed onward to the Mercado Nicolas Bravo.
It's amazing! It's set up sort of like a flea market, in an indoor space where many different vendors have stalls. One side has restaurant counters where you can get lunch, and then there are butchers and fishmongers, a cheesemonger, a couple of produce vendors... the woman from the video is still there! She had the best selection, so I bought my vegetables from her. After I finished making my purchase in Spanish, I asked,
"Habla ingles?" (Do you speak English?)
"Eh, a little," she shrugged.
"I saw you in a movie! On the internet!" I exclaimed.
"Mmmhm," she replied. "Mango? Delicioso!"
"No," I said, "Mangos make me sick" (I have since looked it up and now can say: "Soy alérgico" -- "I am allergic" next time.)
"Payapa?" she pressed.
You know, papaya DID sound good. She handed me mine wrapped in paper and tucked into a plastic bag. Then I bought fresh shrimp and yellowtail from the fishmonger. When he asked how much I wanted I paused, not knowing how to answer, and he suggested a kilo, so I got a kilo of each. Now I know what a kilo feels like! I picked up 4 dozen eggs from the butcher, carefully filling my own containers, which one brings for buying eggs, from the big flats that eggs are sold from here.
When I got home and unwrapped the papaya, the first I've ever bought, the skin was moldy. It looked awful! My first instinct was to throw it away. But I know papayas are to be eaten after they get soft, so I tried slicing off the skin, and oh, yes, it was beautiful inside. I cut it up and stashed it in the fridge in jars.
We had discussed going dancing tonite with Bill and Julie, but ended up just enjoying the evening at home. James is working on his Vulcan mind meld with our chartplotter and looking into integrating barometric measurements into it, and I took advantage of the cooler spell to do some cooking, with pauses to write.
For dinner I roasted cauliflower and made a soup; I'll freeze what we didn't finish to restock the freezer for times we're off at anchor away from stores, or days when it's better to thaw food than cook food. Later I fried up a little of the yellowtail, with a little salt and pepper and lime. Right now, I think I'll go get one of those jars of sliced papaya out of the fridge. And then I'll do the dishes, slowly, while I savor a cocktail and listen to the boat rock in the wind.