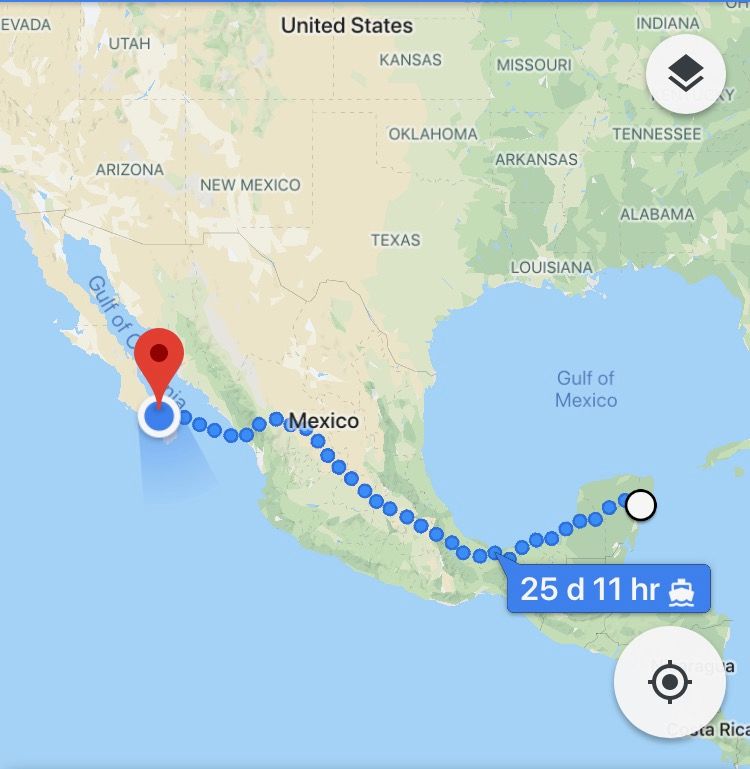 Caleb and Tricia are some of our favorite humans, so when Tricia asked if we'd be able to come to Tulum to celebrate Caleb's 50th birthday with a few friends, we said HECK YES. Okay, actually, when she asked, we were in her house in Oakland, and the idea that we would actually sail to Mexico was still theoretical, and the idea that we would then find a place to leave Rejoice and figure out how to get across Mexico was kind mind-blowing. But we adore these humans and treasure our time with them, so we figured it out! We tied up 'joice at the lovely Marina de La Paz and bought airline tickets to fly from La Paz to Cancun, where we met up with our friends and a shuttle picked us up and took us to Tulum.

We have been sailing along the coast of Baja California Sur, which is a desert region with the Pacific Ocean on one side and the Gulf of California (often called the Sea of Cortez in the United States) on the other. Tulum is in Quintana Roo, on the Gulf of Mexico, and it's a tropical jungle region.  It was so shocking to go from the desert to the jungle!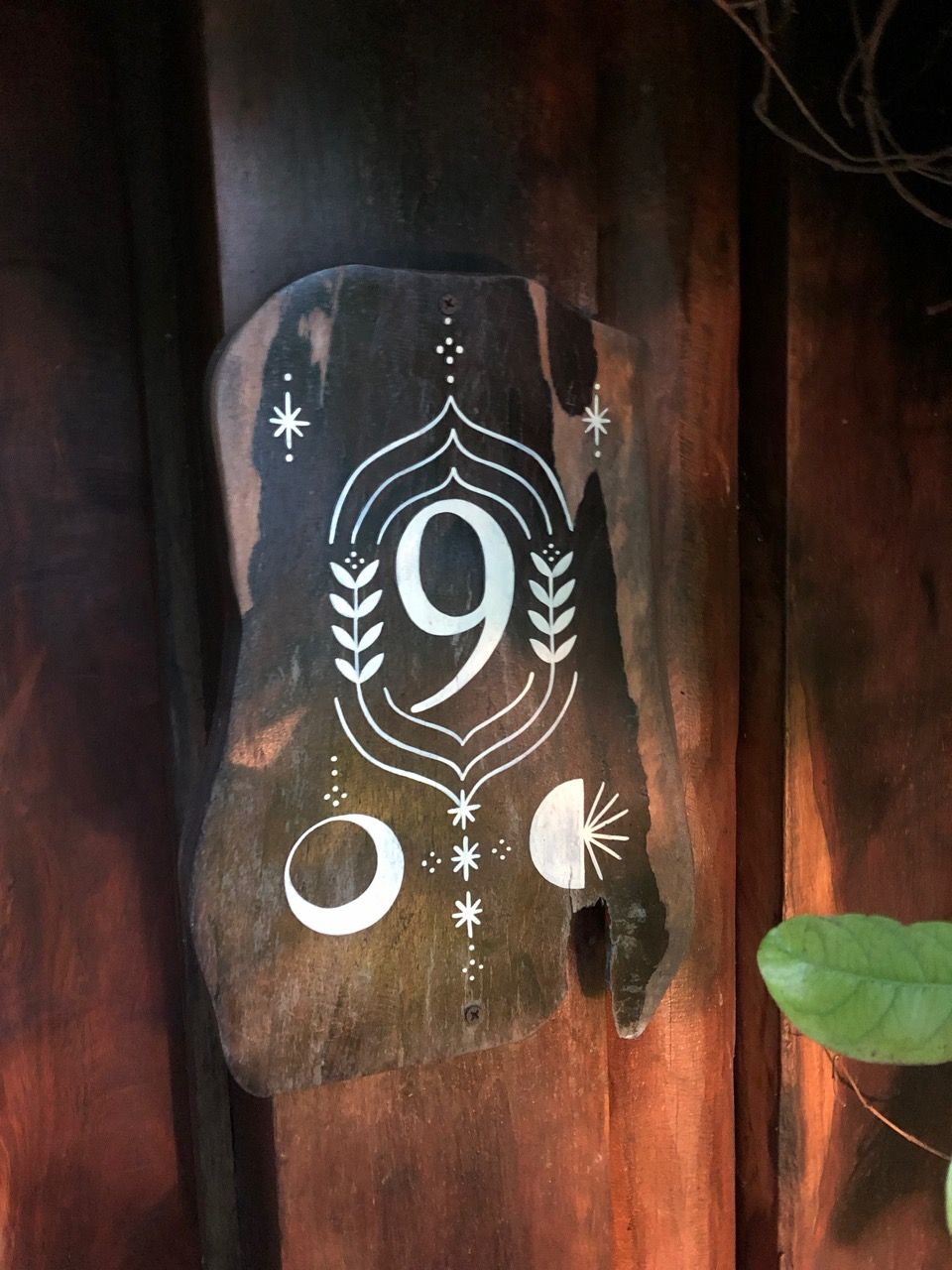 Casa Xixim was built by our friends Jenny and Dave. It's absolutely breathtaking! But you don't have to take my word for it, you can check it out in Dwell magazine. We arrived just at dark, had a lovely first night catching up, and then woke up and tumbled out the back of the house to our own little slice of beach on Soliman Bay.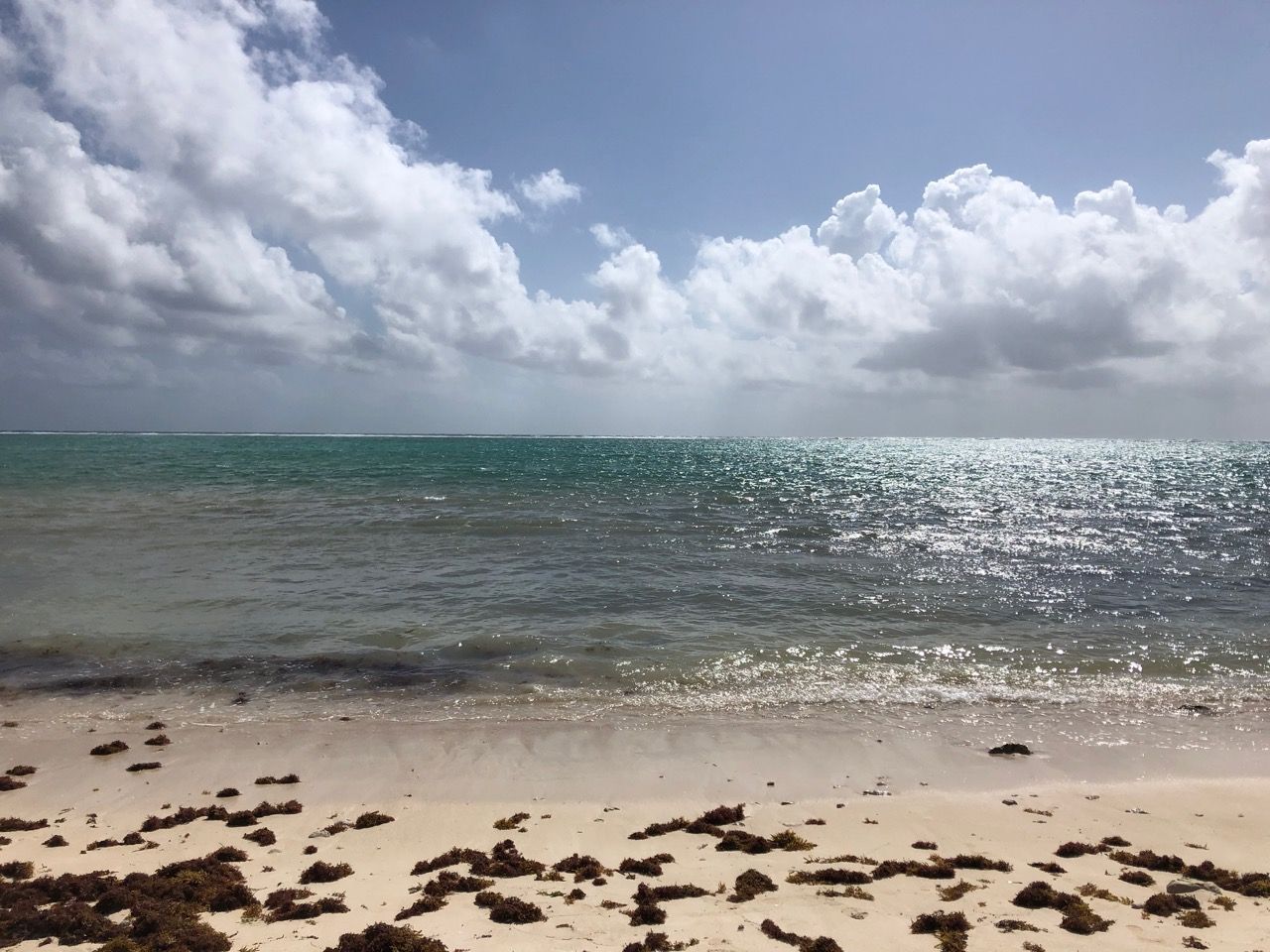 We swam, lazed, ate amazing food, played games, and went into town and wandered about. We had a mezcal tasting, James and I learned to use stand-up paddleboards, we paddled out to the coral reef in the bay, and we were definitely not the drunk people skinny-dipping in the ocean at night. Best of all, though, was the day of touring. It was one of the best days of my life.

We had a private guide, a charming and incredibly knowledgeable fellow named Pepe Cuevas. Pepe picked us up in a van at 11 and whisked us off to a cenote, which is a beautiful freshwater pool that forms through the erosion of limestone bedrock. They tend to have very clear water. When we arrived, Kristen jumped right off the stone edge into the water. It was perhaps a 12-15 foot drop. I  wanted to jump, but I was nervous. Other folks from our group used the stairs, and at first I did, too. I'm not a strong swimmer, and I was pretty nervous. I held onto the stone wall most of the time. Eventually, though, I walked myself up to the stone edge and jumped.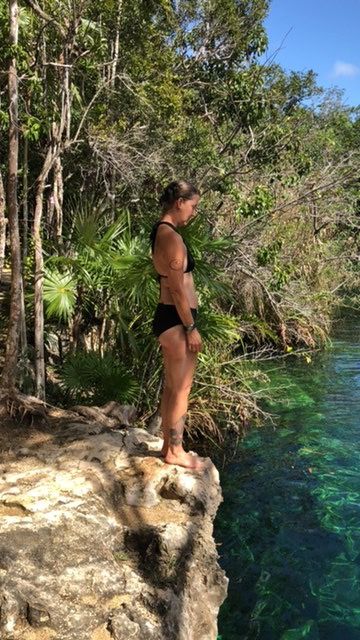 I plunged deep and came up shrieking; in my fear of landing I instinctively pulled my legs up, which led the back of my right thigh to strike the water flat so hard that it bruised!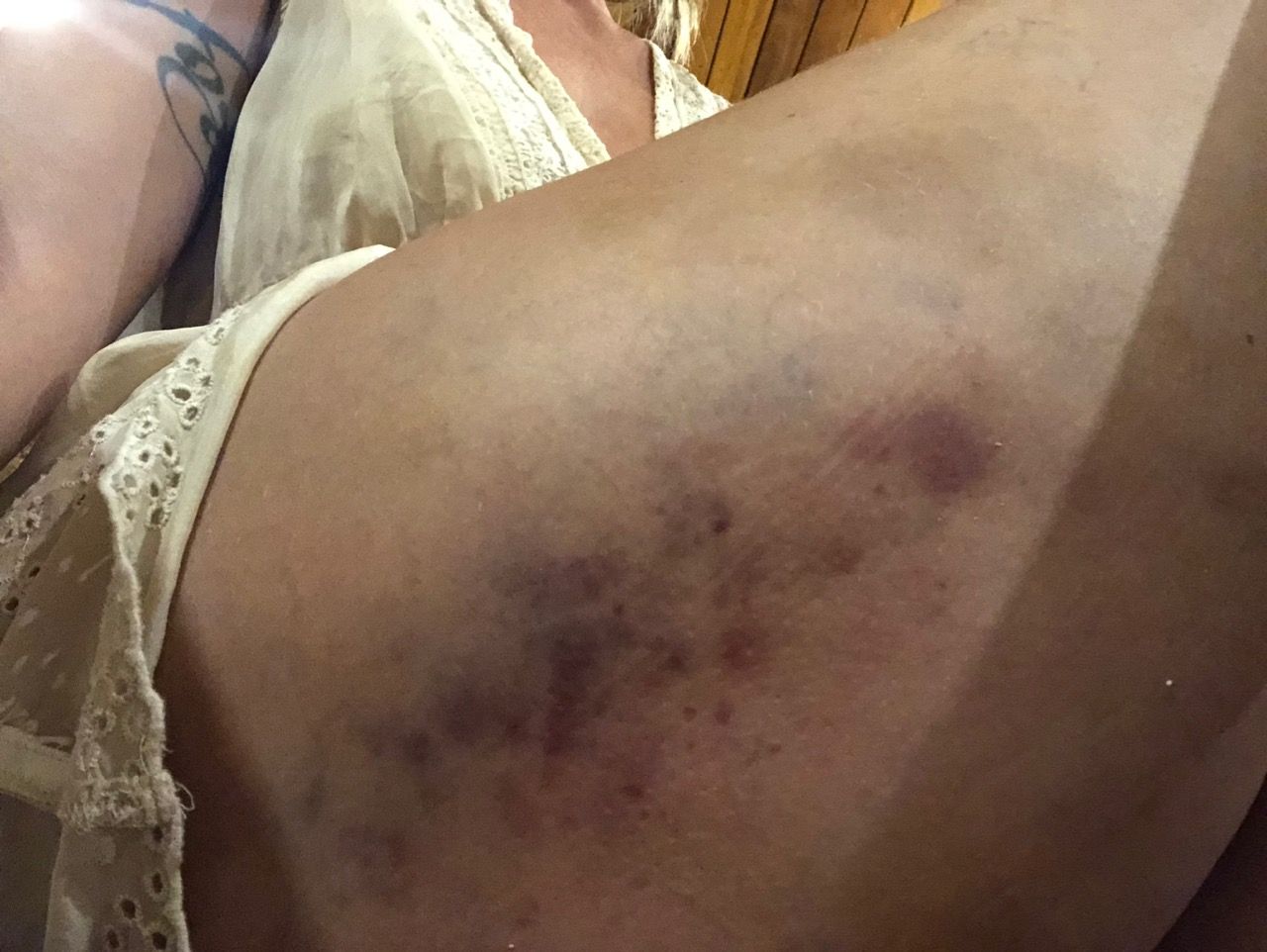 I learned my lesson and took a second jump that went better. It was so exhilarating! I realized suddenly how much I am fascinated by what I fear; this is what led to the decision to swim with whale sharks for my 49th birthday a couple weeks later.

Next we went to Sian Ka'an, where we explored Mayan ruins, including the Temple of the Birds, on the right below.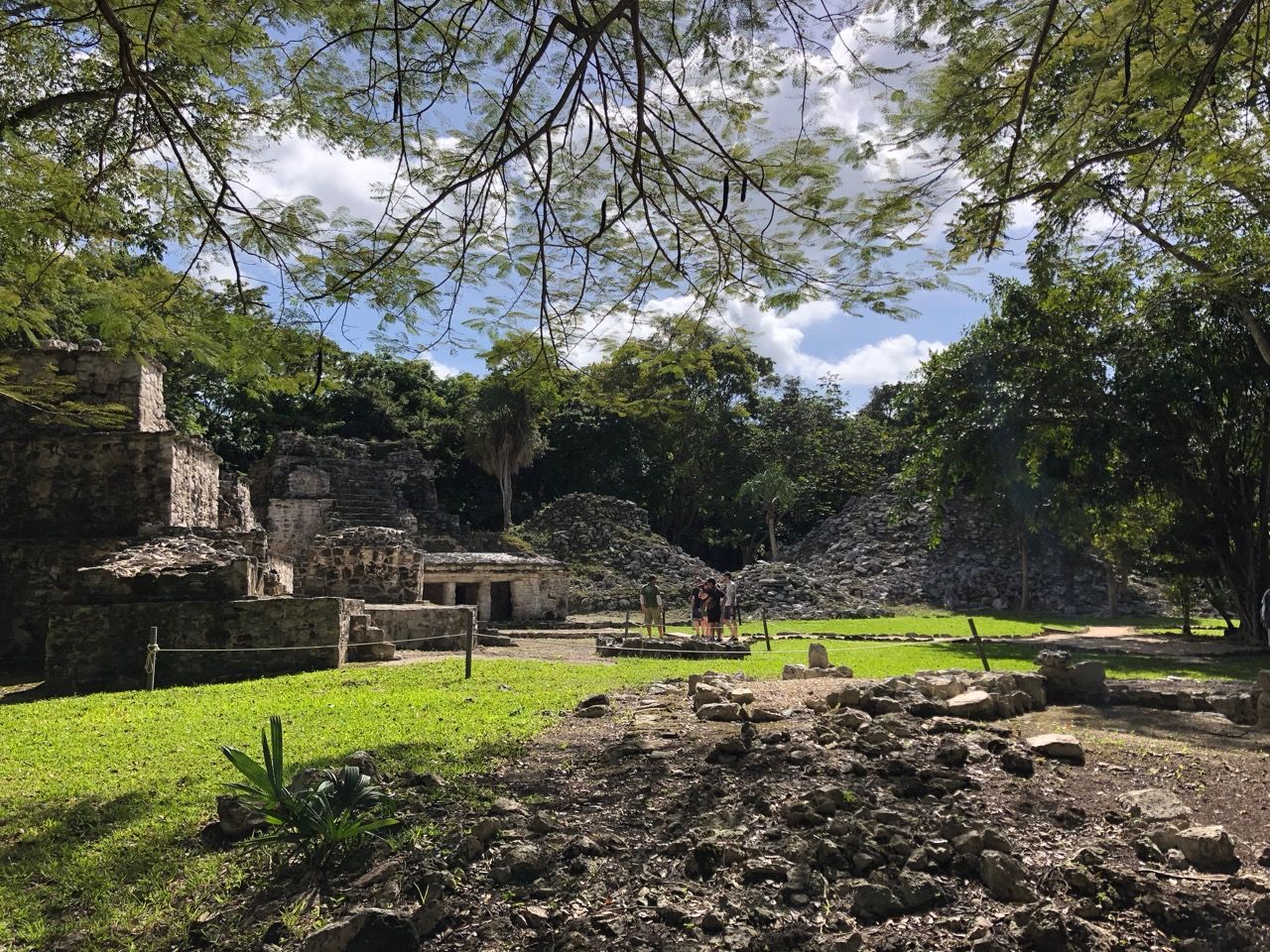 And then hiked through the gorgeous jungle, teeming with life.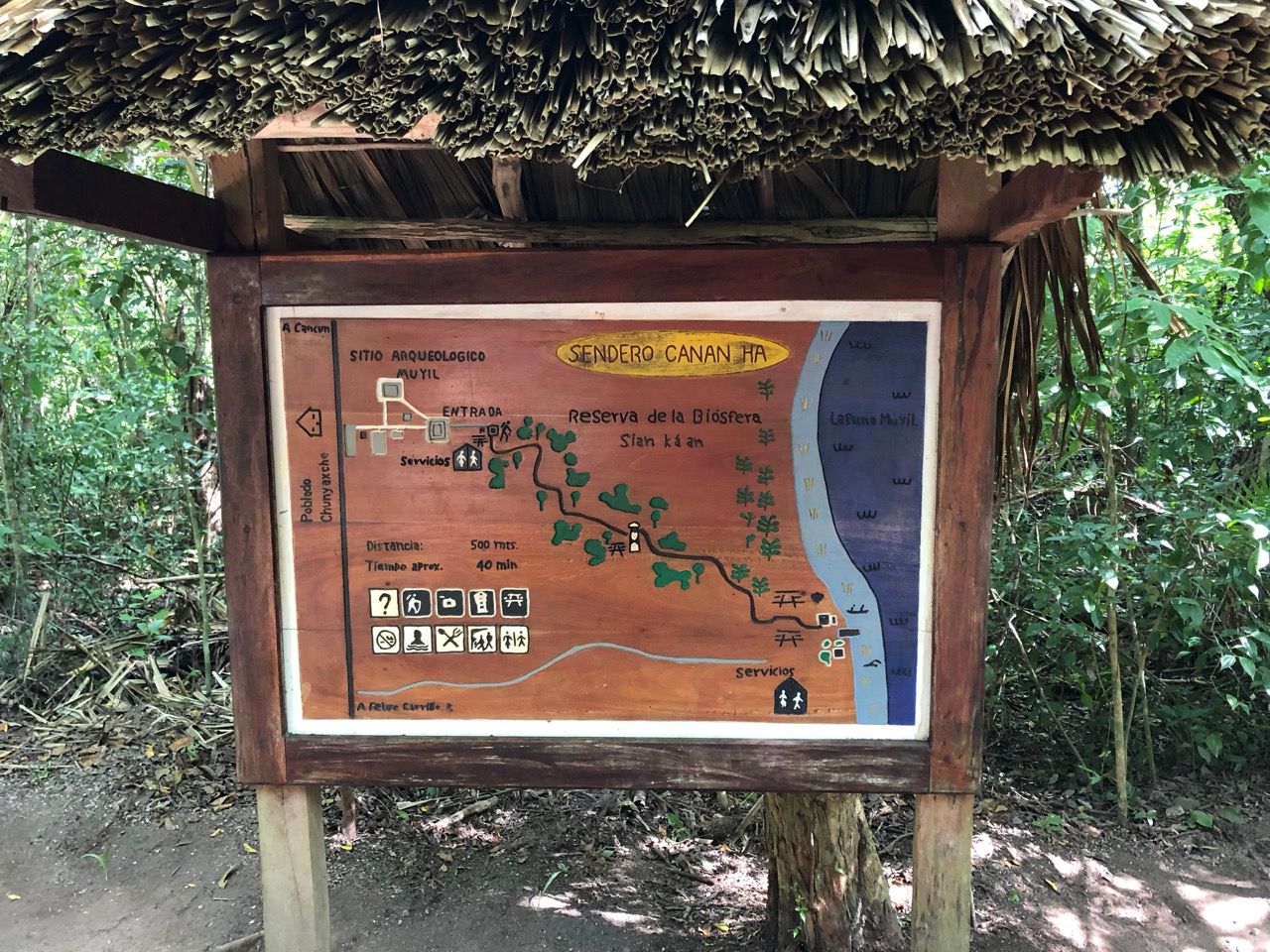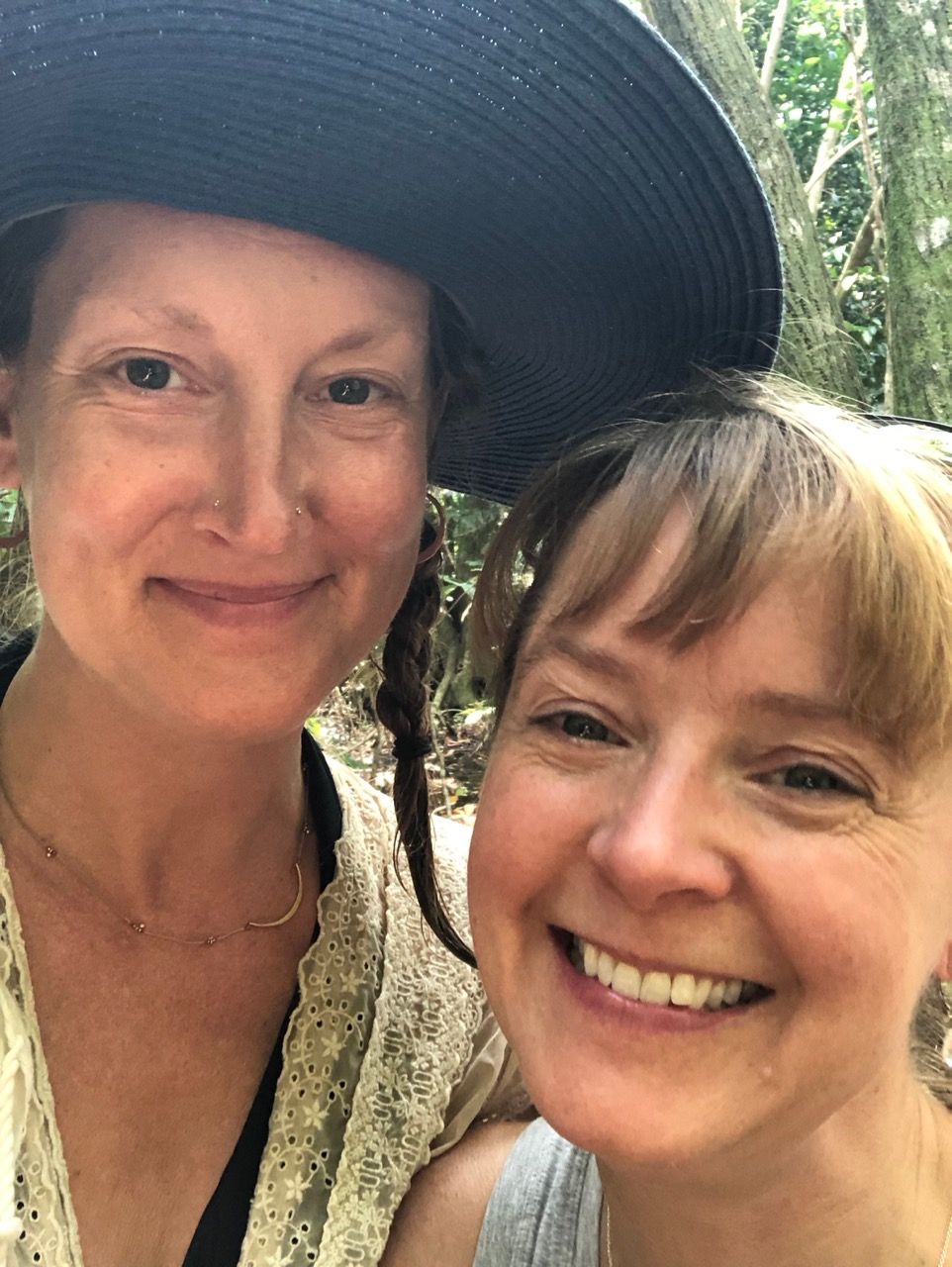 There was a tower that you could climb above the canopy of the trees to look out over the jungle and toward the lagoon we were hiking to.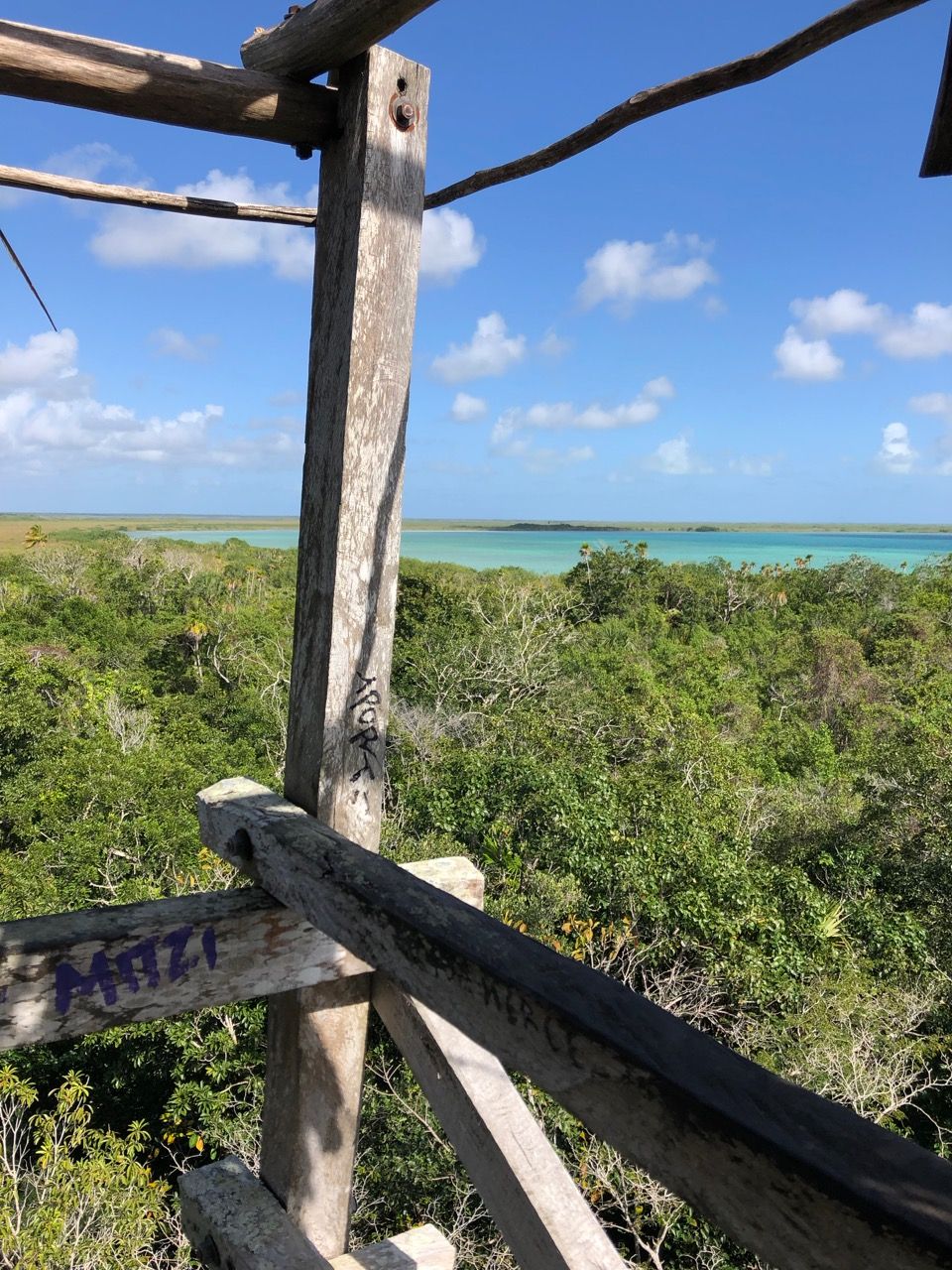 We hiked out through the jungle to that gorgeous lagoon you can see from the tower. We hopped into pangas (small, simple fiberglass boats; these had big outboard motors) and zoomed across an open lagoon and through a canal cut through the marsh. Then we stopped, hopped out, and were told to take off our life jackets and put them on upside down, like a diaper, to get into the canal. Wearing your life jacket like a diaper makes your body float like you are in a reclining armchair and the current of the ancient canals the Mayans used for trade just floats you along. For 90 glorious minutes, we bobbed along together. We marveled at the plants and animals and Pepe taught us lots about them. We laughed, formed trains, and Zoli, who is, among many things, a gondolier on Lake Merrit, serenaded us. I was too happy and wet for managing a camera, but other folks have done so!
At the end of the ride, our pangas picked us up again and we continued on to another lagoon where we "saw" manatees. Really, we could just see their snouts, but it was still pretty neat!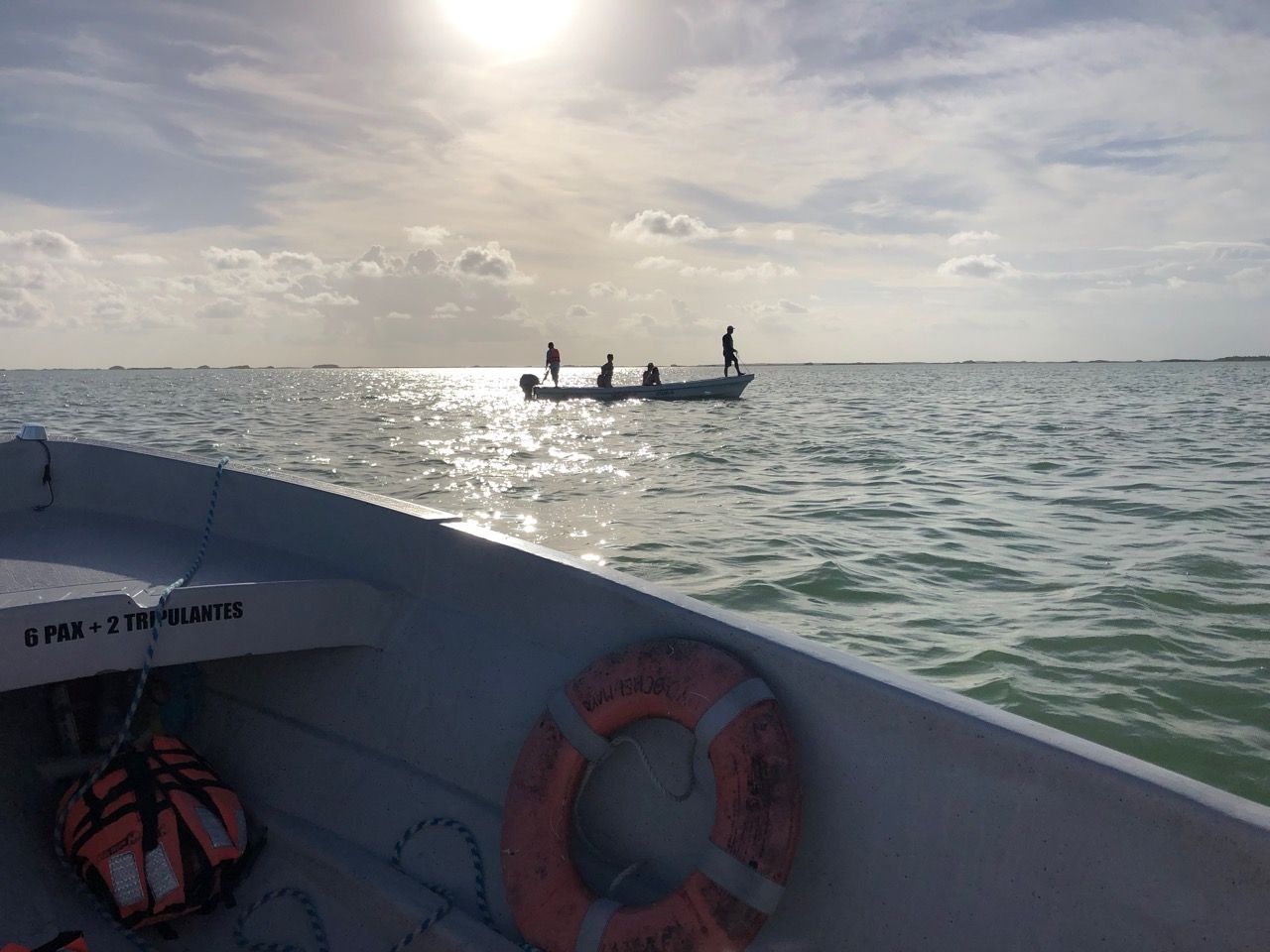 Pepe has a great love of birds, and birding tours are popular in this area. We saw many different birds. My favorite was this enormous nest of an osprey, complete with baby osprey. For scale, that is an entire downed tree; pretty sure the nest could have held me easily.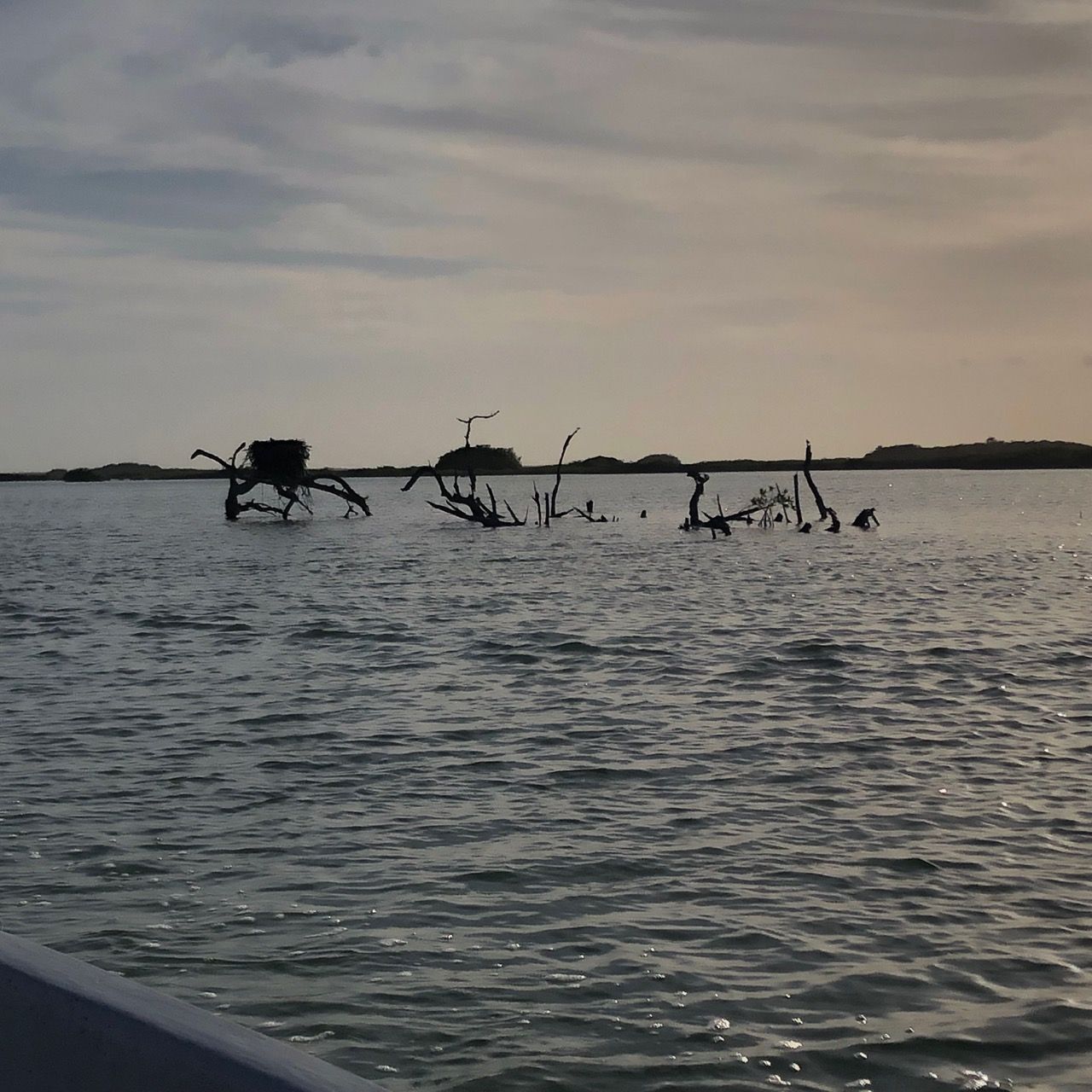 This circle is where fresh water is welling up into the salty lagoon from the underground cave system that connects the cenotes. The caves are the result of cracks spreading out from the meteor strike at the Chixclub crater that killed the dinosaurs . WHAT?!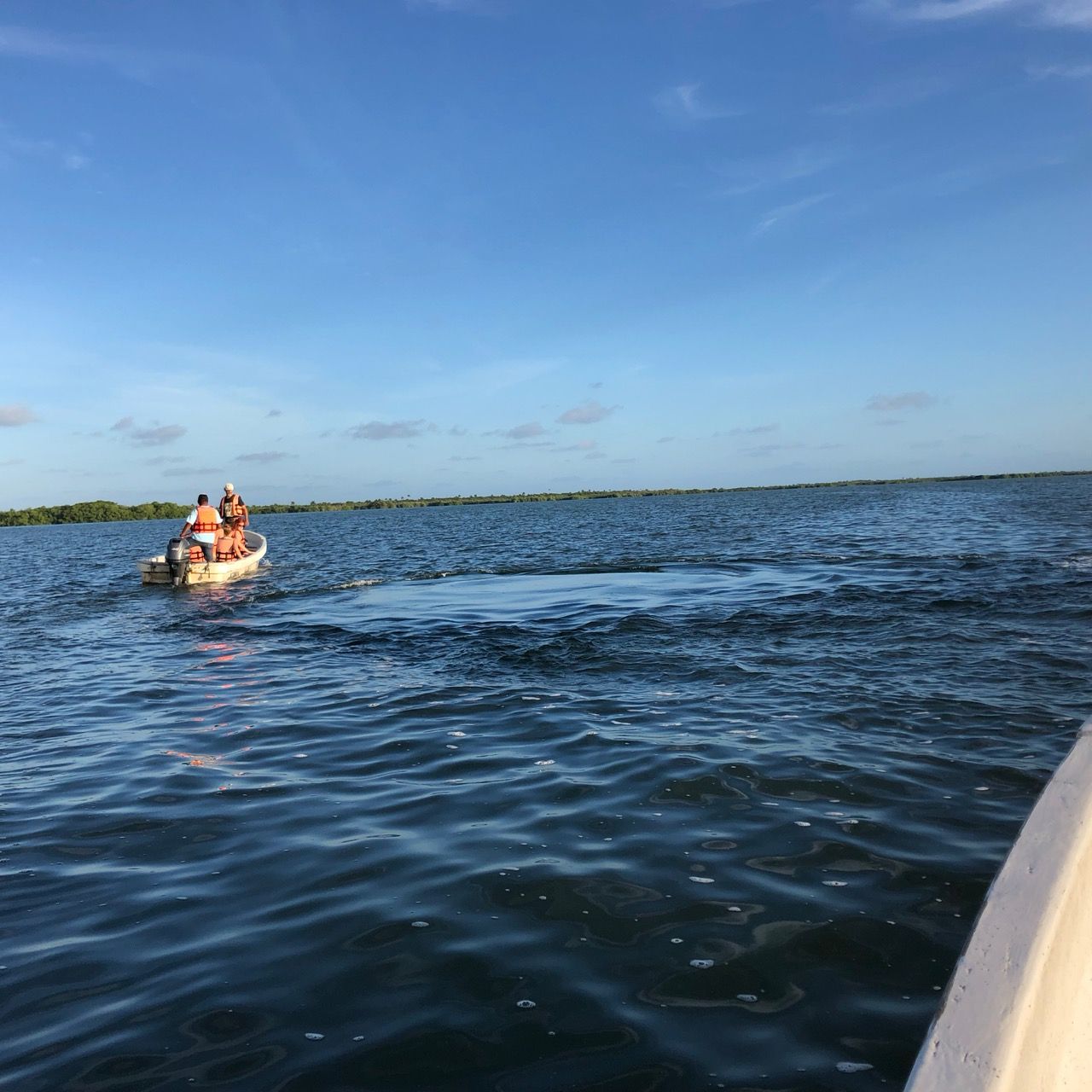 We saw two crocodiles! Here's one:
We drove all the way out to the sea and romped a little on the beach.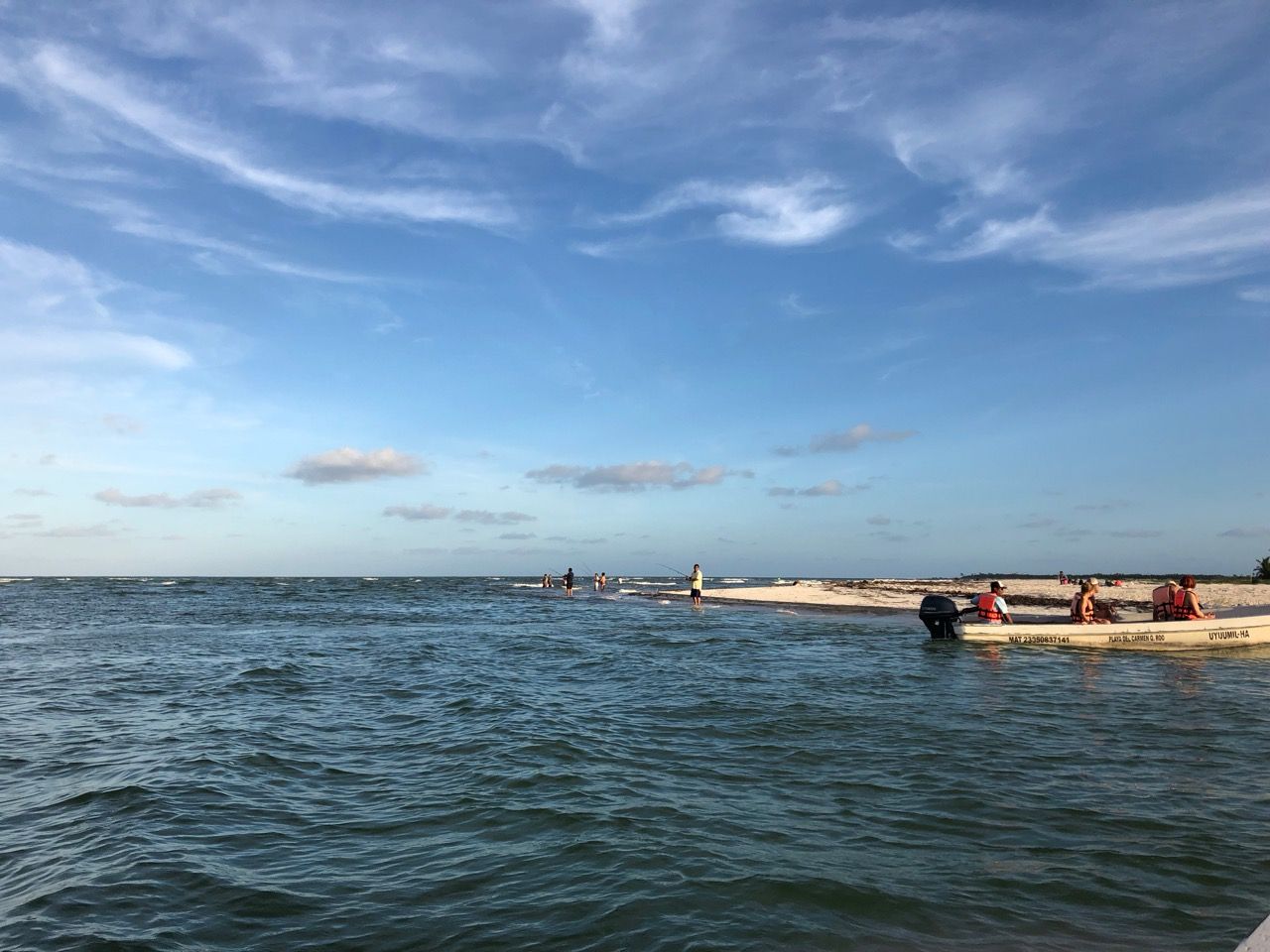 And then we zoomed all the way back: across the lagoon, through the canal we'd bobbed along, through the second lagoon, as the sun was setting. Oh. OH!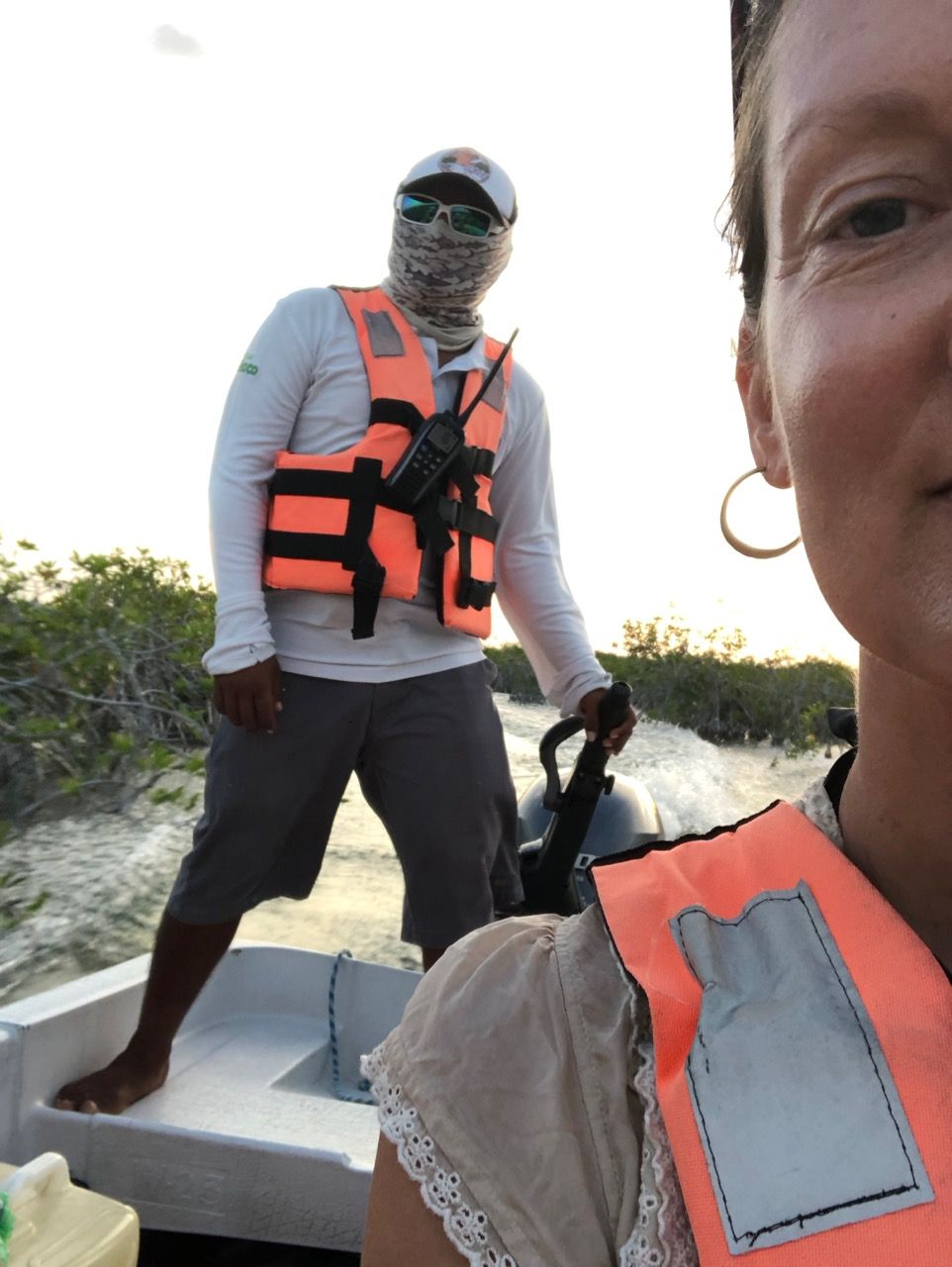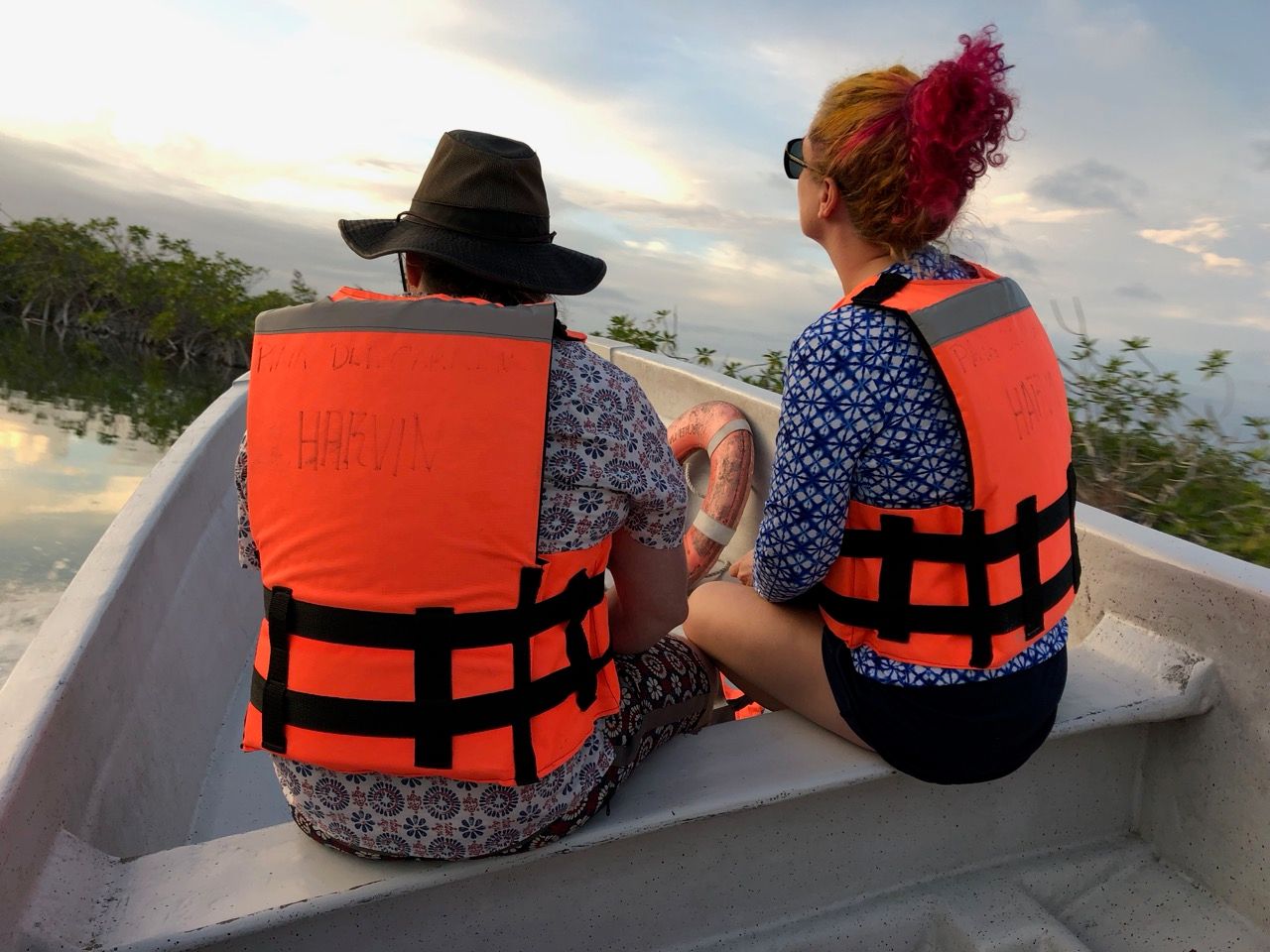 Then we piled back into our van and Pepe took us to a delicious, casual ceviche place where we ate outdoors in the warm night air and it was totally fine that we were salty and had swimsuits on under our clothes.

If you'd like to spend a day with Pepe, you can reach him at pepe.cesiak@gmail.com or find him on Facebook. He hopes to have his website up later this year! I can't recommend the experience warmly enough. This is not a sponsored post; we paid full price for our tour. I am simply raving out of love and gratitude.

Thank you, Pepe! Thank you Casa Xixim! Thank you Tricia, Caleb, Aimee, David, Kristen, and Zoli. James and I had the most magnificent time with you.