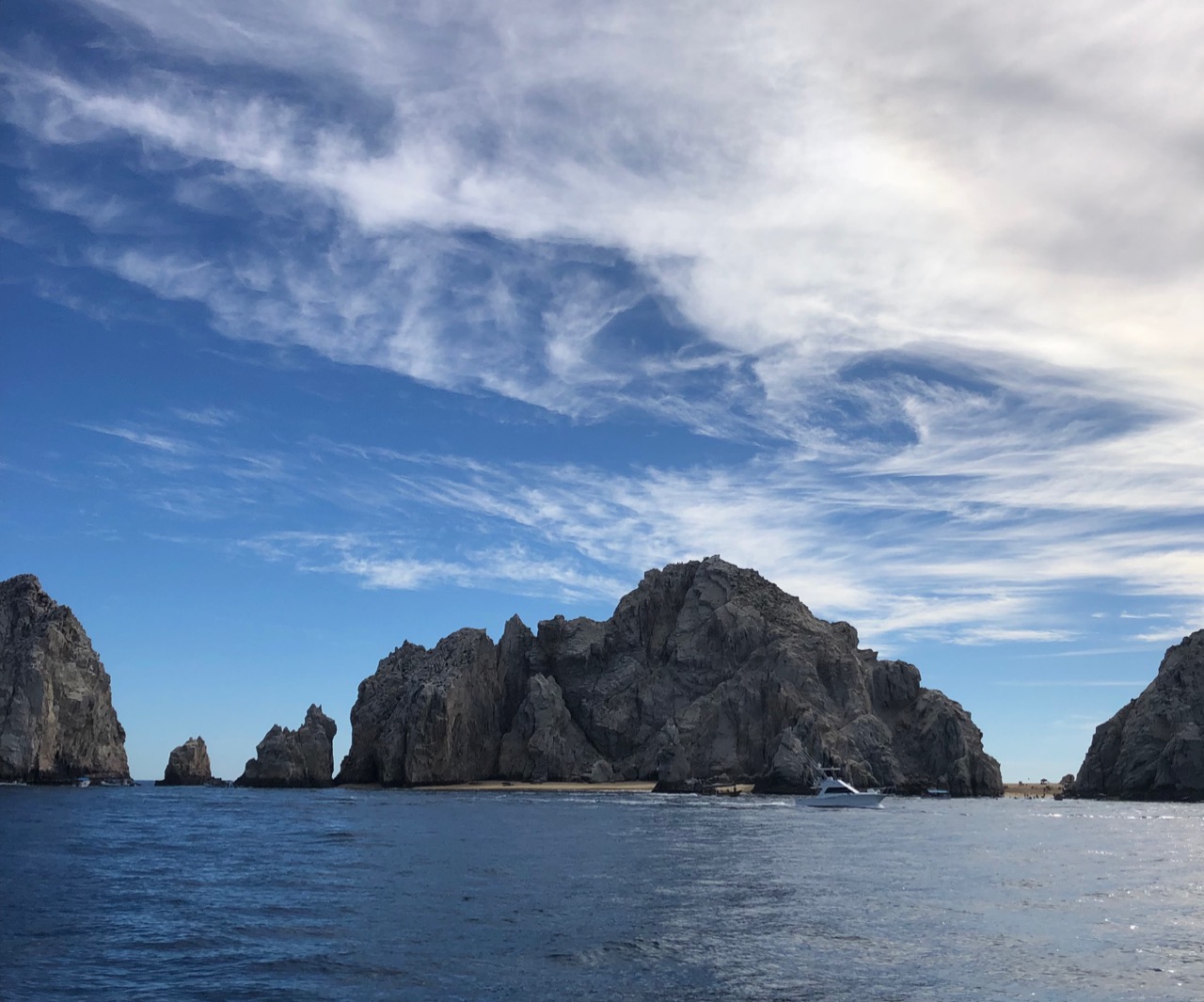 2018 was, we are told, the least windy conditions ever seen on the Baja Ha-Ha in all its 25 years. Most folks had to motor most of the way. There were many engine issues, alternator issues, electrical issues from systems unaccustomed to such sustained use -- in normal conditions, it would be highly unlikely you would run your motor for days on end! There were folks who ran out of diesel. There were many kind stories of mutual support; still, a bunch of boats dropped out along the way. Two boats whose crews we met during our sweet time in Morro Bay dropped out (Steve on SV Grand Trine and Tim on SV Sojourner, we'd love to hear from you if you are seeing this!) and we don't know if that was a temporary pause or a big shift in plans. Friendships form deeply and connections pass quickly in the floating world.
When the Ha-Ha fleet pulled out of Bahia Santa Maria for the final and shortest leg, we were tired and weary of the sound and smell of our engines and exhilarated to be near the closing point and THERE WAS WIND. It was a shivery, heart-rising thing to see everyone's sails aloft at last.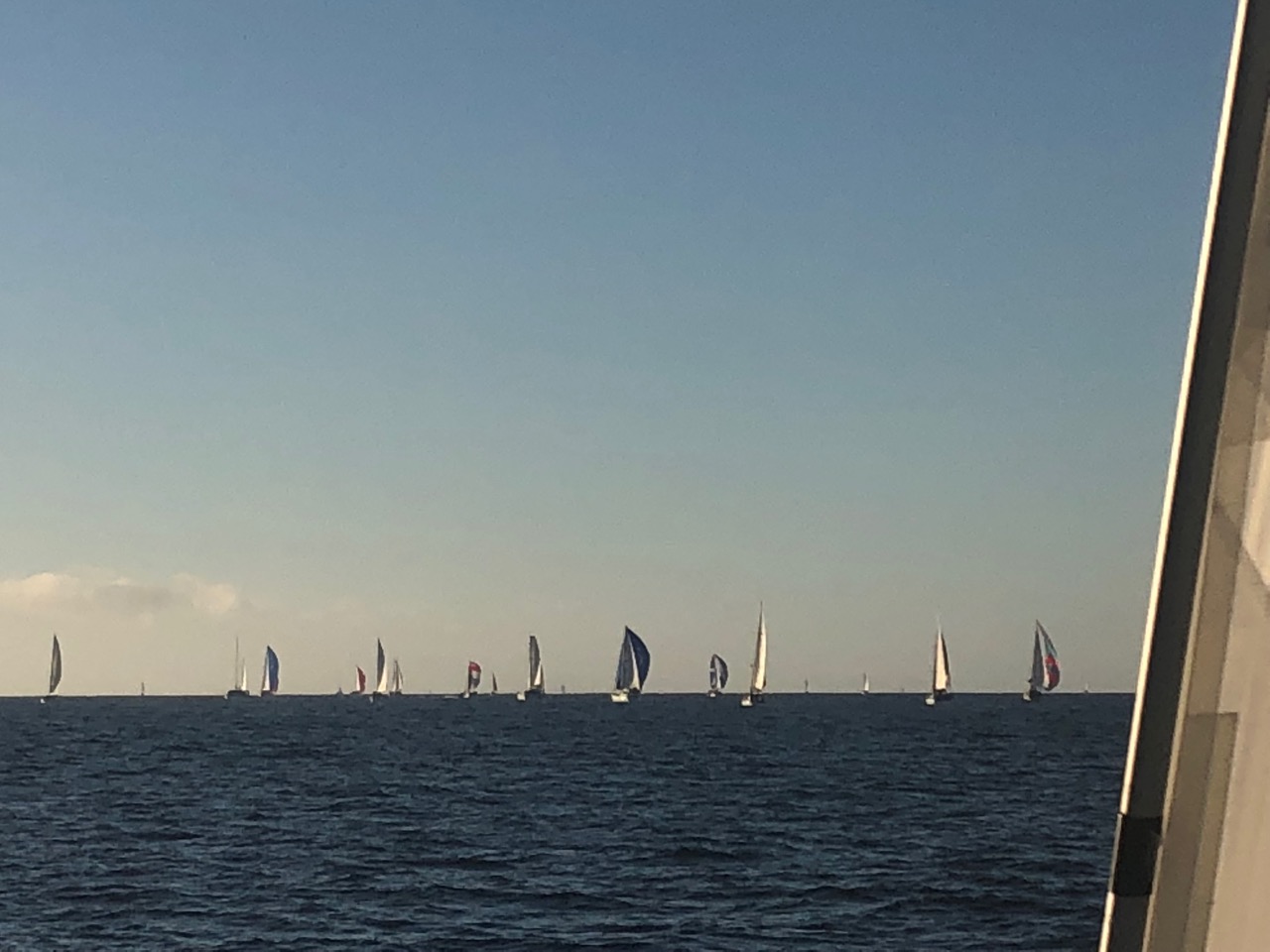 One of the sweetest parts of being in Bahia Santa Maria was that we were able to spend some time again at last with our dear friends Sarah and Charlie of SV Blossom. We sailed with these good folks for several legs down the California coastline, hung out in anchorages, and were actually literally tied together (it's called rafting!) at the Morro Bay Yacht Club. We climbed over each others' boats, gave each other rides and parts and tips, went to yoga and the farmer's market in Monterey, in Morro Beach, in Santa Barbara. We aligned for just one night at Burton Chace Park in Marina Del Rey; Blossom pulled in after dark into the slip beside us and we stood on the dock in the dark shining flashlights over the slip so that our friends could see their way in. Then our paths split for a while; our hops weren't quite matched. In San Diego Blossom anchored out in Glorietta Bay while we nabbed the very last spot at the Police Dock. We were in different parts of the pack during the first part of the Ha-ha, but at last in Santa Maria we all connected. We had Sarah and Charlie and their friend-and-crewpersons Greg over for dinner, and all six of us had a great time. We had a crazy, delicious meal, traded stories of the journey, and hugged lots. As we departed the bay, we saw Blossom put up her new light-air sail just as she headed off into fog. Oh, my heart!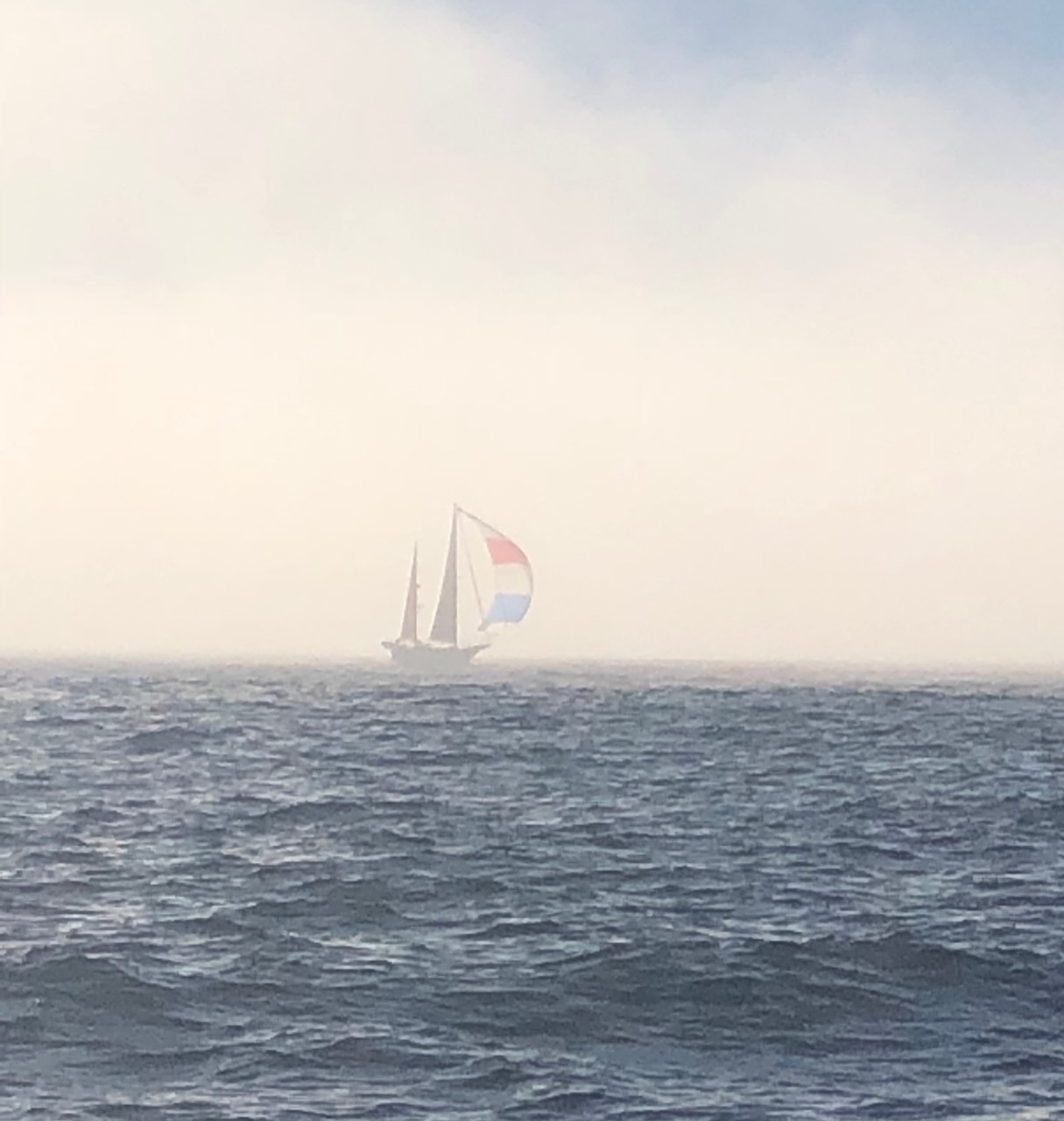 It was a long, hot day at sea. Really getting hot now. I remembered our kool ties and dug them out. The kool tie is a little scarf that has some water-aborbent stuff sewn into it; as you wear it, the water evaporates from the stuff and cools you. David has been one of our great crazy-adventure friends for a couple decades -- we went to Burning Man a zillion times together, camped in Northern California forests, the Grand Canyon, Bryce Canyon, Kodachrome Basin. We climbed glaciers and clambered around in caves in Iceland, sailed a boat in the Channel islands, helped to host the TED and EG conferences, and danced everywhere. David knows his gear, and David had raved about kool ties for eons; he always wore them on the playa. He was, of course, right as usual; the kool ties are simple, easy to use, really took the edge off the heat and, um, yeah, this is my husband in his. It's basically a cooling ascot. * fans self *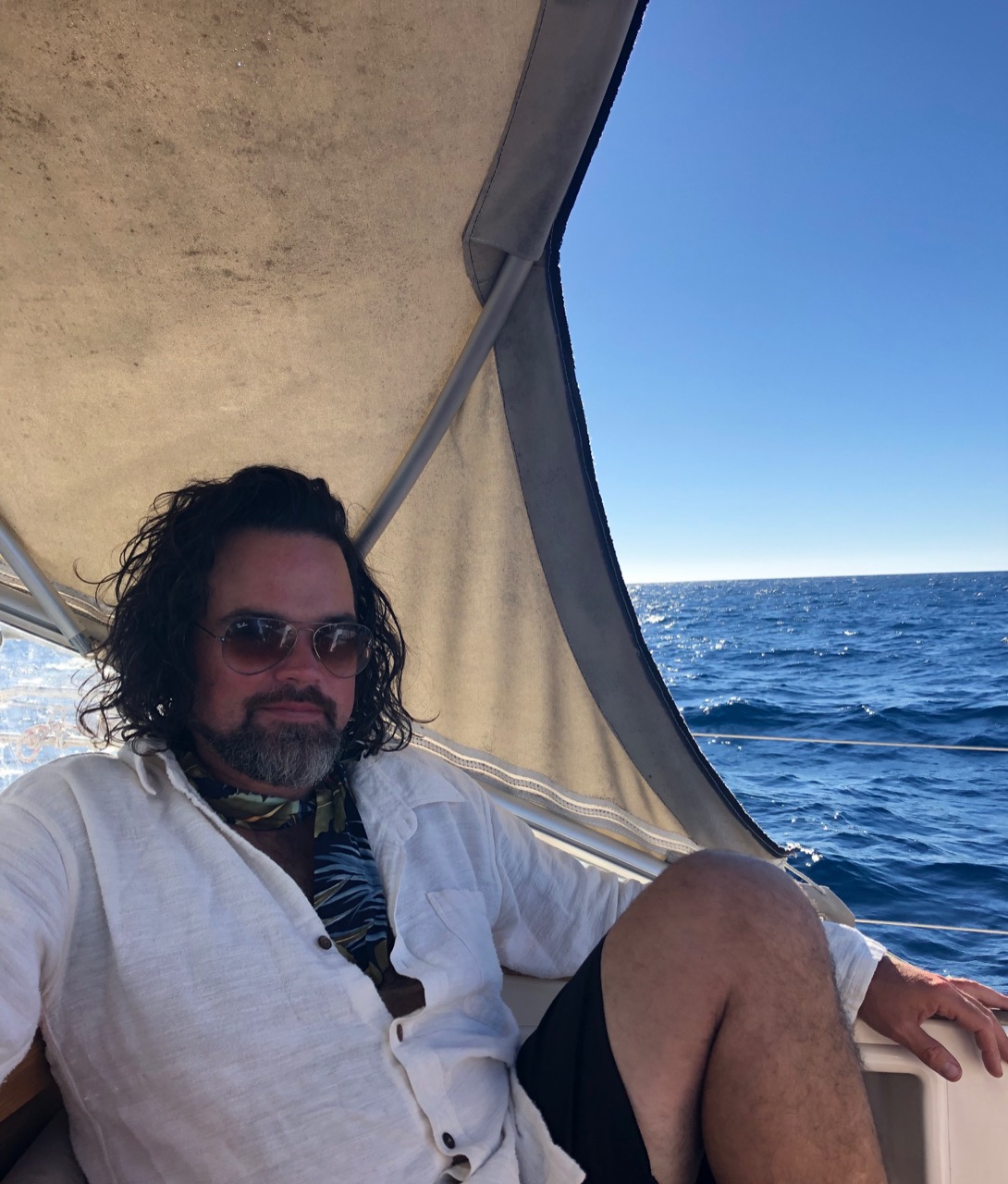 The final leg was only 24 hours, we'd heard! Of course, it ended up being more like 36, but we hunkered down and carried on. Oh look! Now it's sunset, and here's the captain, still right there.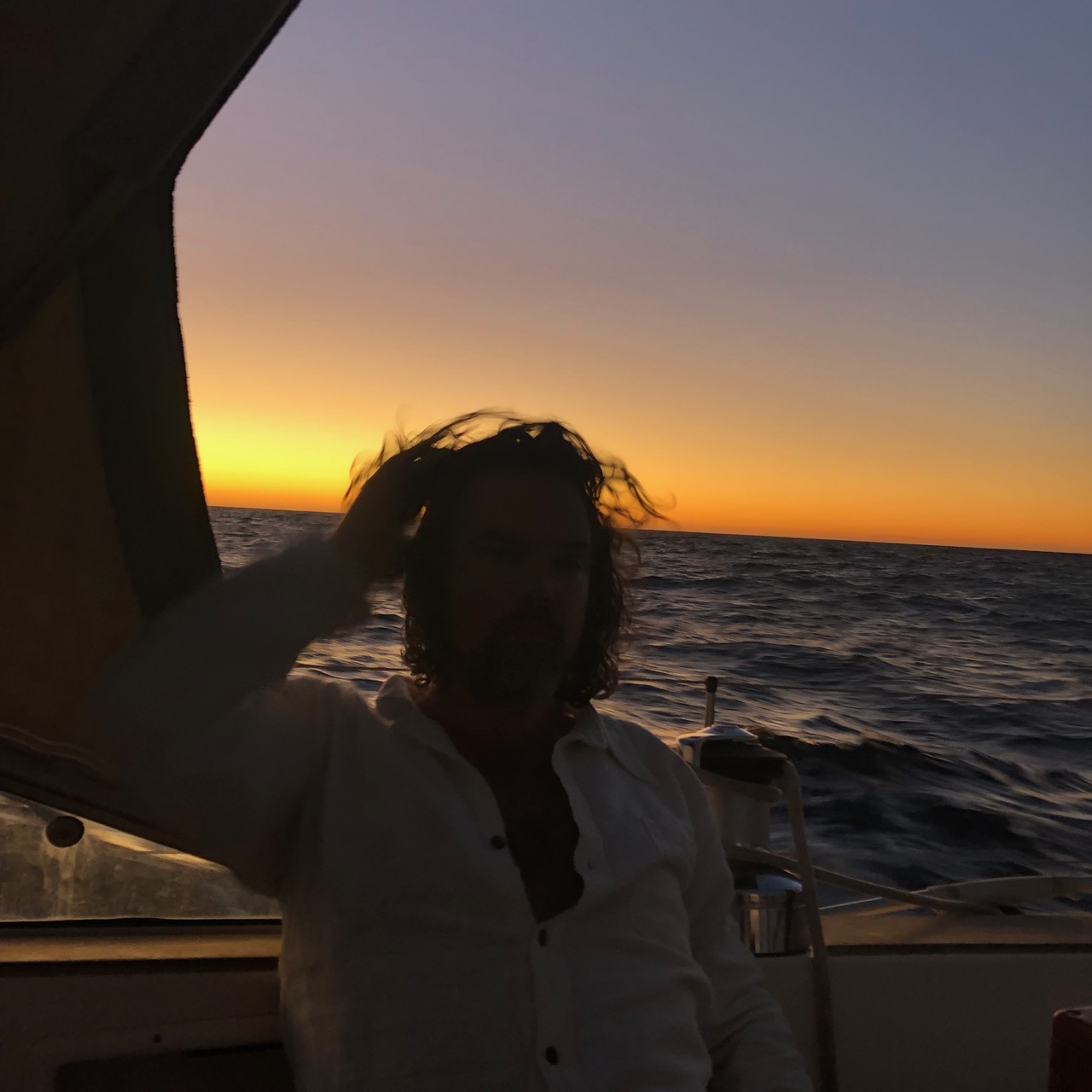 The sky and the sea. OH, THE SKY AND THE SEA. I can't remember now if it was this night or one on the prior leg, but there was one night where James and I were alone in the cockpit at moonrise. The moon rose over the ocean, a slender waxing sliver. The body of the sliver was pointed down and the open side up, just like the moon sits when Shiva is wearing the moon in his hair. It was enormous and golden and one of the most beautiful things I have ever seen in my entire life. I have no photograph; it was night, and the moment was too perfect to interrupt. I do have these.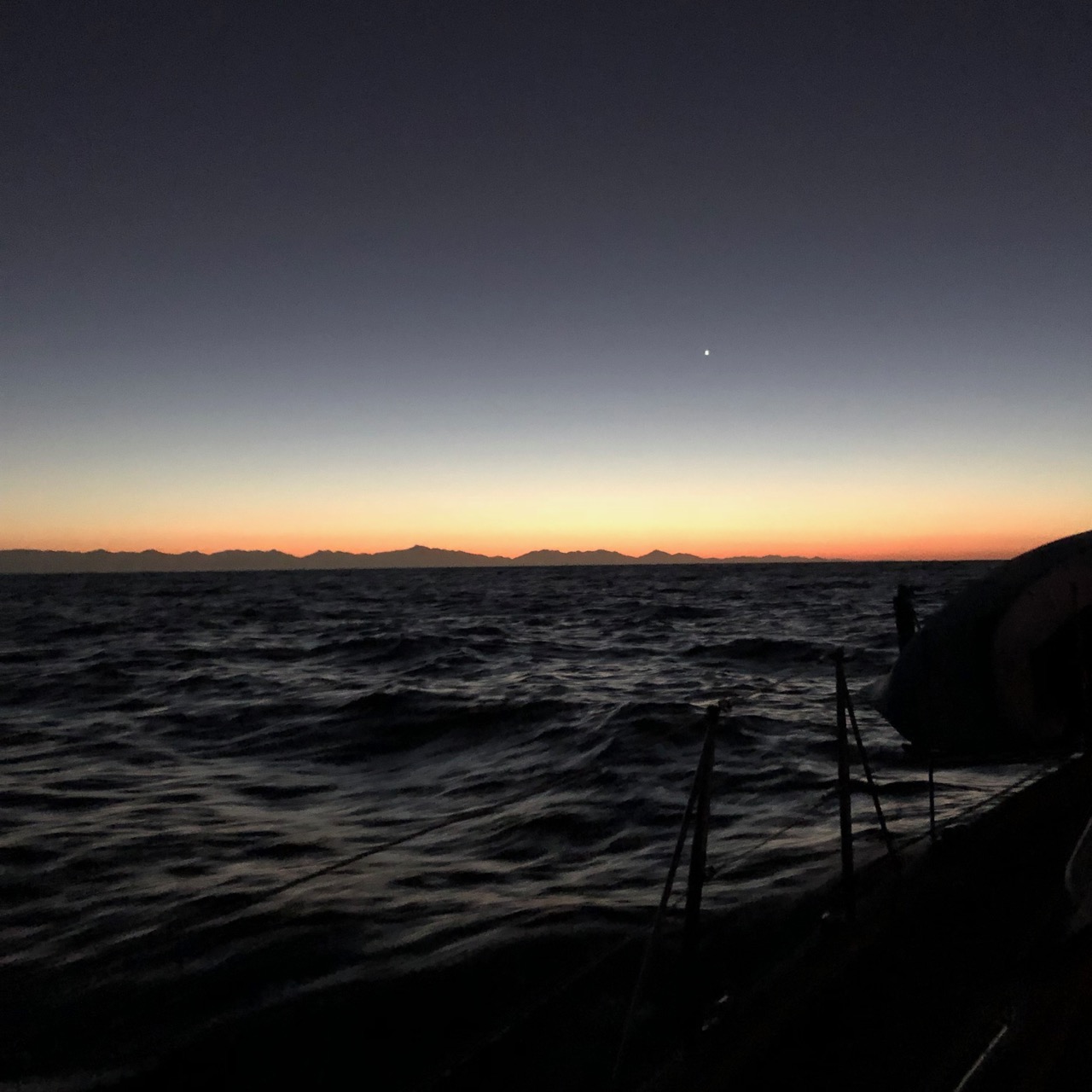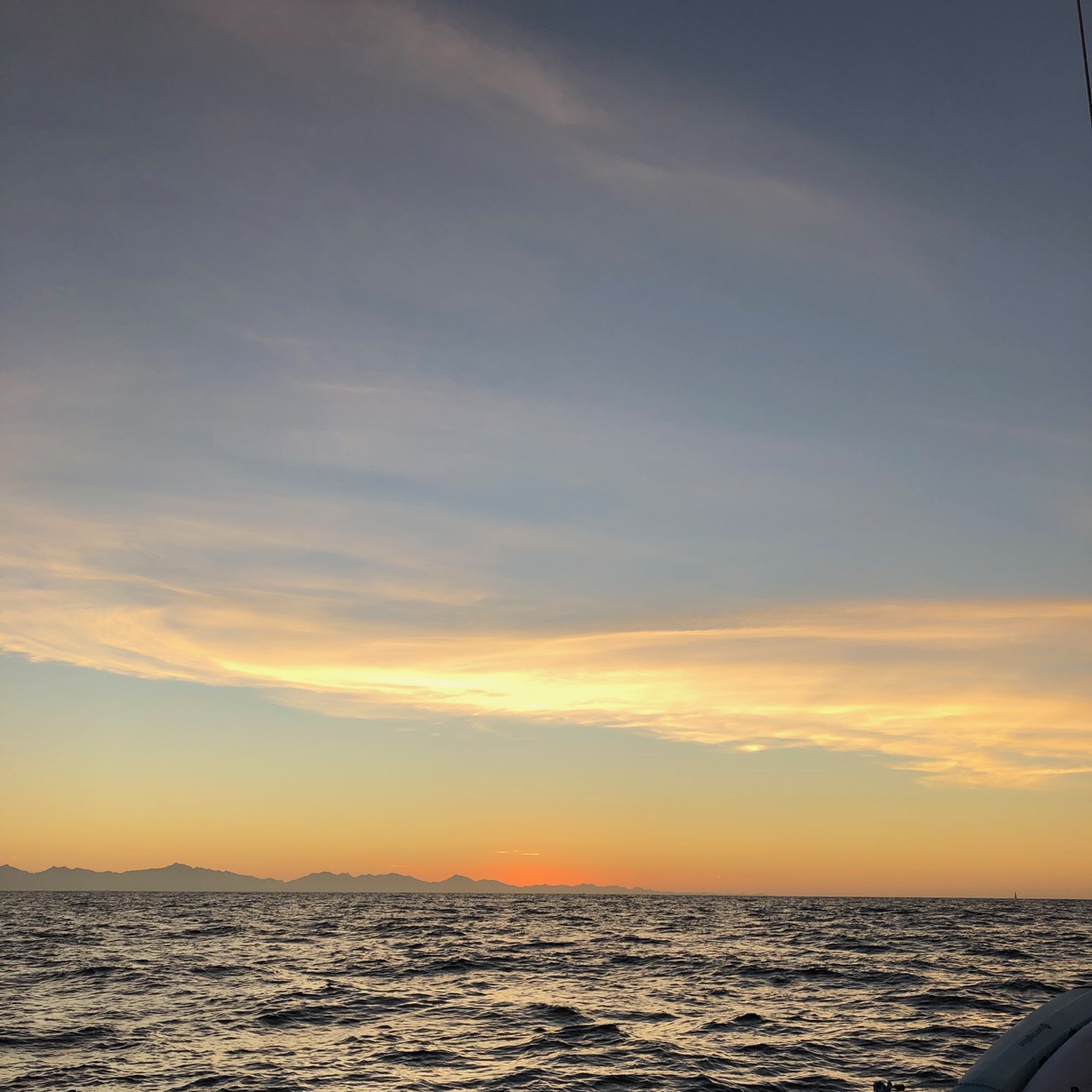 Ahhhhh.
Then came the final day.
One of the traditions of the Ha-Ha, we were informed by radio, is an initiation upon crossing the Tropic of Taurus, more commonly called the Tropic of Cancer. As Wikipedia tells me, "When this line of latitude was named in the last centuries BC, the Sun was in the constellation Cancer at the June solstice, the time each year that the Sun reaches its zenith at this latitude. Due to the precession of the equinoxes, this is no longer the case; today the Sun is in Taurus at the June solstice." The Ha-Ha tradition is that the first time a sailor crosses the Tropic of Taurus, they get a bucket of sea water dumped over their head.
As we approached this point, Gabe asked if we were going to do the initiation. We were all very hot. We had not had a decent shower in many days. We were so tired. We were just flopping, sluggish and stinky and tired, in the cockpit. We still had a few hours to go until Cabo; the wind had died and we were motoring along. The final slog.
I looked at Gabe. I thought: GABE HAS BEEN AMAZING. I could feel his heart yearning for initiation. I am a woman who respects and values ritual. Also, it was FREAKING HOT and the captain was cranky. I saw what needed to be done. I went below and I grabbed my trusty bucket and the piece of line that James whipped and eye-spliced for my birthday last year. I went up on deck and dramatically dropped my bucket onto one of the seats in the cockpit.
Gabe got a little brighter right away. James (who was carrying the weight of the ship's mechanical function and all of our lives in a different weight than any of us, with grace and power, and was really ready for some rest) just looked up through the weary haze. I announced that it was time for initiations. I carefully hung the bucket over the side of the boat and experimented until I could fill the bucket without the sudden weight ripping my arm off, and I lifted the water onboard. We took turns: I doused Gabe and James, James doused me. As I'd hoped, getting sopping wet cooled us all off and lifted our spirits immmediately. Oh, the laughter!
I haven't washed my hair in nearly two weeks here, and I'm wearing a rashguard minidress because I can't add another freaking layer of sunscreen because when I touch my skin now, the layers just roll off.
With our spirits lifted, we carried on through the last couple of hours and into the gorgeous bay of Cabo San Lucas!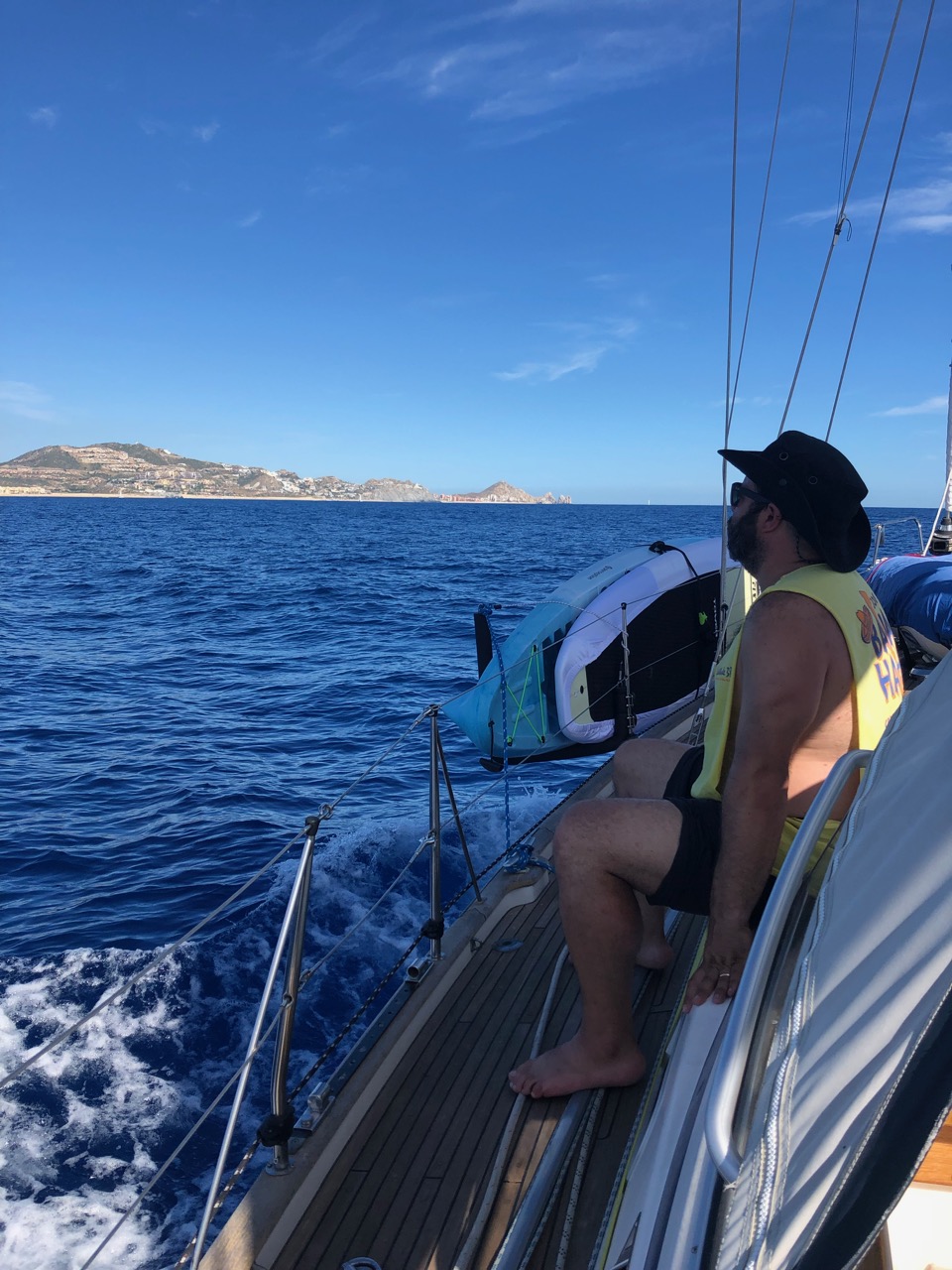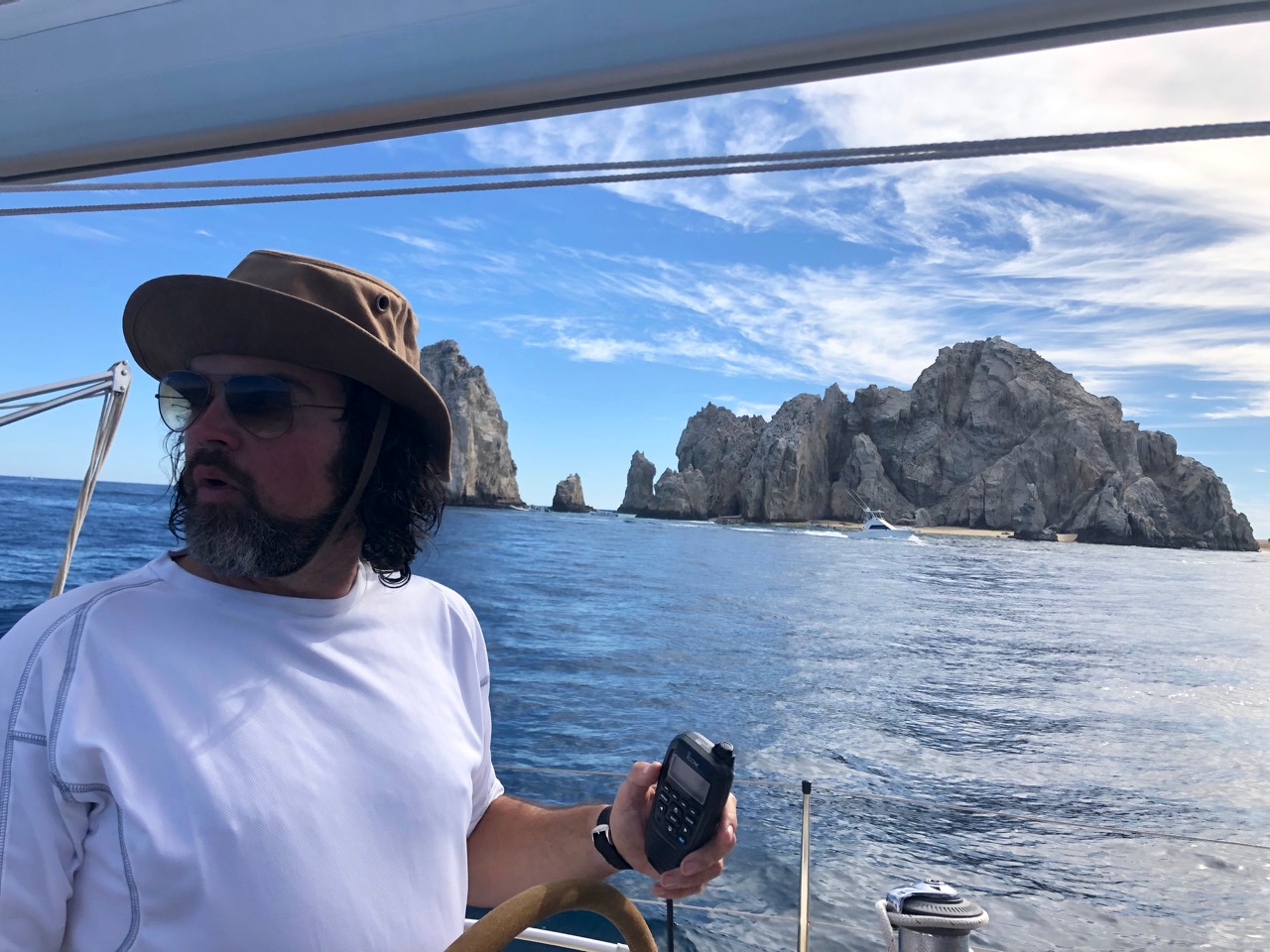 Ahhhhhh. We got a slip at dock. WE TOOK SHOWERS. WE TOOK VERY, VERY LONG SHOWERS. And then we went to the annual "We Cheated Death Again" party at Squid Roe. Squid Roe... is very special. And let me tell you, by the end of the Ha-Ha, I was saying "OH MY GOD I CAN'T KEEP UP WITH THE RETIREES ANYMORE NO MORE PARTY PLEASE!" But tonite, tonite was magnificent.
There was love, and embracing. WE DID IT. WE FLIPPIN' SAILED (OR OK, MOSTLY MOTOR-SAILED BECAUSE NO DARN WIND, BUT WE GOT THERE) TO MEXICO!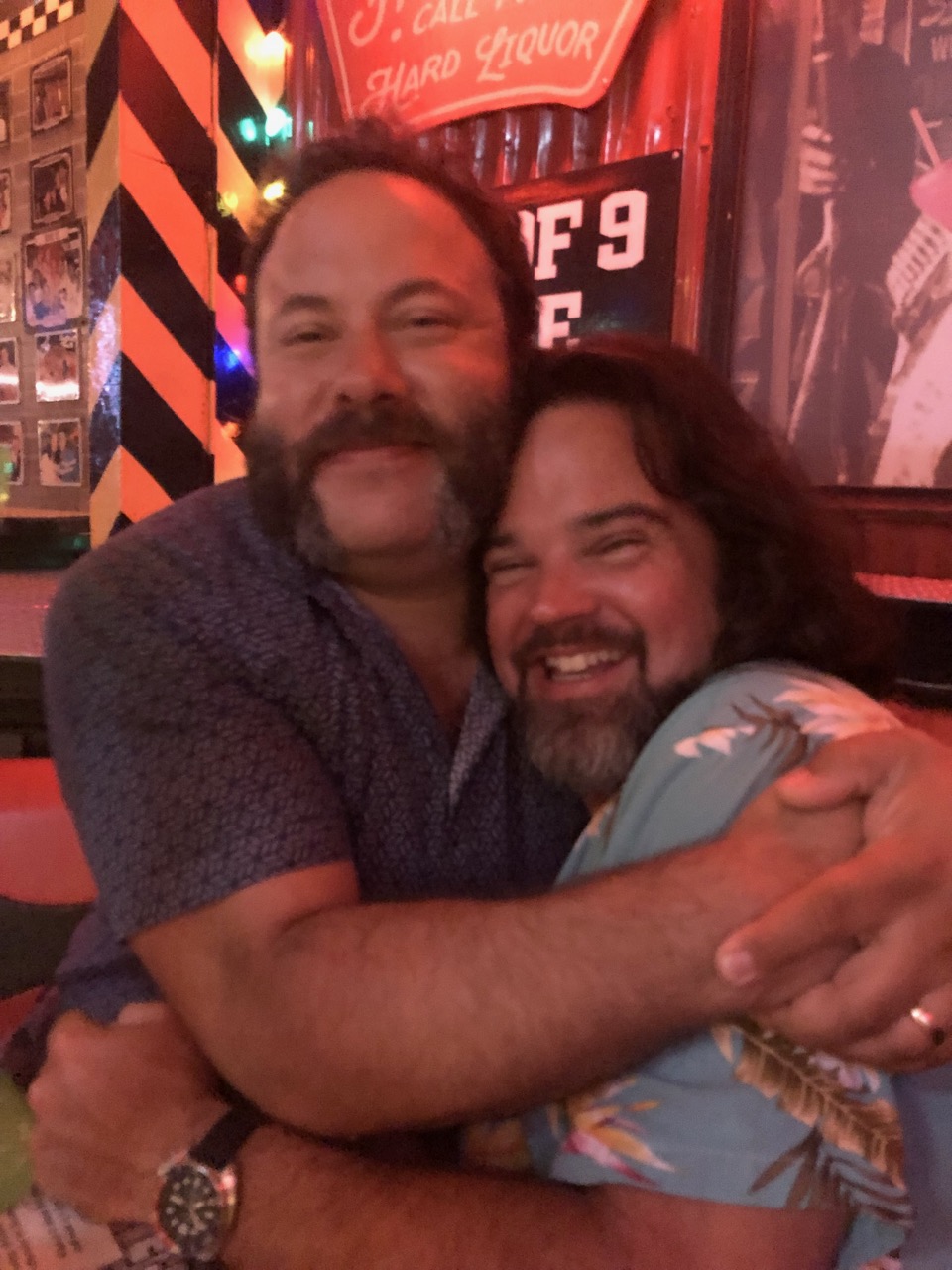 That's really one of my favorite photos ever. Savor the love, darlings!
There were boats with kids on the Ha-Ha. These kids had been cooped up in small spaces for most of a couple of weeks. Skid Roe has diamond plate steel on just about every possible surface, because they WANT you to dance on the tables. There are even handy bars to keep you safe while you do so, because they are assuming you are drunk. The kids went at it right away.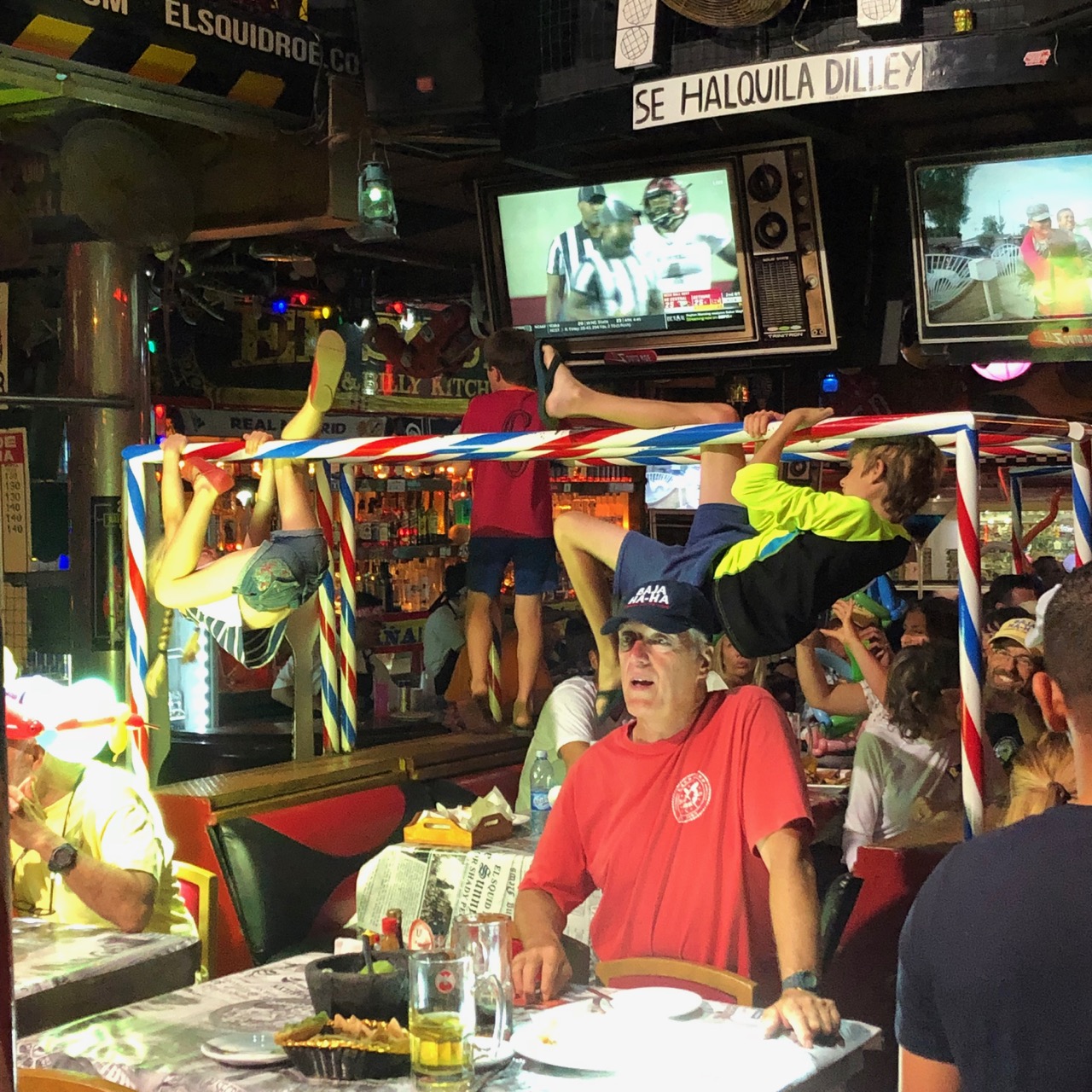 And the adults started to get into it.
I can't show you video of later because I was too busy dancing up on top of things myself, and having my first jello shot (I went to Sarah Lawrence for undergrad; we didn't have a Greek system.), and... yeah. IT WAS SO GOOD.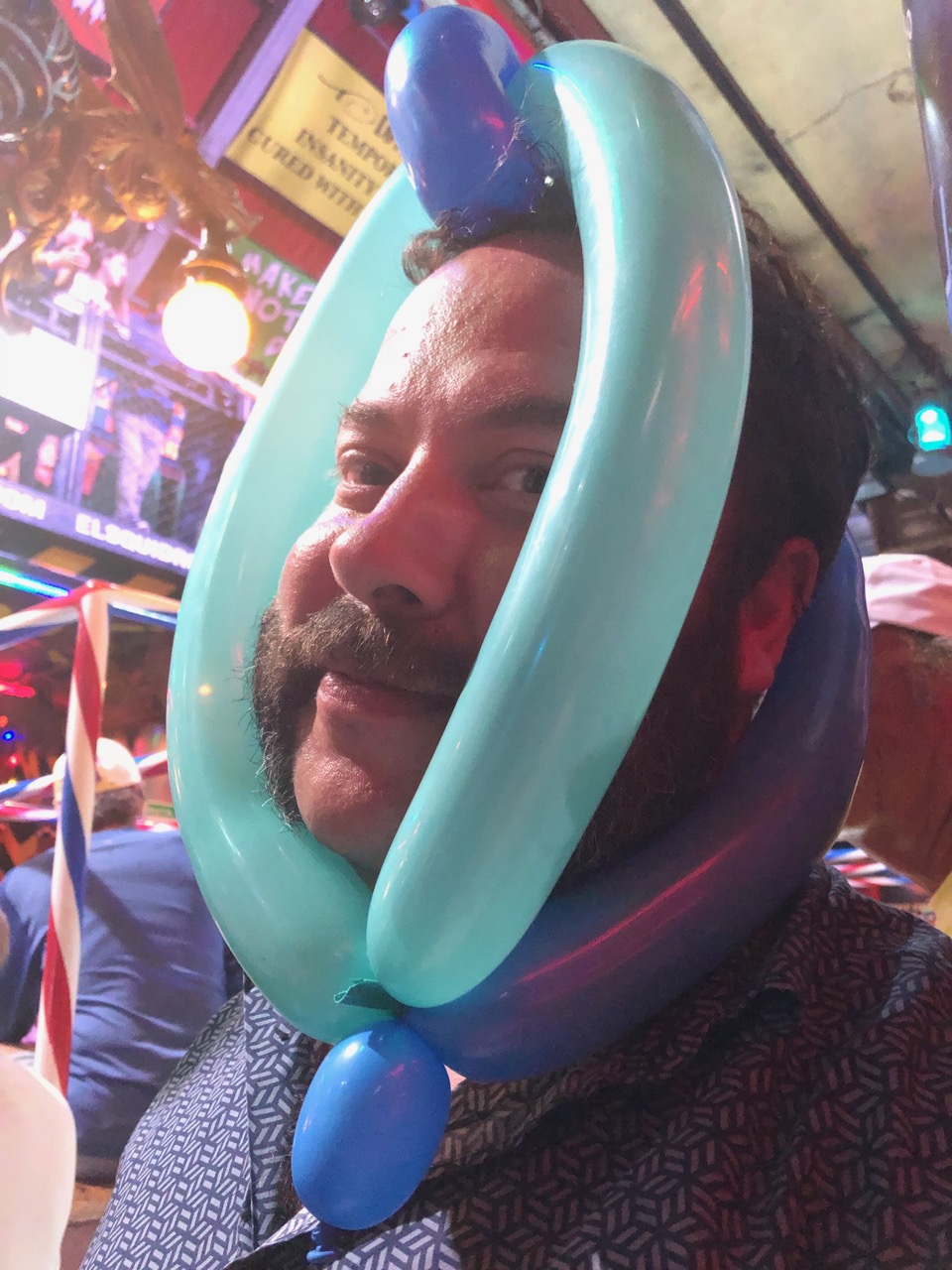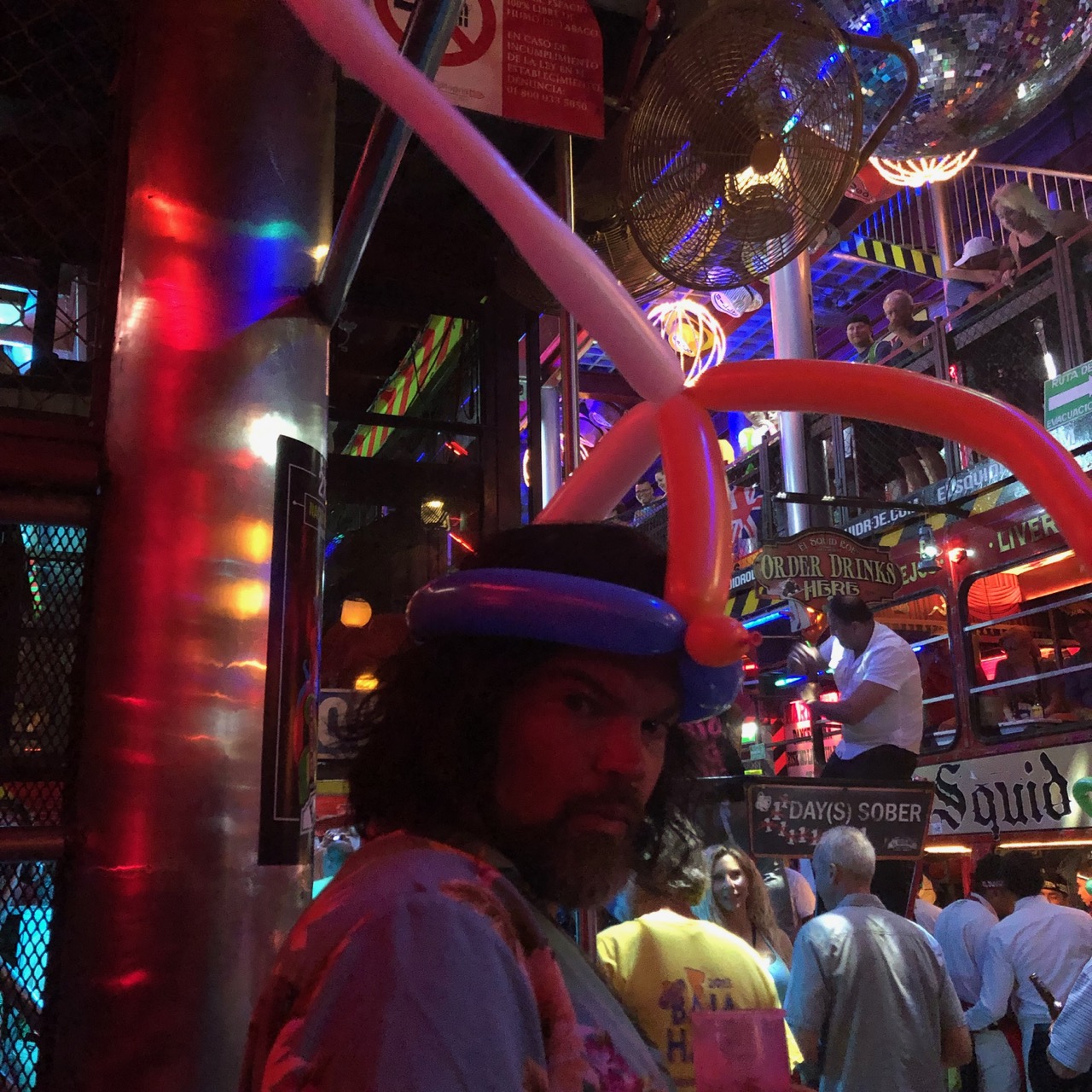 Dawn the next day found us on K dock at IGY Marina Cabo San Lucas. Cabo is a world-class fishing destination. This is a shot of our dock. 'joice is on the right, one of two boats that is not a giant fishing boat; you can just see the kayak on her side. (Yes, that is a bad place for a kayak! More on that soon.)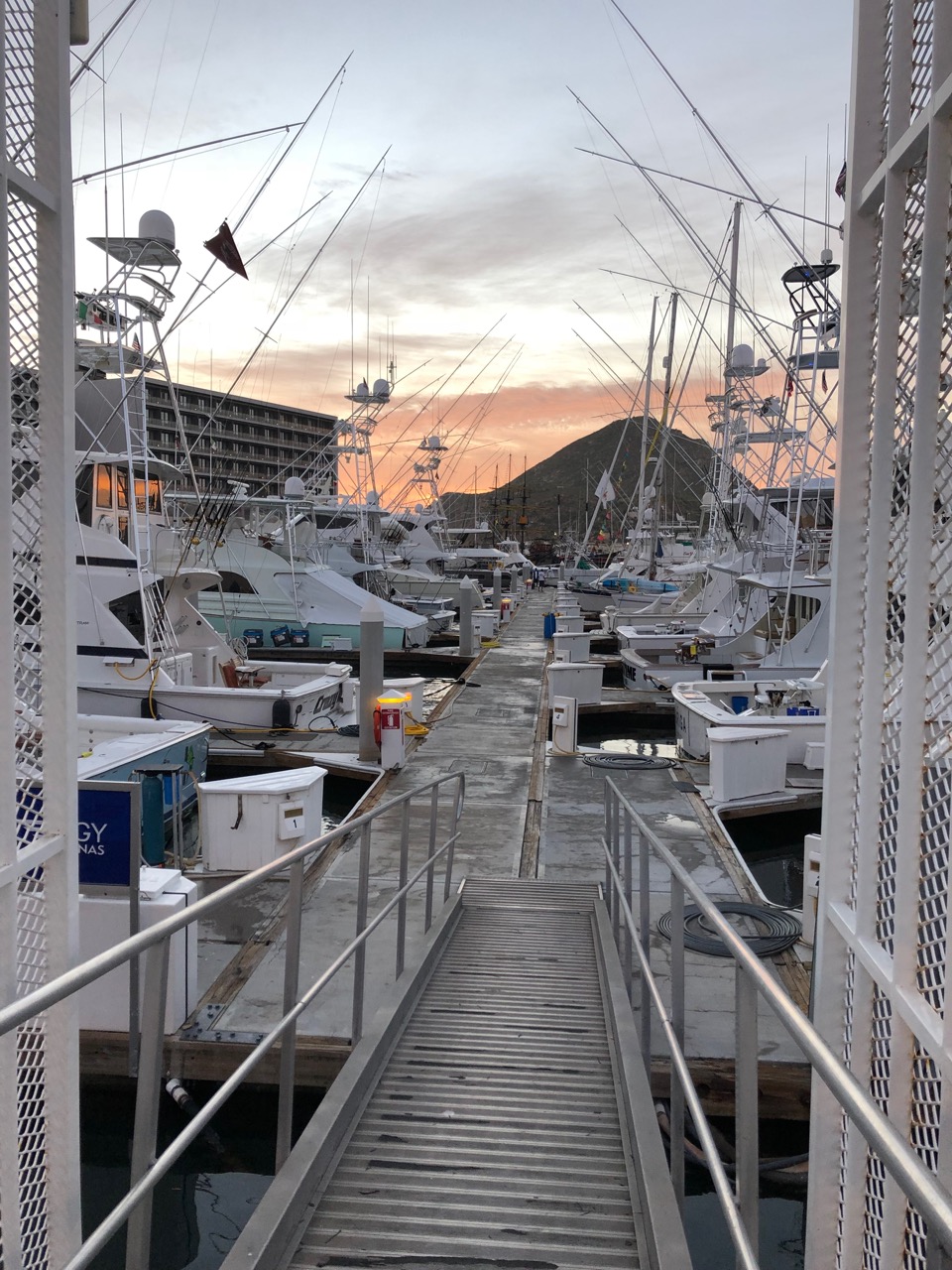 There was a little culture shock here. And Gabe had to dash off, because the Camp Fire in the Bay Area made the air quality so bad that his wife and dog were both feeling poorly, so he hopped onto a plane the morning after we arrived to head home to take care of his family. THANK YOU GABE AND PAIGE!
The next day was the final Ha-Ha event, the closing awards ceremony. We got third place in our class in the race part of the rally! Here is our award hanging proudly over the nav station.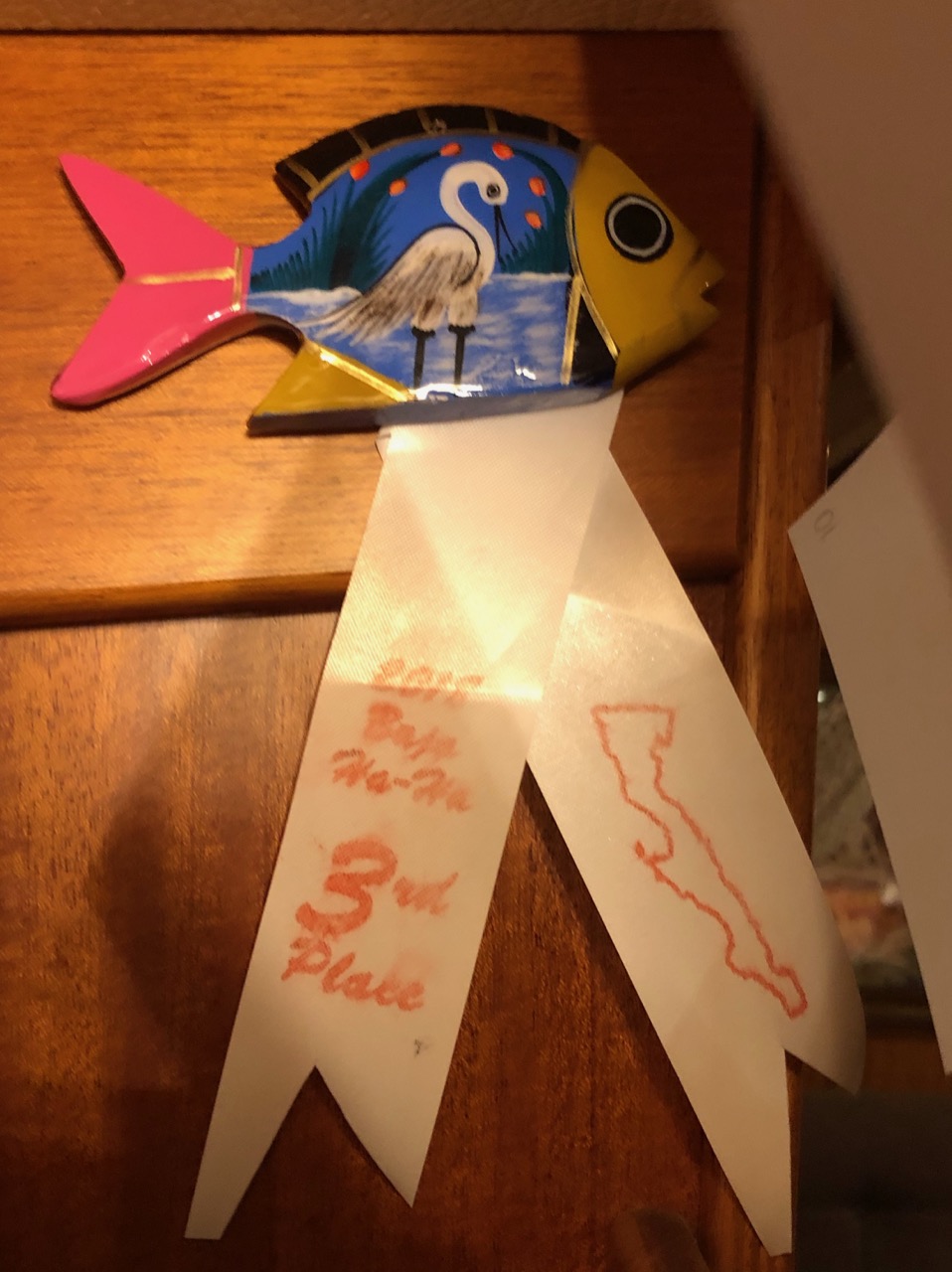 It turns out that the Ha-Ha awards first and second place... and then everyone else gets third place. It's really very wonderful, the whole thing.
There are other awards, sweet and silly impromptu things. I won one of them! I am unsure of what the exact title was, but I think it was Nature Observer, for the day that I got on the VHF and announced to the fleet that I had seen all those gosh darn sea turles (FORTY THREE). The award is really very wonderful. He is currently resting in a corner in the saloon.
Thanks to the Ha-Ha, all the 2018 participants, and most of all to GABE.
That was really something.