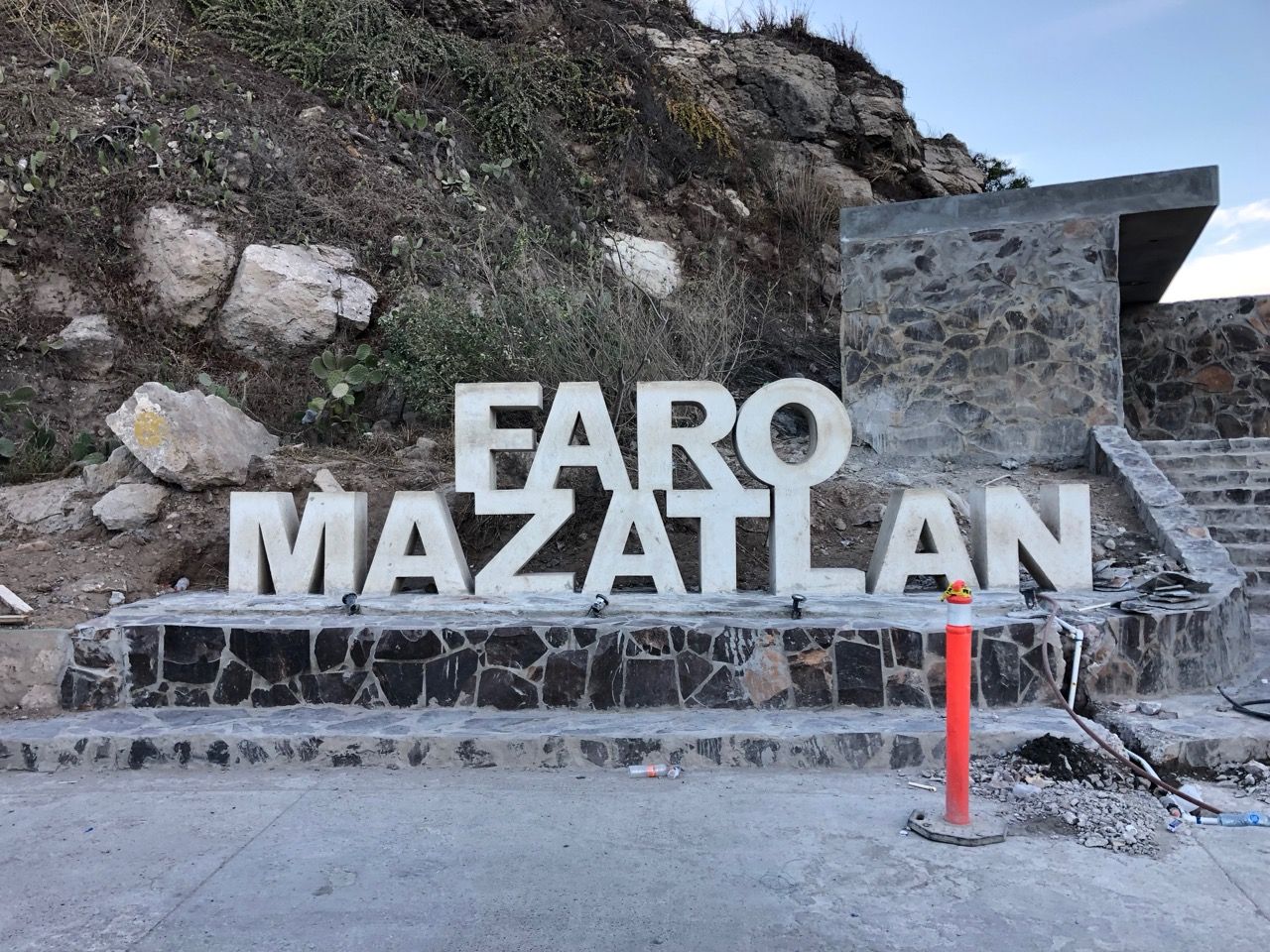 What you read is "the highest lighthouse in the Americas!" What you don't read is: tiny building atop a huge lump of rock jutting into sea at the end of town! What everyone tells you is: The climb! followed by Have you done it? You  must. They were right! It's a gorgeous half hour hike wrapping wrapping the conical, 515ft (157m) Cerro del Creston. I sprained my ankle early in our tenure in Mazatlán, so we didn't make it to this famous attraction until our last night! What a sweet way to say goodbye.
We love to walk and bike in the ports where we live when that is possible. (We carry a pair of folding bicycles.) When we can't move about by our own power, we prefer to travel like locals. We enjoy taking busses and colectivos (vans that run like busses), and we ride them often. Mazatlán has a couple of unique forms of local transit: pulmonias are small, custom, open-air cars; they look like a golf cart and are traditionally based on VW beetle frames. Pulmonias were a treat/splurge for us, and we took one to El Faro in the interest of time, and for one last open-air trip along the beautiful bay.
Yes, there are also taxis! And the common rideshare companies are here; we avoid those because of the terrible labor practices of the gig economy.

It was exciting to watch the lighthouse getting closer and closer as we zoomed along the Malecón in our charming pulmonia! We've made the trip many times on busses, but the open view and sea air were so sweet in the pulmonia.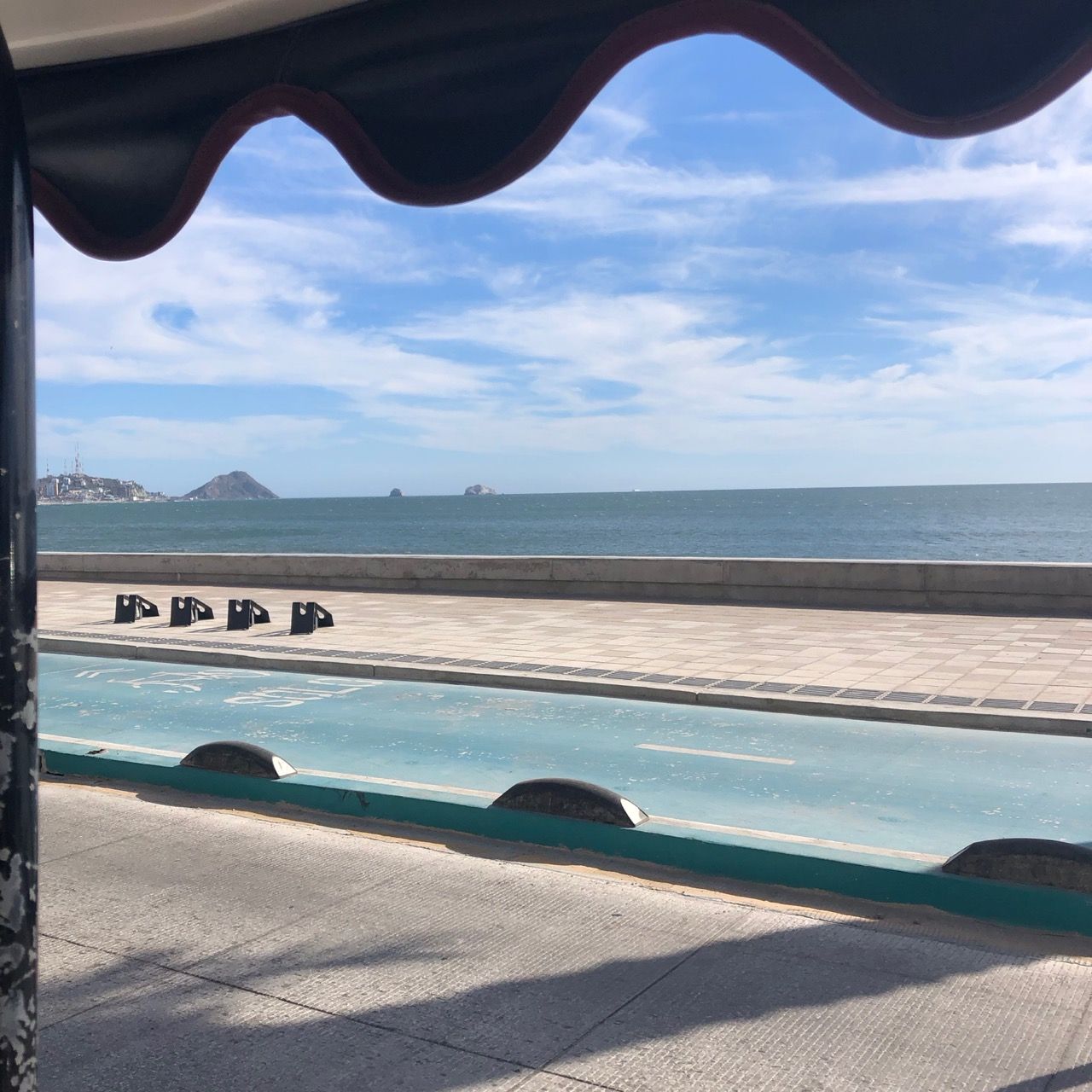 The climb is pleasant, mildly challenging. Some of it is paved with stones and some is not; the path is kept up by local volunteers and work was in progress. We were puffing a bit carrying our bodies up, and there was one man carrying 5 gallon buckets of sand up the hill by hand and another pair of guys carrying a generator. There were also tourists, young lovers, families out for a stroll, and folks in exercise gear running up and down the hill.
There is a colony of cats who live on the hill. Cat people come for the cats, as cat people will; there was a pair of women cooing over one and feeding it out of a ziploc bag along the hike. We passed little piles of kibble the rest of the way up the hill.

The lighthouse itself is a small, nondescript, blocky white building. I didn't realize until just now that I didn't really bother to photograph it!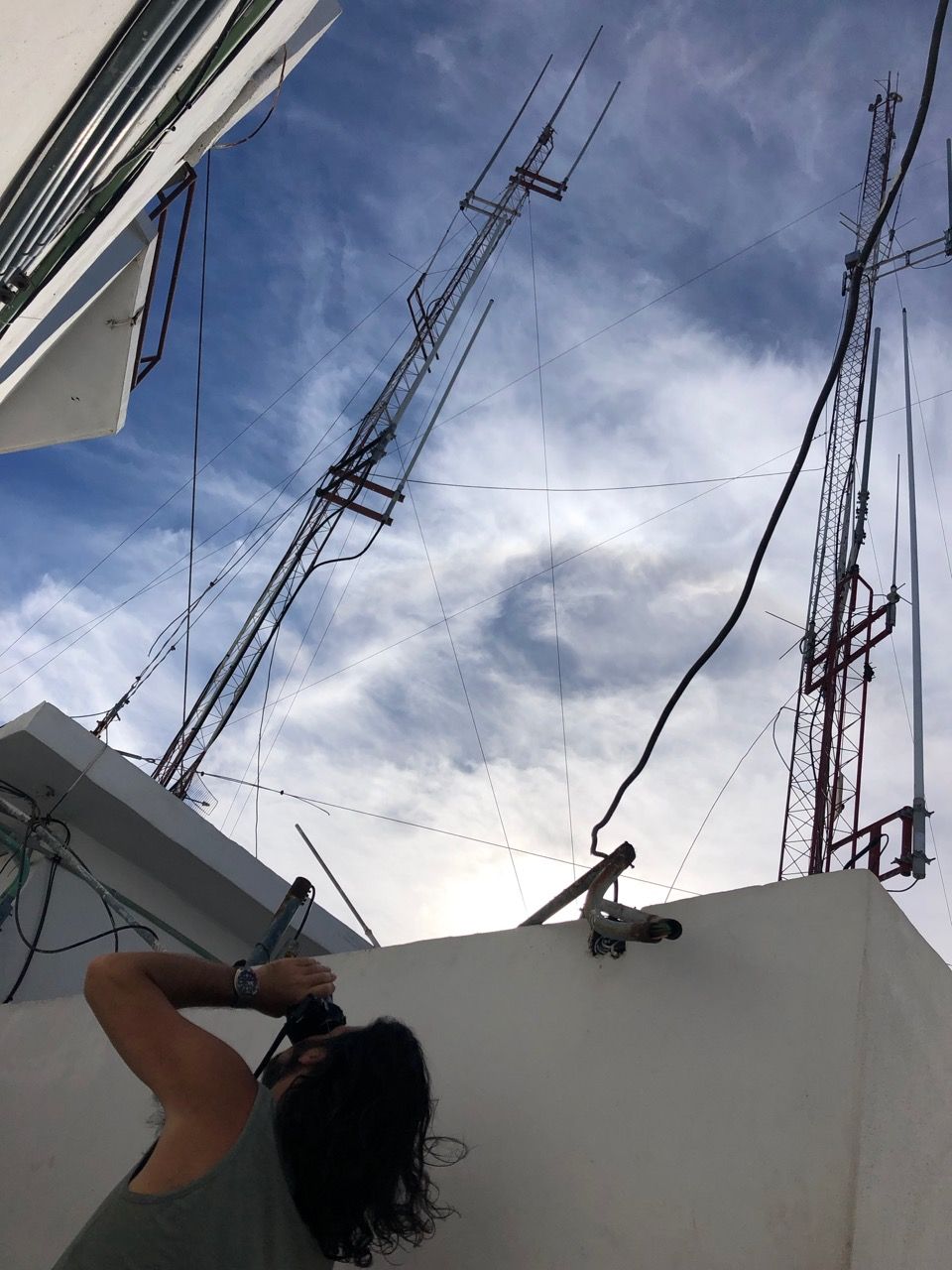 The views are breathtaking. The next three photos photos form a panorama, starting on the right and spinning slowly leftward; you can see the overlap in the images if you look closely.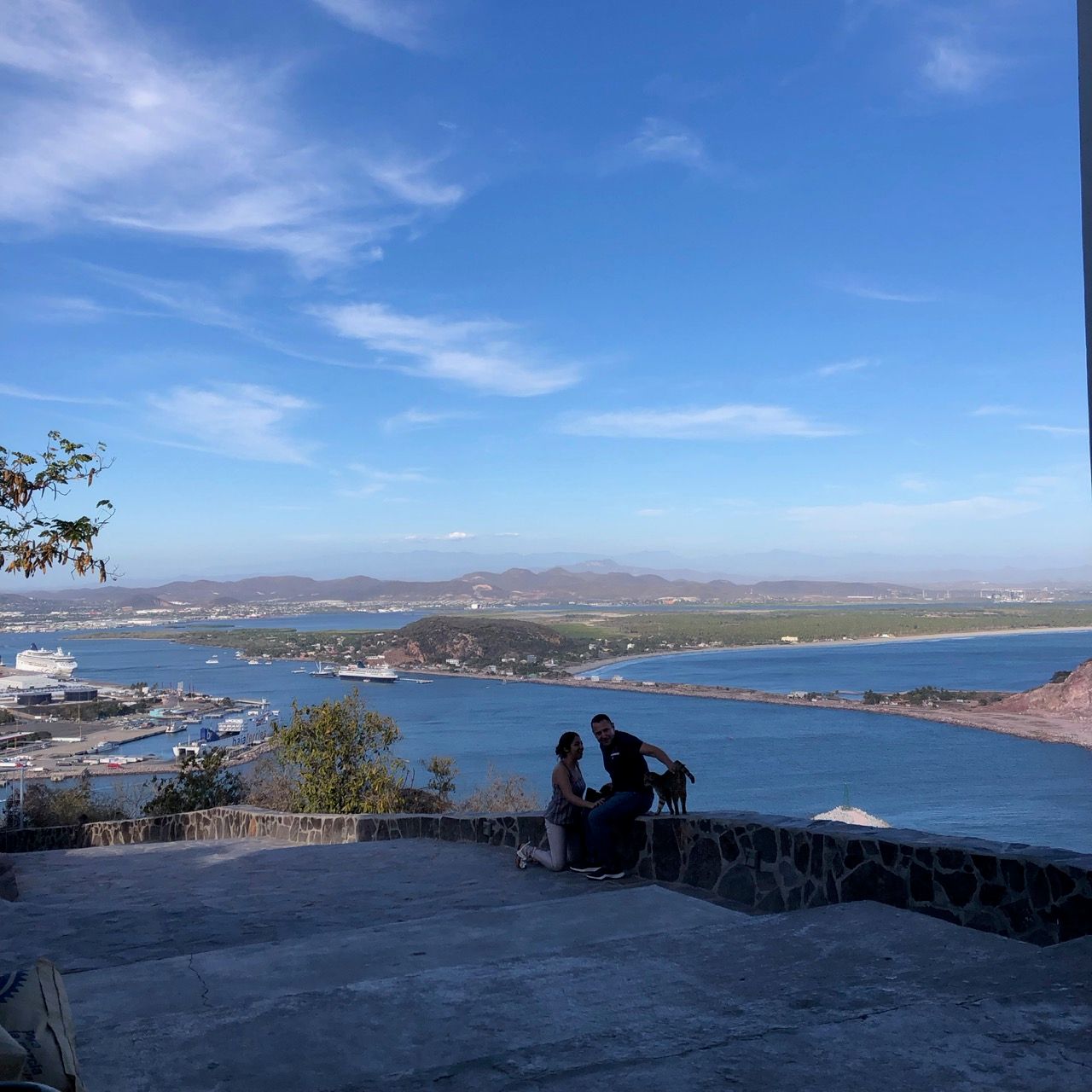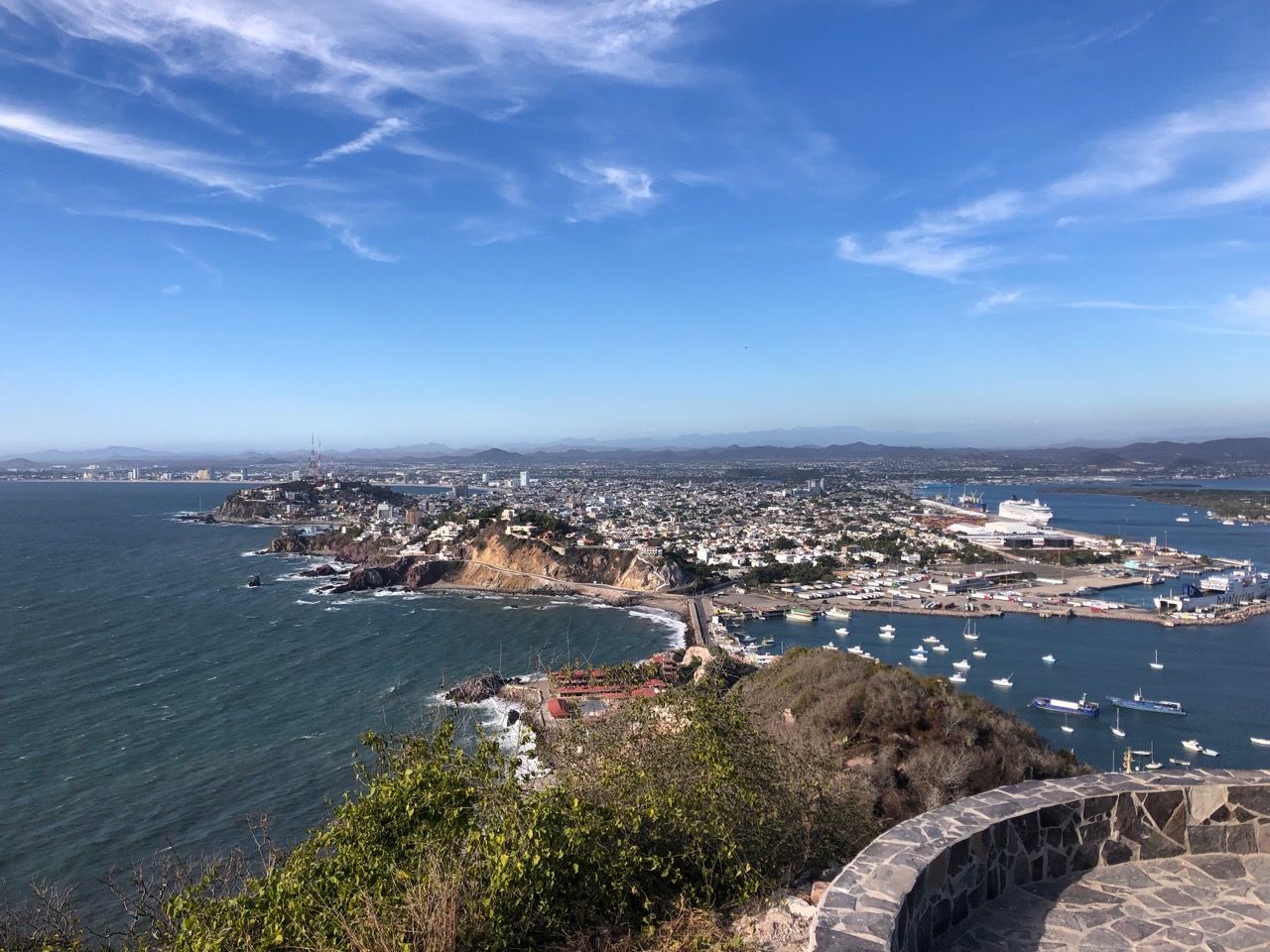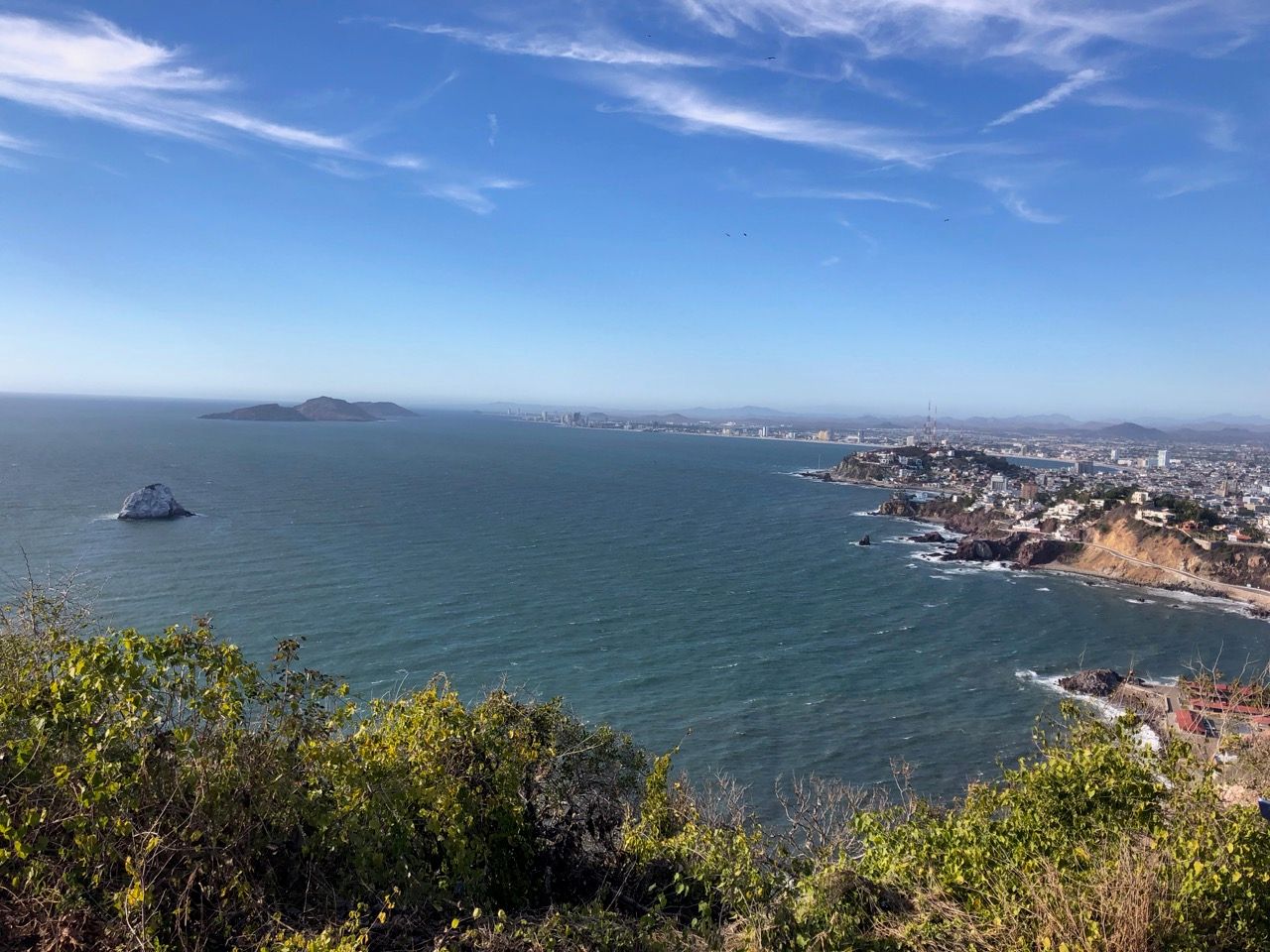 And then there was this: our first glass bridge. I looked at it, winced, sighed, and said, "Oh dear. Well, we might as well just go do that right now."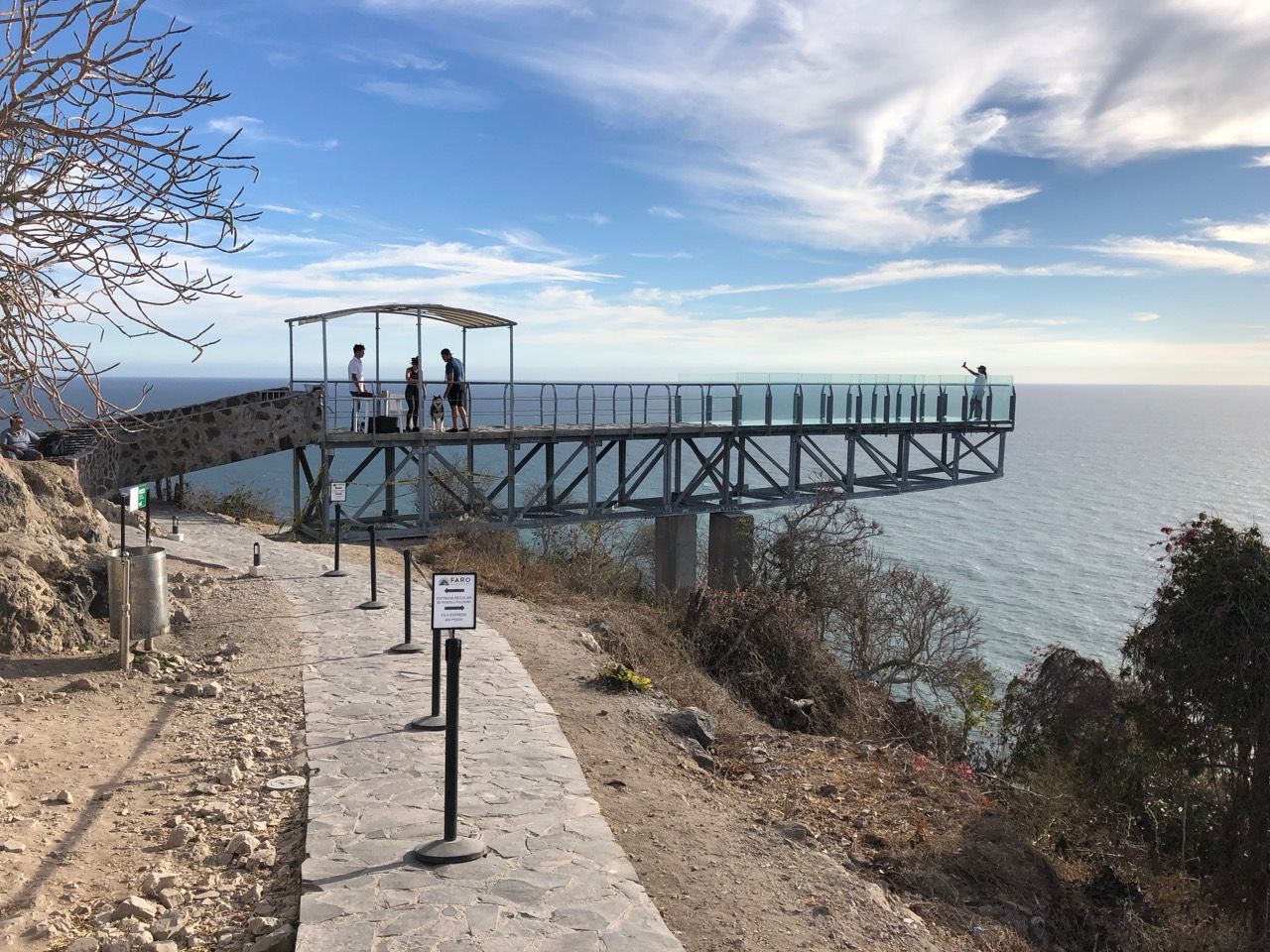 I am a bit afraid of heights. I do not agree with this! I think it's silly. But it's what happens inside of me. In order to get out onto the bridge I was holding the railing with both hands, facing the railing and sliding my feet along the glass, shuffling out slowly, sideways, blowing breathing through my pursed lips. The glass was flexing with both with the weight of the wind and the weight of the bouncing man who was laughing gleefully in delight of  his power to increase my fear (FUN, DUDE! GO YOU!)

I love this about my unfolding now, the way I am able to be compassionate with fear and curious about what frightens me. This time I looked, saw that this bridge was there, felt that it frightened me, knew that it would be beautiful, and avoided marinating in a stew of anticipation by just walking right over and heading out.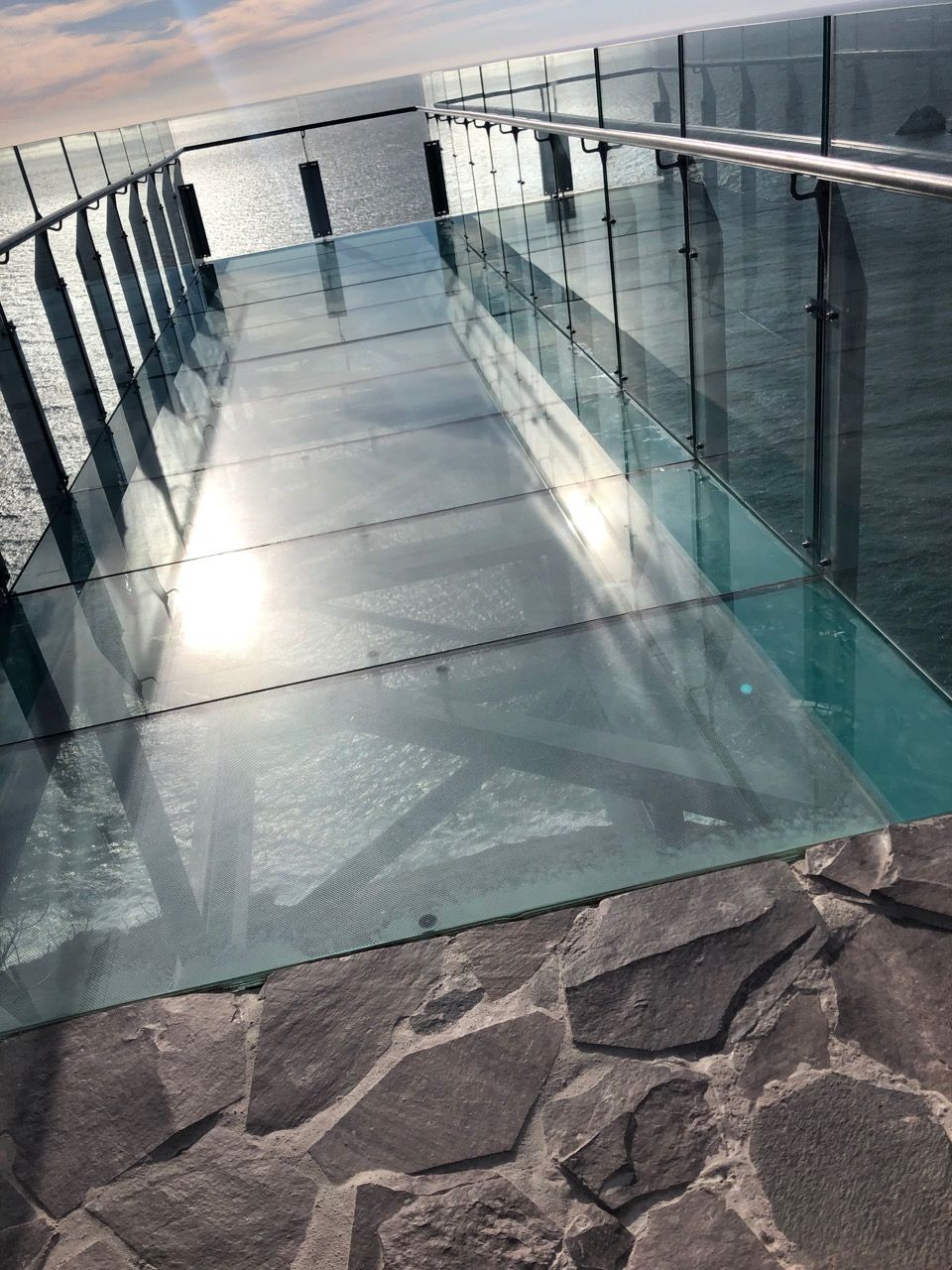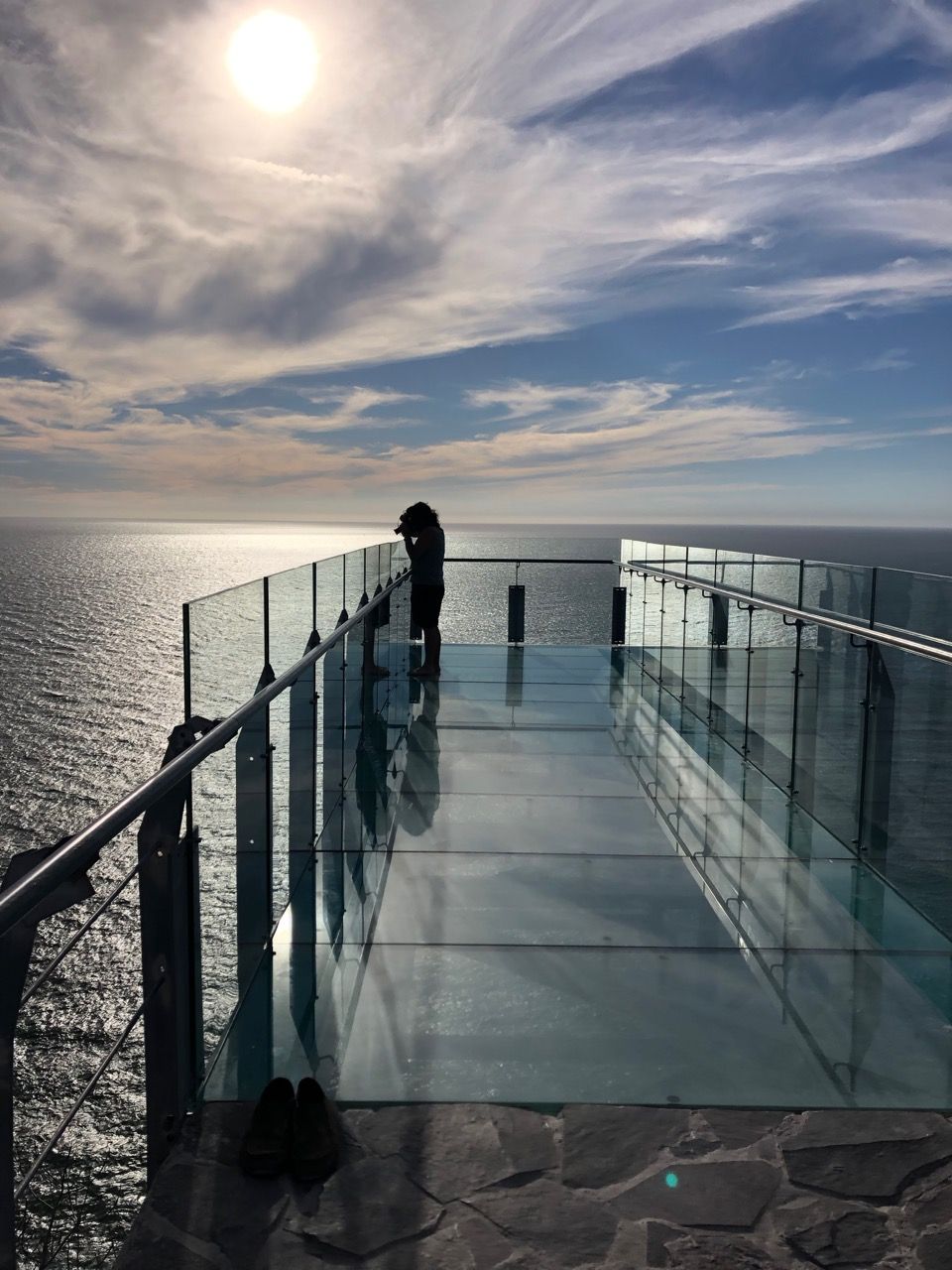 We hiked back down and meandered a couple miles along the waterfront, watching the waves break and enjoying the city.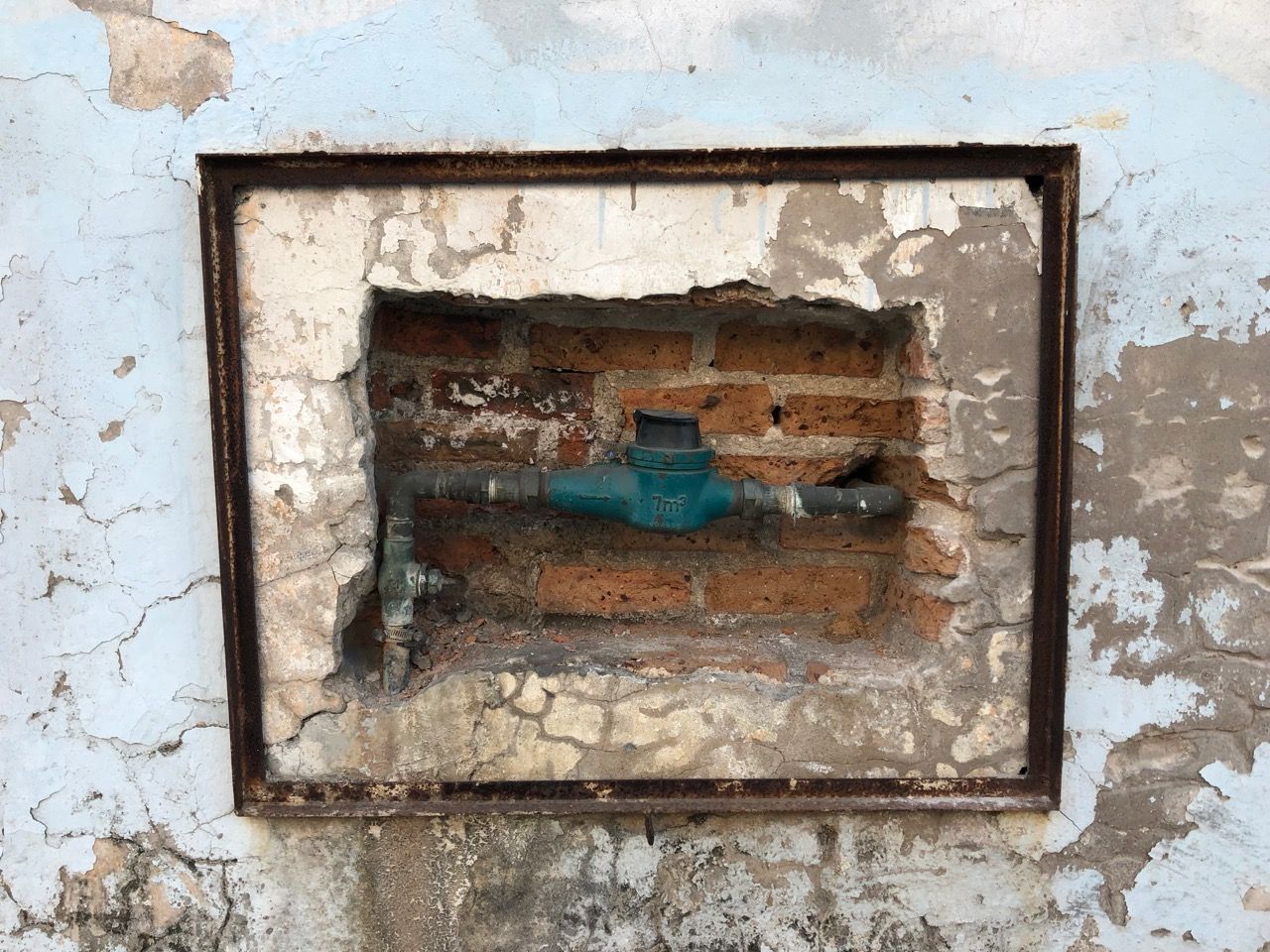 We ended up at Olas Atlas (where we'd last been for the fireworks at Carnaval), where we adored our final Mazatlán sunset while dining al fresco at El Fish Market.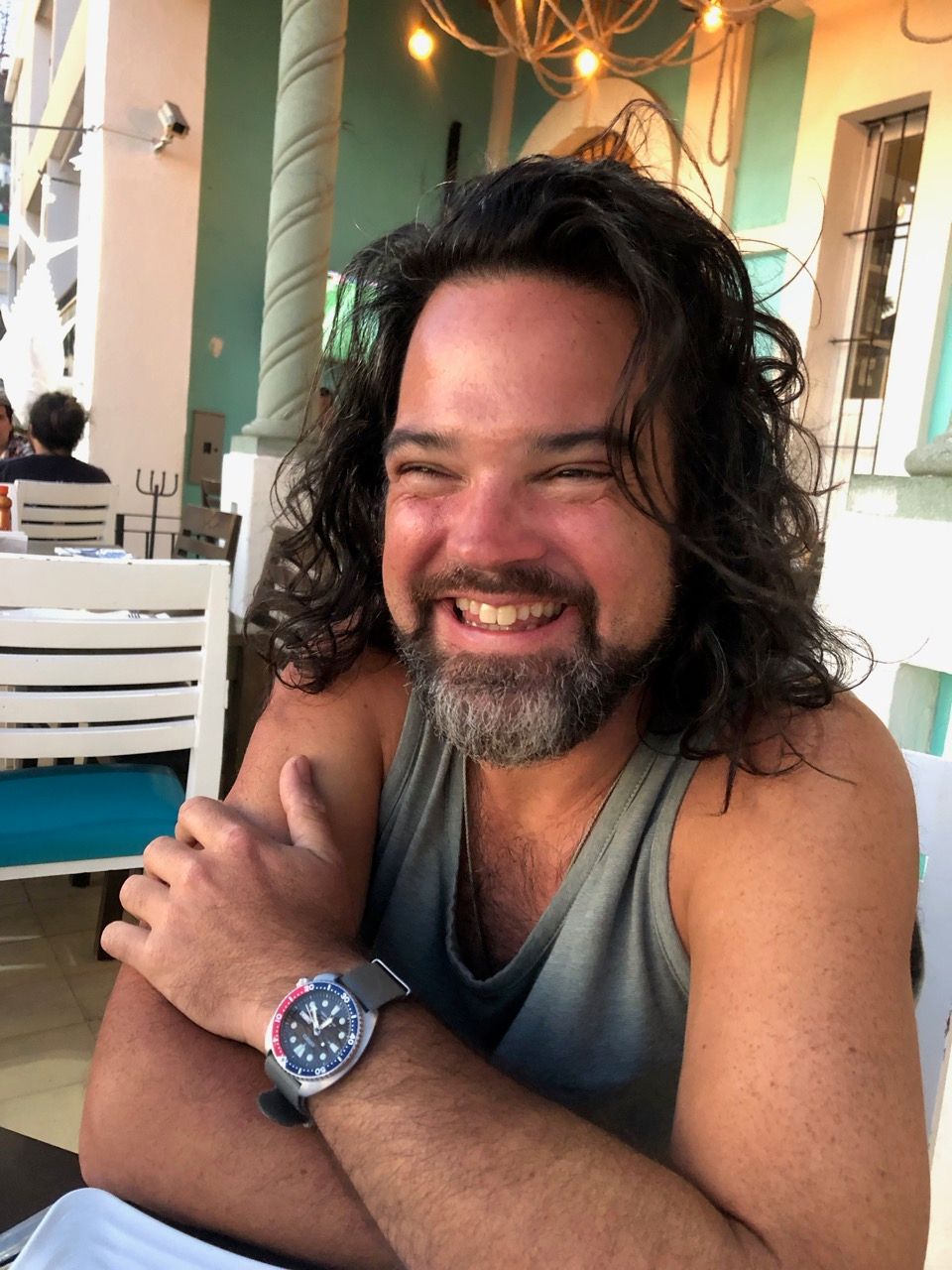 Oh, Mazatlán! What a crazy 2 month adventure our planned three day stay turned into. It was wonderful, thank you.