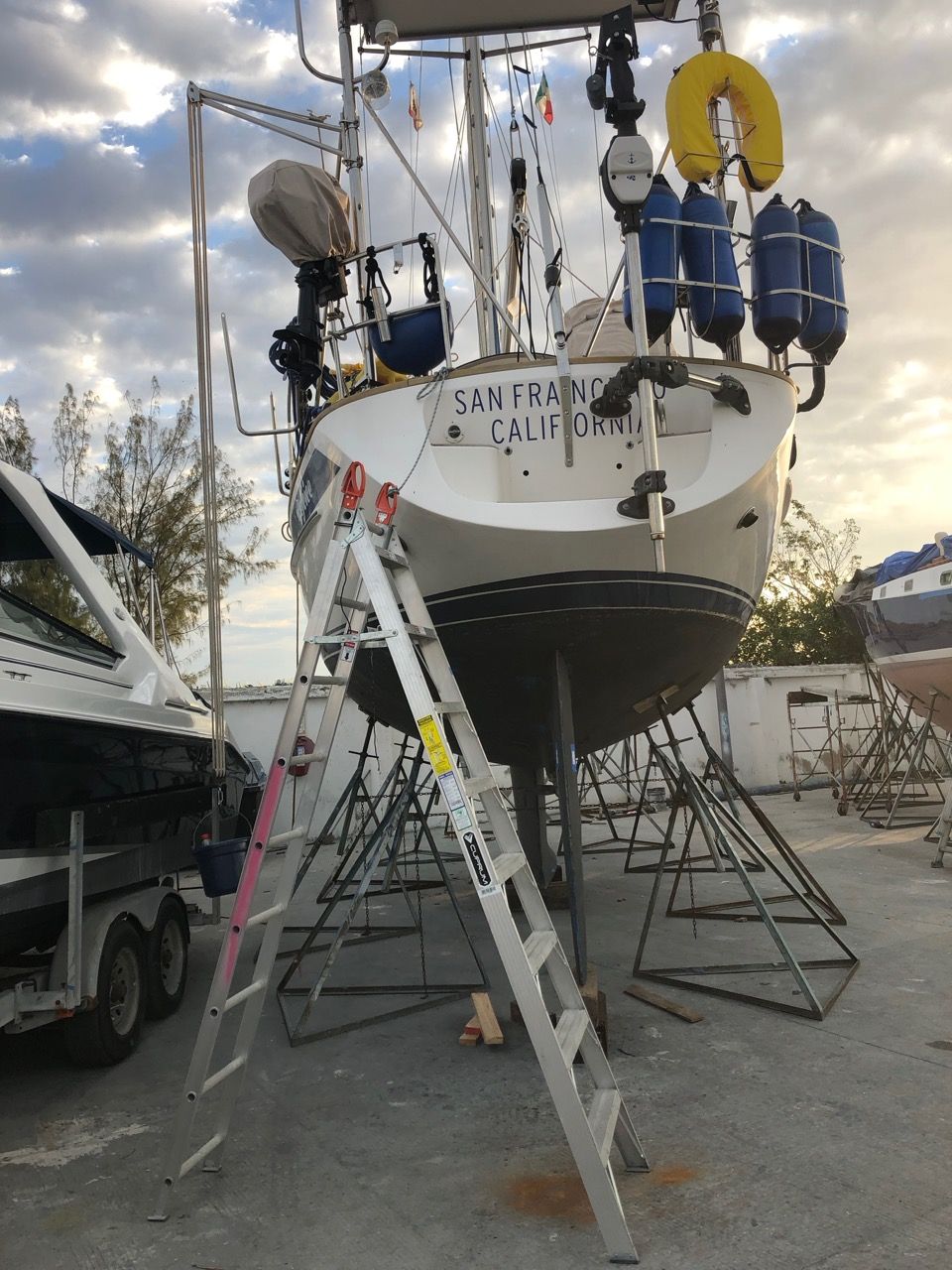 In order to replace the seals and bearings on Rejoice's rudder, she had to be hauled out of the water. We were about due to repaint the part of the hull that is under water, so as long as we'd paid to have her hauled out, we took care of that as well. James wanted to do the rudder work, and we hired the fine folks at Active Marine for the bottom job. Yes, it's called a bottom job.

"Haulout" is literal. Yes, literally literal. In our prior experience, when you have a haulout, you pull your boat up to the dock that belongs to the boatyard and disembark. Everything from there forward is handled by the yard, because it's tricky business and no one wants to mess with potential liability for an accident.

That is not what happened here! James had to back into a narrow space between a pair of concrete piers. A sailboat moves to one side when motoring and this "prop walk" reverses when you change direction, so maneuvering in reverse is even harder than driving a boat backwards through moving water might sound.

Did I mention that the piers were unpadded?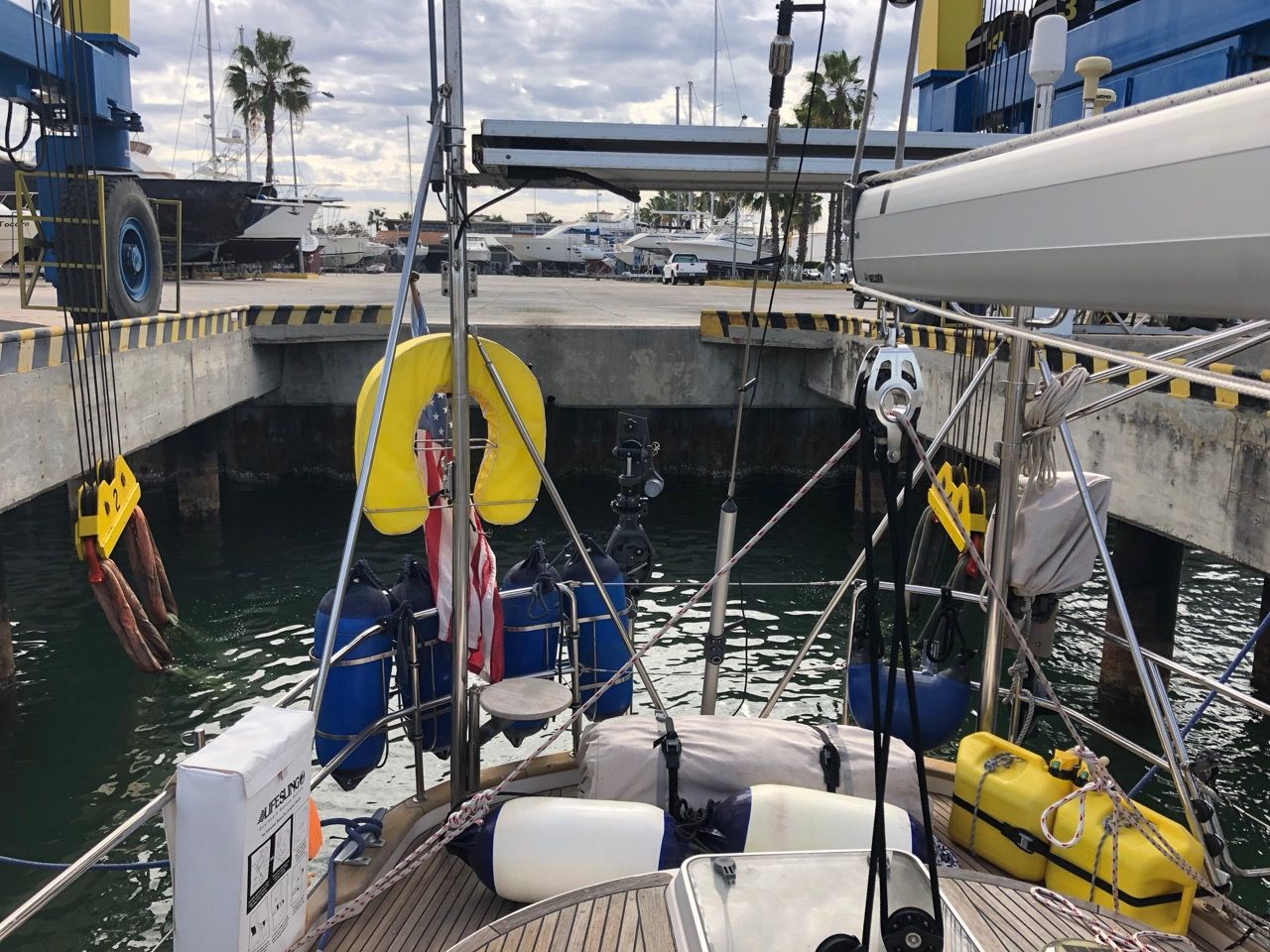 So yeah. James backed in. He backed in repeatedly. When he got close, the guys asked us to throw them the lines, which, oops. Again, we expected the yard to set the boat up for the haulout, so we hadn't thought about this part. The lines we use for docking were not long enough for this purpose, so the captain pulled forward again while I dug out four long lines, secured them to cleats, and we did it all over again. Eventually, it went like this: James backed in and I tossed the lines to guys standing on the piers. (That is itself hard, and was a lesson that I need to practice hurling line. Thanks and sorry to the nice folks who I hit in the face and/or who had to scramble when I missed. Ahem.) The travel lift drove out onto the piers, dragging its big slings through the water underneath us. The driver was a whiz and got the slings precisely on the tape marks James had made to indicate safe placement. The boat was then raised out of the water to precisely the height where we could climb off the back and step onto land. I immediately hunted up the soda machine that every boatyard has and bought a round in thanks.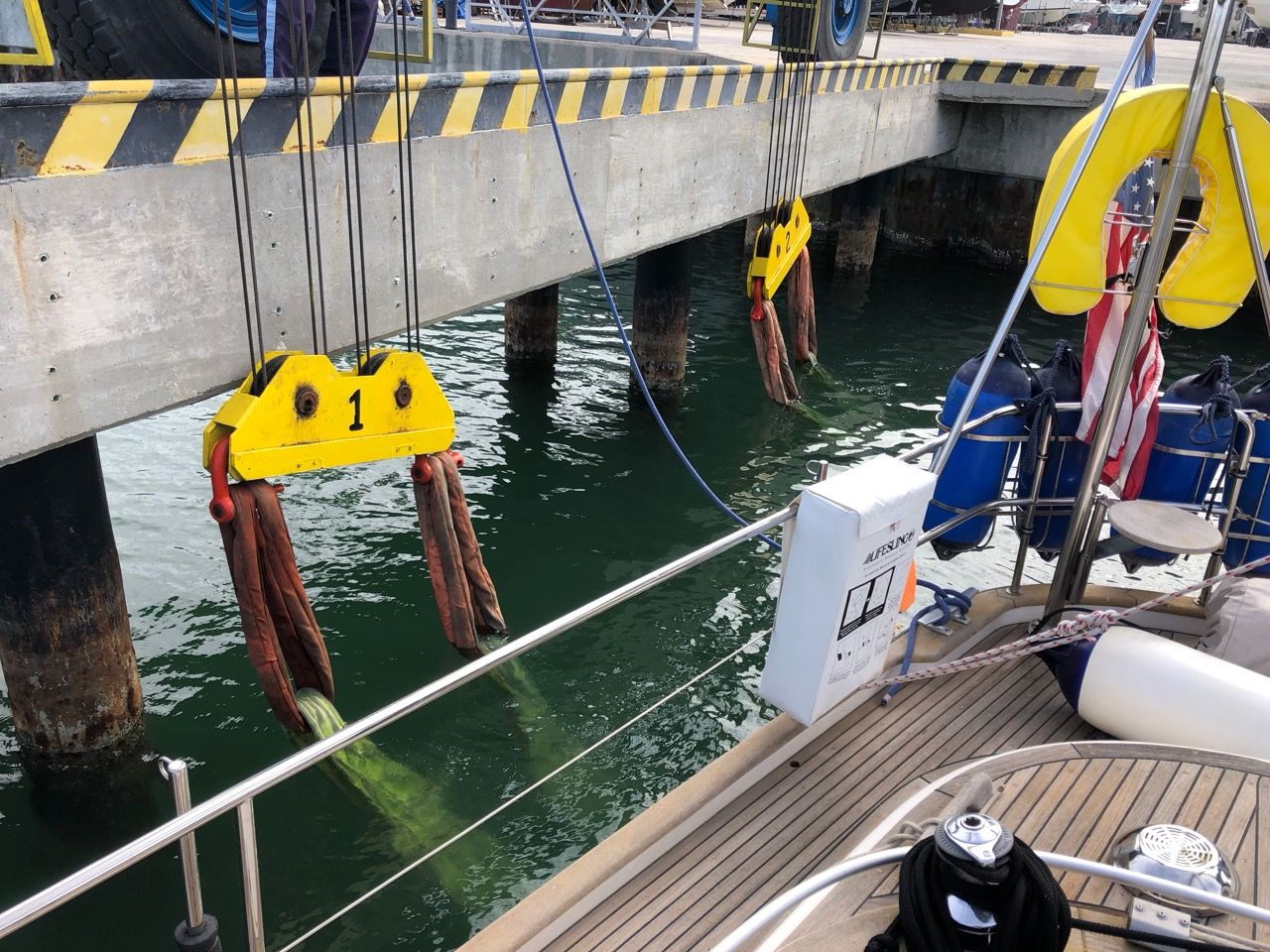 Some folks who live on their boats go straight to a hotel when their boat is "on the hard."

I know. Sailing is just LIKE THAT.

We stayed with our ship. For the next 11 days, we lived aboard Rejoice in the boatyard. There is a club on the other side of the yard. Porto Yachtclub is a rooftop venue, a magical place with tiled low pools, chaise lounges, and hanging chairs. They serve shots and ceviche, which we quite enjoyed when we stopped by for sunset. Thank everything their DJs are good, because they are open from 2p-2a Wednesday-Sunday.
We could not use our sinks, because the drains that usually empty into the sea would empty into the air. We could not use our toilet because the tank is small and wouldn't hold enough, because you do NOT want to bake that stuff in the sun, and because we were going to do work on that system. We used the very nice bathrooms the yard shares with the CrossFit gym under the club, and to get there, we climbed out the back of the boat and down a stepladder. Which... is not super fun when you have to go to the bathroom. Ahem.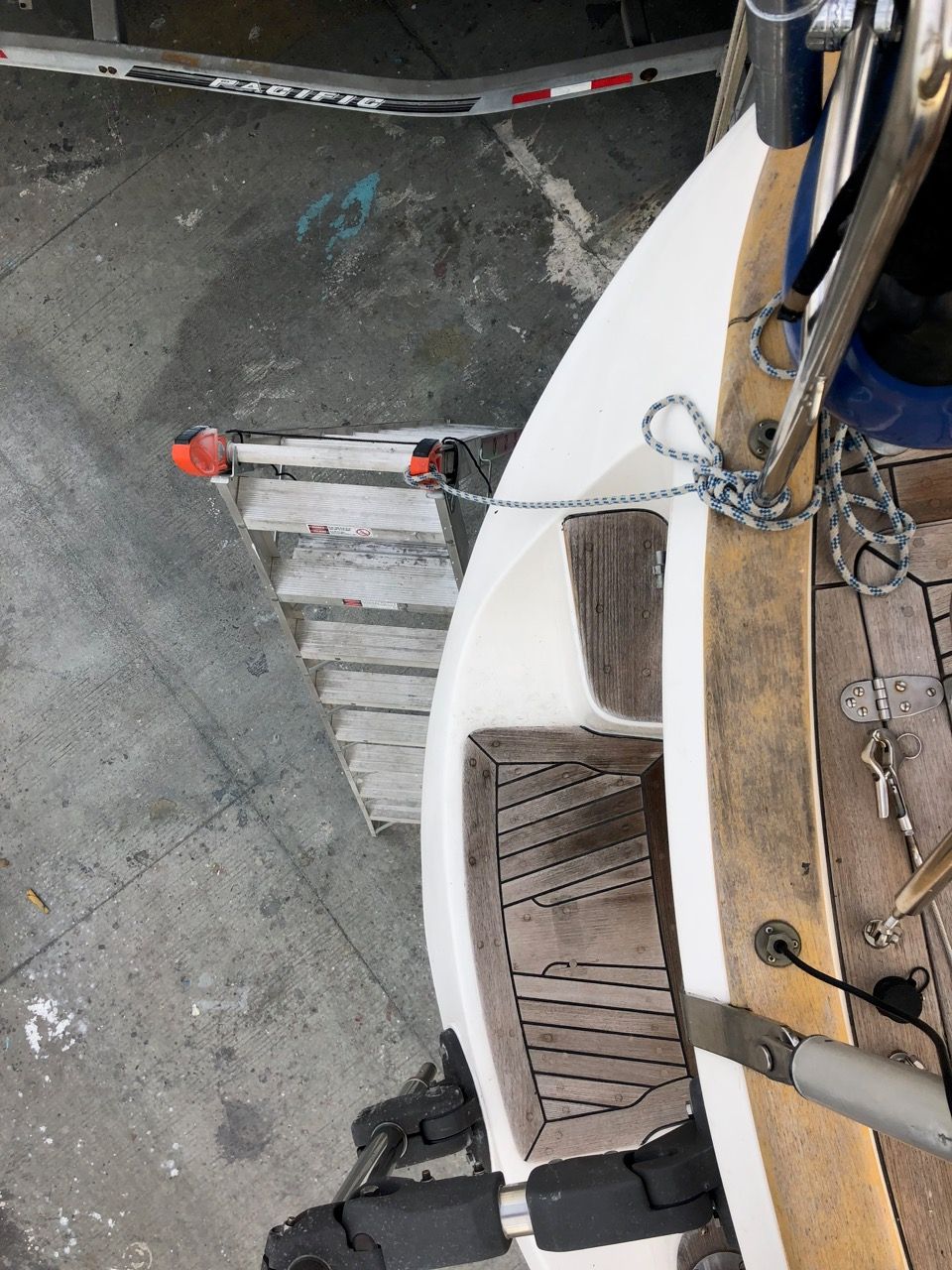 We followed the advice of other sailors and didn't carry anything on the ladder unless it was in a backpack. We used the crane that's usually for putting the outboard motor off and on the dinghy to raise and lower dishes.
The rudder lives under our bed, so we slept on the settees, the bench-couches in the main cabin. Everything that usually lives in our cabin was jammed everywhere else, and James was jammed for most of a week into the space under our bed.

He removed the steering cable and quadrant, which connects the helm to the rudder, disassembled the rudderstock, cleaned up corrosion, epoxied some stuff, replaced the lip seals and bearings, and put it all back together. To do this, he designed a gantry to support the rudder from above, which itself took a couple days of bussing around town to source materials. The man is a superhero.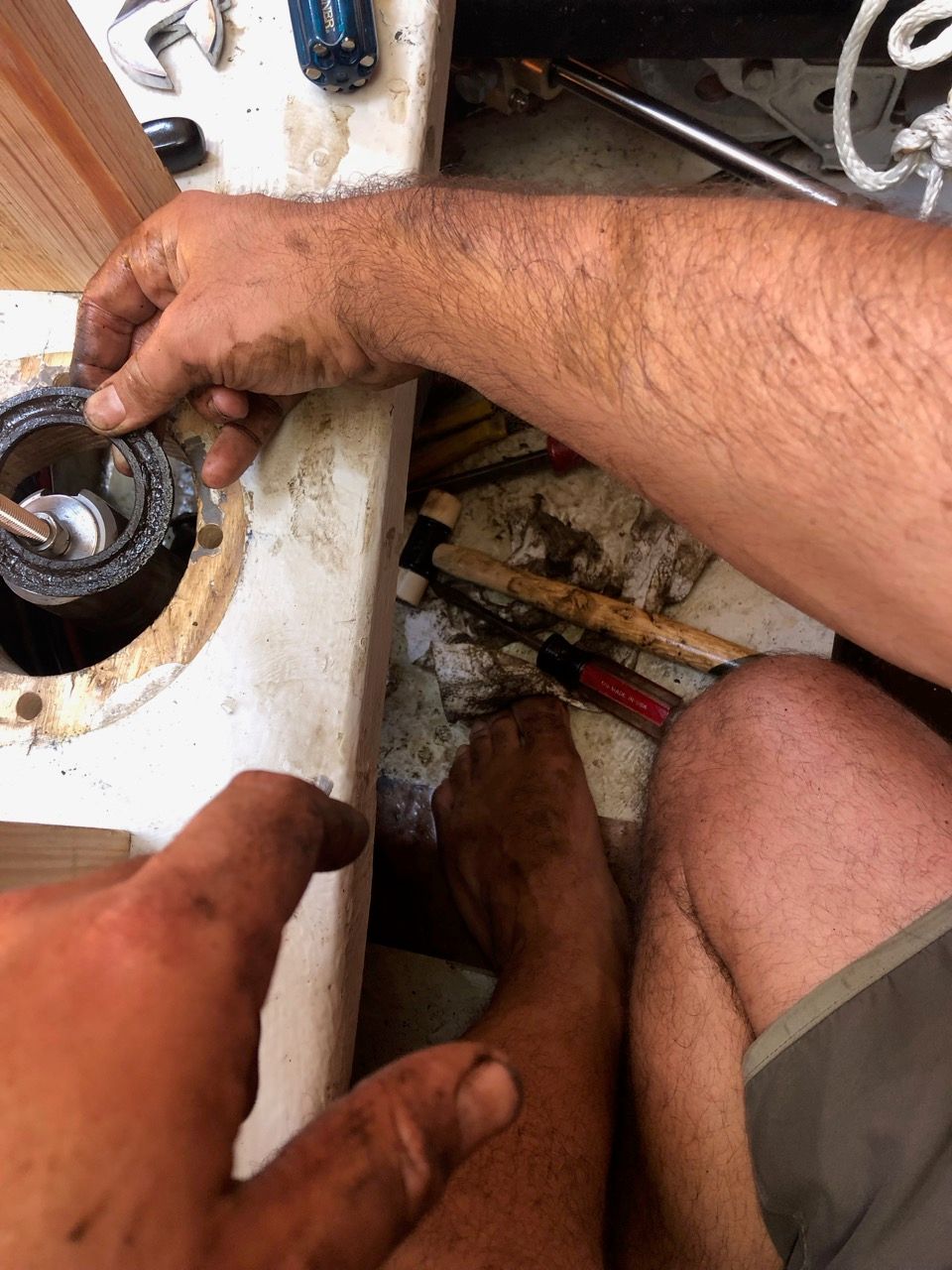 While he was doing this, I was teaching my meditation course and recaulking the galley. If you'd like the process notes I wrote up when I finished about working with silicone caulk, message me in our discussion system; happy to share.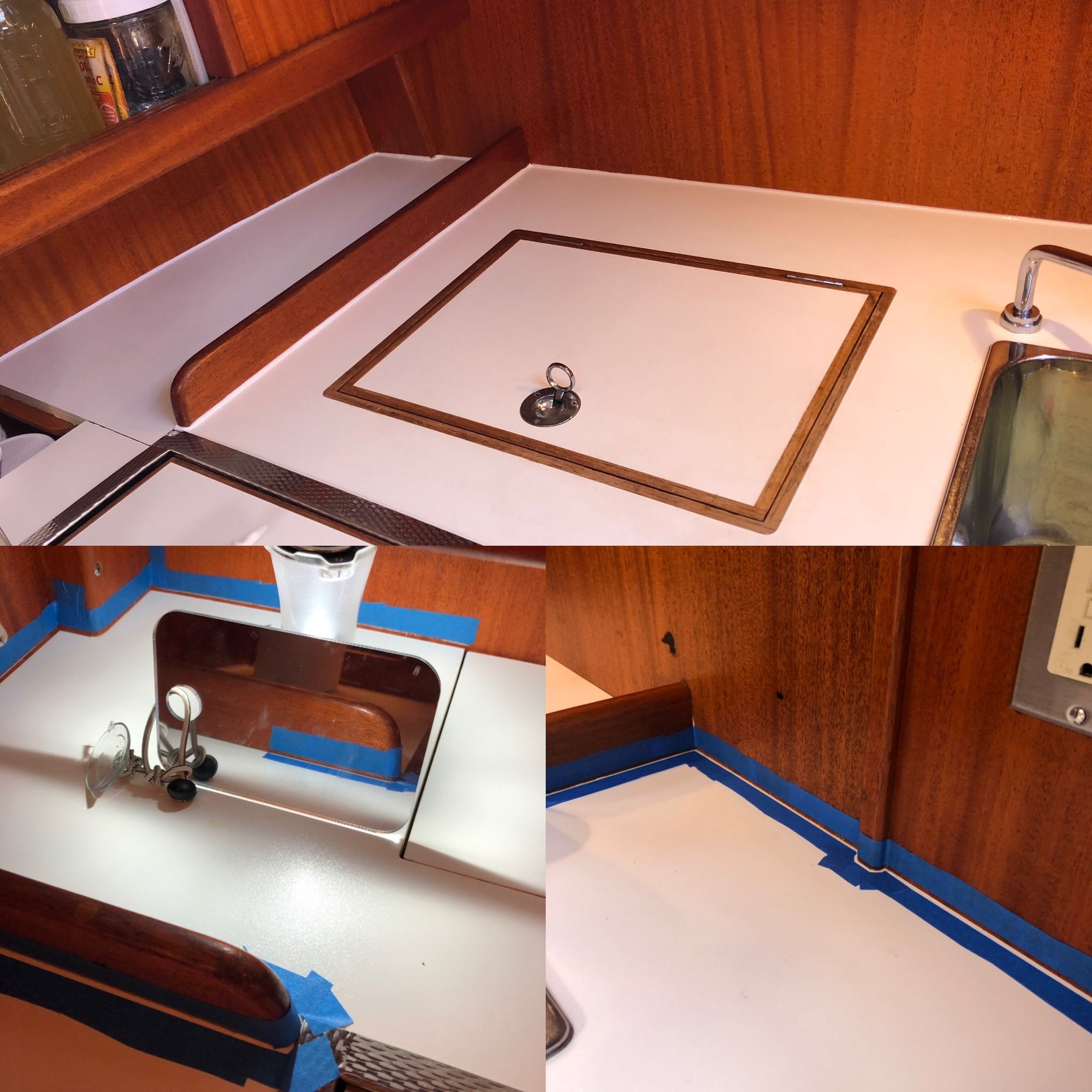 Victor, David, Ernesto, Margarito, Gloria and the whole team at Active Marine did a fantastic job.  Our new bottom paint is gorgeous. 'joice is 19 and paint has only been added so far, so it was time to strip back down to the hull and start fresh. It was a big job: strip, sand, patch, then two coats of barrier primer and two coats of paint (because sailors will ask, we went with Trinidad SR, a well-respected hard bottom paint.)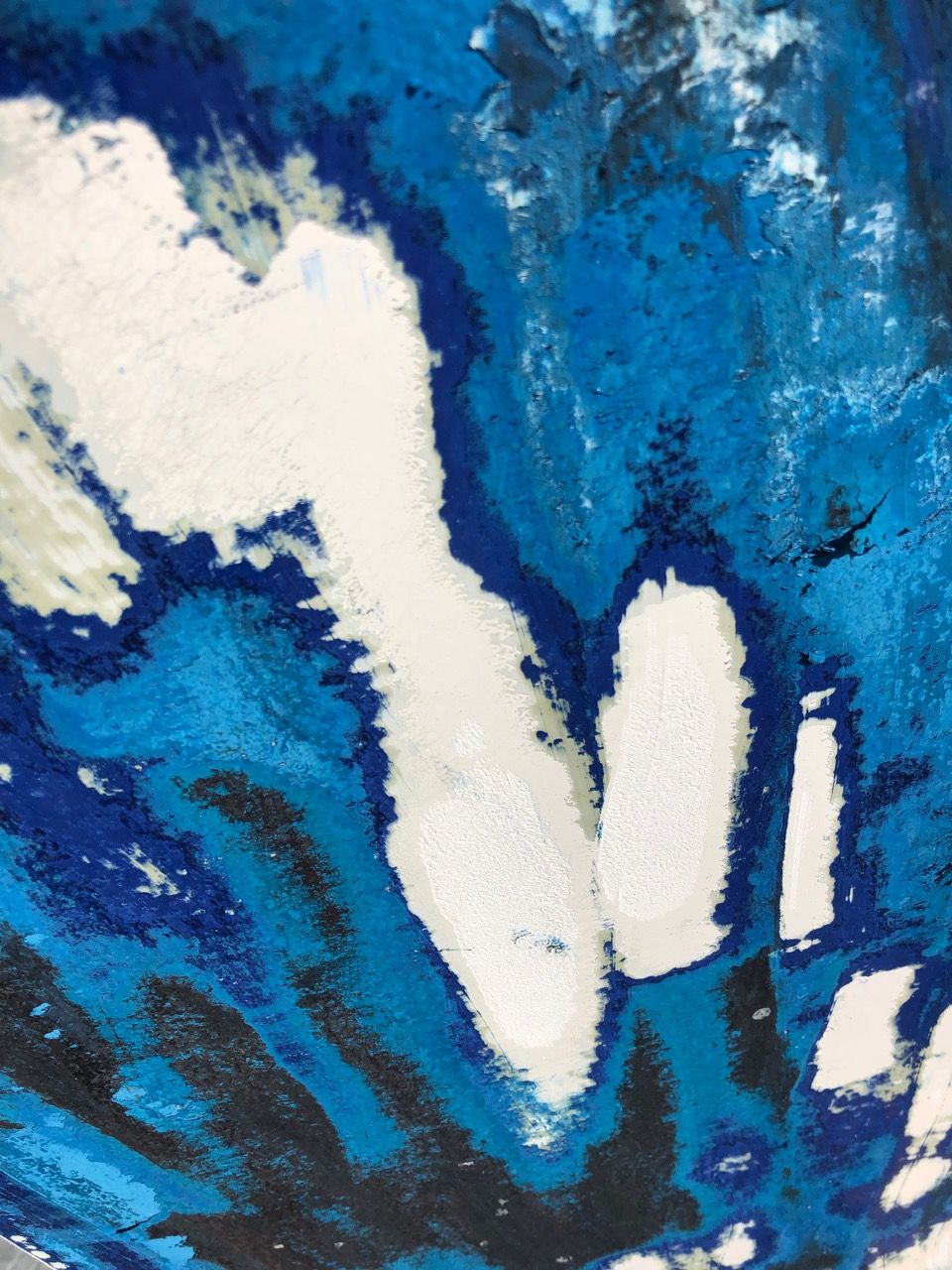 James replaced a bunch of our plumbing – the hoses that run from our two-sided kitchen sink and from the toilet to the holding tank. I keep sticking my head into the sinks and smelling how it smells like NOTHING in there, and I will spare you and details about the horror and improvement inherent in replacing an ancient poop tube.

Then it was time to splash, which is what putting the boat back in the water is called. Accidents happen in hauling out and splashing, and of course all the work we had done was below Rejoice's waterline, so there were some nerves! But it all went fine, and then we were docked at El Cid, which is a small marina attached to a resort. Before we landed here we had not been immersed in fresh water since October, and there is a HOT TUB here, and cheap margaritas, and washing machines. Mazatlán's Carnaval celebration is apparently one of the best in Mexico, so we'll hang on and see this city with its party dress on!